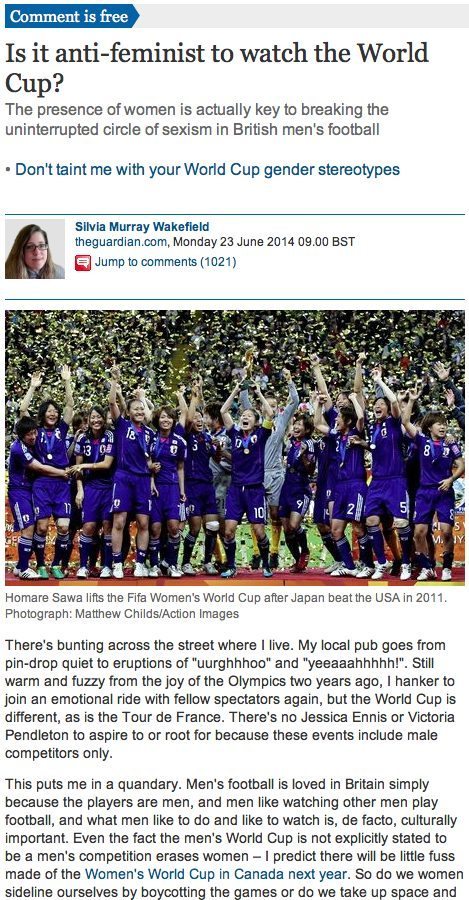 I READ an article on The Guardian's website this week, writes KATE FORRESTER. I have to do something to while away the long, endless hours until Liverpool play football again.  
I'm not going to link to it (because it's complete nonsense) – <Ed: Sorry, Kate – it's here> – but the author was questioning whether it was 'anti-feminist' to watch the World Cup.  She conceded that no, it wasn't, as long as we women watched it while talking about women's football throughout, to unsettle 'the men', and didn't cheer on any of the players like "ladettes". Lovely.
My 'favourite' assertion (and trust me, there were many to choose from) was: "Men's football is loved in Britain simply because the players are men, and men like watching other men play football, and what men like to do and like to watch is, de facto, culturally important."
That, and that basically these men spend the entire 90 minutes screaming in a cockney accent.  The underlying message was clear: These football fellas are a bit loutish, aren't they?
The fact this attitude is still so prevalent really concerns me – particularly when we've seen in recent years that its effects can cause lasting devastation to those pilloried as a result.
It would be naive, of course, to say all football fans are impeccably behaved.  There are a small minority – as there will be among fans of many other sports – who fall short of the standards the vast majority set for themselves. I think most of us would bending the  truth if we said we'd never met one.
Loads of people don't like football because they're just not into it.  The vast majority of those people are happy enough to let the rest of us get on with it and enjoy ourselves. But there are a small number who are determined to shout their dislike from the rooftops – and qualify it by looking down on those who disagree.
Everyone who loves football can give their own reasons as to why IT IS important. Here are mine:
A family following of Liverpool FC has to start somewhere, and ours started with my grandad, Ron Forrester.  I have just experienced some of the best months of my life so far – the second half of the 2013/14 season – ultimately because in 1949 a 15-year-old apprentice decided he'd go to Anfield to watch Liverpool.
"My dad wasn't into it at all. It was just me. And if you wanted to be into football, you picked Everton or Liverpool. And I picked Liverpool, because I liked the look of them," he said.
Ron went to Anfield from then on, week in, week out. He used to earn 25 shillings a week and walk from work on Dale Street up to Edinburgh Road, in Kenny, every night. He paid one shilling and sixpence to get into the Kop. He made friends behind the goal. When he reached his twenties, he started going to aways as well. He bunked into Wembley because he didn't have a ticket. That picture of Shankly in front of the Kop? Ron is in it.
Then in 1968 he moved from Liverpool to North Wales with my nan. And he started working away and had to stop going. He'd still get there whenever he could. Always watched them on the telly at home. I used to watch with him. I liked Steve McManaman's hair.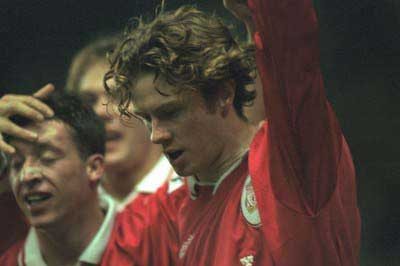 I came home from school one day when I was about seven and said I supported Everton (It was a class full of Blues and I obviously felt some peer pressure). Ron Forrester laughed and said of course I didn't. So that was settled.
Before the 2011/12 season, he hadn't been to a game since Graeme Souness was in charge. Time, money, nobody to go with, heart bypass. So I dragged him back to Anfield. He was made up.
And then things started getting really good. And this year me and Ron Forrester went to the Sunderland game together. Then we went to City game. I watched us beat City, I saw Anfield go off like that and I did it all with my grandad. Then we went for a nice tea and I went to sing songs with my friends.
"God, what a great day that was," Ron said.  "I was so glad we were there. It was so good to be there. I'd not seen Anfield like that since the Shankly days. It was great, I was made up."
I was made up. I was made up because when we scored the winner, I could hug and scream with my grandad, knowing there was literally no way to better that moment, that shared experience.
Ron Forrester is 80 years old this week and we have shared some of the best days of our life together because of eleven men kicking a ball around. Because of Liverpool FC. Because of the choice he made nearly 40 years before I was born.
But that's not a massively remarkable story. It's important to me, but I'm not expecting it to be to everyone. But ask anyone going the game, at any football ground in the country, why they're there.  Chances are, they'll have a similar tale. They're ten a penny. Everyone's got one. And that's why football is important.