BRAZIL is a country where religion looms large. Literally in Rio, a giant Jesus statue looks down on you telling you that, whatever sins you are planning, you should pack it in. I have no idea if it works, I've just got here. I'll let you know.
Our Costa Rica t-shirts features Christ the Redeemer with the words 'Costa Rica. I believe'. They seem to have captured the Tico imagination, with Ben Mac wearing one featured on the front page of a Costa Rican newspaper.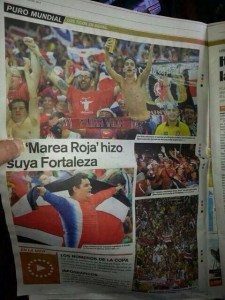 We know this because one of our Costa Rican mates came up and showed us. Seeing people from the first game was great. All high fives and big smiles. All still delighted to be there. It makes me worry about the Costa Rican who stayed behind to get his bathroom done whilst his mates went to Brazil.
I think the reason people like the tops is they sum up the current mood. The atmosphere certainly seemed to have changed. Whilst previously there was an element of 'just happy to be here', now there is confidence and excitement. People pointed to my t-shirt saying 'I believe in Costa Rica!'
And why not? I've just watched Argentina need a last minute winner against Iran. Brazil haven't got going either and Spain and England are out already. Meanwhile Costa Rica defend like warriors and move the ball slickly and quickly from back to front, looking to have goals all over the place.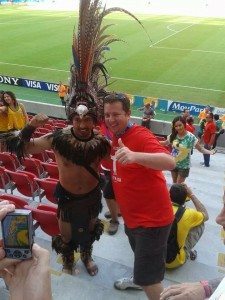 They probably won't win the World Cup. That's because everyone probably won't win the World Cup. I probably wouldn't put them in the 'good a chance as anyone' category yet either, even in my giddy state. But people believe.
We get asked if we are going to the last game. We aren't. I get asked why and no reason seems adequate. We can't leave the party now, and its not that far from Rio…
Any spares?