DID YOU PUT IT ON? I told you to bet on Costa Rica to get out their group at 10-1. Admittedly they haven't done it yet. But it's looking good. Although, before I get too cocky, here are the things I was wrong about:
1. They were much more attacking than I thought they would be. I thought they would sit deep but they actually looked to take the game to Uruguay every chance they could. I thought they were the better team even before Uruguay took the lead, and they continued to look dangerous when ahead.
2. I said Uruguay would beat Costa Rica. This was when I thought Suárez was fit and when I had forgotten about Uruguay's defence and Cavani being a fraud.
3. I called Joel Campbell dangerous. He is actually better than Messi.
I will come clean and say I went to the game in a Uruguay shirt. I did so partly because I had brought it and didn't know when else I would wear it and partly because I thought I might run into Suarez after and I thought he would like it. But long before the game I had decided I was sticking up for Costa Rica.
I've loved the Costa Ricans since I've been here, maybe more than anyone else. They have been warm and passionate and delighted with any interest you show in their country. In comparison Uruguay have acted like a bunch of frat boys.
Everyone else is the best part of coming to a world cup. Columbians in their tens of thousands. Scotland and Sweden not playing but getting stuck in anyway. England far from louts but actually loveable divvies. And those Scousers again.
But they all bow to Costa Rica tonight. I've come to bed early. They haven't. They are still singing 'Los Ticos' on the street. We were front row in the crowd tonight surrounded by them. A man gave us key rings. Walshy put another on his shoulders. Others taught us songs. None of them could believe we would be there again against Italy. The Costa Rican Kopites.
In the end I took my shirt off and embraced my surroundings; it was certainly hot enough. In the end people cried. In the end, imagine not thinking the World Cup was great.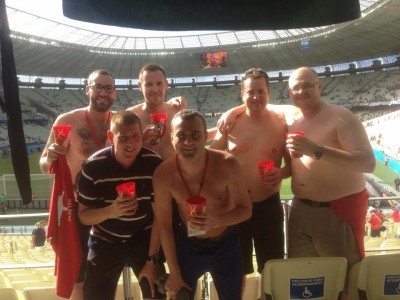 I get to see those lads again next week. I won't be wearing the wrong shirt.