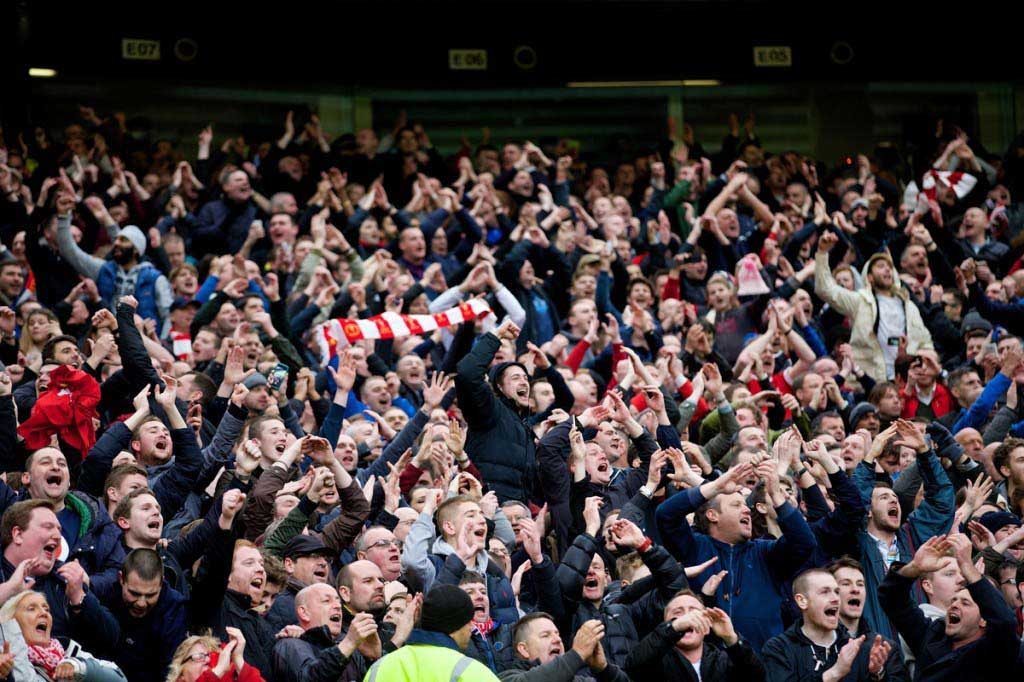 EXTORTIONATE ticket prices, stupid kick-off times, absentee owners fleecing the club you love… With all that to bear, it would be easy to walk away from the game – especially when things start to go wrong on the pitch. But supporters stick with it through the wind and the rain. And why? Well, who better to ask right now than a Manchester United fan? STEVE ARMSTRONG from fanzine United We Stand explains.
I KNOW what you are thinking. Why is a Mancunian – a United one – being invited to write stuff on here? Down with this sort of thing, as Father Ted would say. Before you finger me off your iPad though, I'm not some internet warrior blogger who never goes and still lives with their Mam.
I go home; I get in all aways by hook or crook and I've missed just two Euro aways since the ban was lifted in 1990. Had I not cocked up by getting married midweek you could halve that. Anyway, I think I'm clued up enough to make sense to you, so stay with me.
As a place, Liverpool has been professionally very kind to me over many years and that helps me to put aside the ubiquitous ill feeling that manifests between both sets of supporters. This isn't going to be a Manc-Scouse love in, or one of those 'hands across the 62' articles. I've never felt the need. Anyway, I'm more of an East Lancs man myself.
I've had my moments on Merseyside. I went to my first game in 1977. I first saw United play against Liverpool at Goodison in 79. It was mental. I was addicted to just about everything that going to the match was about from that night on.
I come from an era when getting back to Manchester in one piece was a right result. I've ran and been caught on the streets around L4 enough times. It came with the territory. Your lads will say the same thing about their trips to Old Trafford. It's what going to the match was about.
United had little to be pleased about back then. We had to watch as Liverpool swept most things aside; the 80s in particular being a period of unbearable dominance for many a Mancunian. It never bothered me. A small part of me admired it and I saw only Liverpool's following as alike to the support I was part of. That does I agree place me in the minority. Don't get me wrong, I'll never want you to win anything. I just disliked City more. And Leeds. Oh, and for Panini Sticker reasons, Middlesborough.
I started going when United weren't moving anywhere fast. The odd cup run and what became an almost annual result at Anfield being all we could muster. It didn't matter though. It didn't matter because I never once lost sight of the reason I started going to the match. I'll come back to that in a bit.
My most dismal Anfield memory came in September of 1990. United had won the cup the previous May and Liverpool had placed an eleventh title on top of United's seven. Alex Ferguson was starting to move the club and we came to Anfield with the hope that this was a time when it was going to turn our way.
United got butchered.
It was 3-0 in no time and could have been 10. It was probably John Barnes's fault.Never in my life had we felt so near on the pitch but ended so far away. The club was by then 23 years since winning a title, and that didn't look like it would ever end. If you would have told anyone in the ground that day that the home fans would reach 2014 having seen nothing added to that total of 18 titles and that their most fiercest of rivals in the away end would be by then sat two ahead of them they would have thought of you as deluded and probably called for your immediate recapture.
I should add here that this isn't one of those '20 times' gloats that leads to one of those '5 times' responses. I've never really been arsed with all that.
Many reading will feel privileged to have seen a lot of glory. I certainly do. I've seen United become League, European and World Champions. Only you can understand what a period of colossal dominance feels like. You did it for two decades, and then we did the same. In United We Stand this summer I made a small reference to your club on that very subject. The world was talking about the post-Busby era and how post-Ferguson United had to avoid repeating it. I said this instead:
"This transition could take some time and then how the fans react to the inevitable media spin becomes very important indeed. If this doesn't work out then the cash-laden clubs waiting to pounce will do just that and it isn't beyond the realms that United's imperious dominance of the domestic game could well be about to end. If that sounds ridiculous you have no further than about 30 miles to go to see what that looks like. United of 1970 isn't what must be avoided, it is the Liverpool situation of 1990."
The club clearly didn't read it. If you are a United fan in your 30s you've only known United under Alex Ferguson. You've only known the quite ridiculous success that he brought to Old Trafford; culminating last season in what was for me his greatest achievement of them all. Since he left, it's fair to say that since then it's turned to sh*t.
A lot of what many feared would happen has happened and, in many ways, quite spectacularly. For many, it is alien territory this. There's been more to it than what might be in the public domain. Behind the scenes at United has been in a bit of turmoil for some time now. You again are very aware of what that feels like. Every level of the club has had change and all of sudden this juggernaut of a sporting institution has had the brakes applied.
We knew the media would go to town on United. We fully expected supporters at our rivals and even those with absolutely no interest whatsoever in United to tell the world how delighted they are. I haven't batted one eyelid because this season hasn't taught me anything. It has however reminded me of why I started going to the match.
It's reminded me why I keep going and what is truly important about a match day. Don't get me wrong, success is great but it wouldn't be the same without those wonderful people that you call your mates. Rotterdam 91, Barcelona 99 and Moscow in 08 were all incredible. So were the trips to Japan as a result of being European Champions. Seeing all that on my own would have made those successes very different.
My point is this. I started going to the game because of wanting to watch Manchester United. I kept going and still keep going because match day with your mates, no matter what, is a very special thing. United's away following is world class. Always has been. Only yours is of similar ilk.
We've been running the same bus full of idiots to the game for 23 years now. We've grown old together. We've seen the ultimate in on-the-pitch glory and, like you, we know what it is like to have glory snatched away in supposedly heart-breaking fashion also. None of it matters. The Old Trafford support has arguably been better than it has been for a long time. There is a reason for that.
We, like you probably do, know that we never cared about actually winning things when we first started going. We just wanted to go. We just wanted to go home and away with our mates and many of us haven't grown up since. The match has always been a 90-minute stress in among a right good laugh and, daft as it seems, this year has been no different to the treble season on that score.
United will ride this storm and will come again but between now and whenever that takes place, we'll carry on with the things that have always made going to the match great.
I know what Bill Shankly meant when he said: "Football is not a matter of life or death, it's more important than that." But it isn't true. I can think of many more important things than a game. That's because the most important thing of my match day is still there, sat next to me in the Stretford End.
It's still stood next to me at away games and still trying to set my Trimm-Stars on fire on the Monkey Bus home. It's still in the pub with me and making me laugh over a pint and ensuring I get home occasionally a day later than promised. That remains the reason I do it. Players come and go. So do great managers unfortunately. Owners and chairmen come and go, albeit in our current case not quickly enough. Success, as you and I know, certainly does.
The only constant is the supporters and the mates you share brilliant times with. That is and always will be the only permanent fixture in your football-watching life and that is why it ranks at the very top of what is truly great about going to the match.
This piece originally appeared in issue 8 of the free digital Anfield Wrap magazine 
Pics: David Rawcliffe-Propaganda Photo