Steve Gerrard, Gerrard
He slipped on his f***ing arse
He gave it to Demba Ba
Steve Gerrard, Gerrard.
AND with that nifty little ditty, any conflicting feelings I had about England at this summer's World Cup all but vanished.
The last time that I actively wanted the English national team to do well in a tournament was at Euro 96. Back then I was child who had yet to develop any of the apathetic or negative feelings that have since grown inside me for all things 'Three Lions'. I admit that that summer of international football in our own country was intoxicating for the ten-year-old me.
That being said, I still wanted Italy to win that competition and went to Anfield to watch them against Russia. My Father (an Italian) introduced me to football and therefore Italy have always been my international side of choice. Lucky me.
As a kid, England I could take or leave, usually. As an adult though, I've basically gone about purposely ignoring them until that becomes impossible (every other summer unless Steve McClaren is their manager). The little plastic St George's flags appear on cars, the pubs fill up with idiots who can't handle their ale and millions of people form an opinion on a sport that they hardly follow.
Mercifully, this all usually ends with England being sent packing on penalties but, frankly, the whole experience does my head in and I only really begin to enjoy international tournaments when England exit.
Before last weekend though, I was genuinely worried that this World Cup would buck the trend. Liverpool have five players representing England in Brazil. They should all be in the starting line up, too. I've always wanted to see our lads do well individually for their national teams and, given that such a large red contingent will likely be taking to the field for England this summer, I was beginning to dread the prospect of having to cheer on a side led by Roy Hodgson and backed up by that S*n sponsored brass band and all the '10 German bombers' whoppers.
Panic was truly setting in.
So then a massive 'thank you' is in order to the fans of Newcastle United, our seventh placed 'rivals' from down the East Lancs Road and our neighbours, Everton. When they all relentlessly ripped into Steven Gerrard last week with the type of gusto and relish that you would expect had their clubs actually won a trophy, the panic subsided. Supporters up and down the country revelling in the slip that 'cost Liverpool the league' had made up my mind. Get behind England this summer? Not a chance.
I must stress that this isn't a choice made solely out of anger for one song and a stream of piss-taking Vines, though. When Manchester City fans were banging the aforementioned tune out at Goodison Park a couple of weeks back, I didn't really have a problem with it. Taking the mickey is part of football and, as they were the beneficiaries of Gerrard's slip, I could understand them rubbing our noses in it a bit. Part of the game, and all that.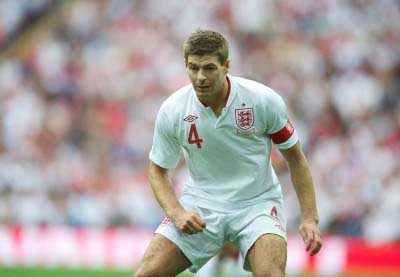 Newcastle fans doing the same though? I wasn't having that. Those lads will be cheering 'Wor Stevie' on all summer long and yet last weekend they spent most of the game at Anfield mocking their international captain by chanting the name of a striker who basically pissed on their legs and ran off to London for more money. 'Demba, Demba Ba' indeed. 'Irony' mustn't translate into Geordie. Neither must the words 'small time'.
Throw in Everton fans doing the Poznan at Hull and United fans flying a nonsensical and bewildering banner over Anfield as they limped to a humiliating Premier League finish and I was back where I started: hoping that Steven Gerrard 'slips on his f***ing arse' once more in Brazil and Luis Suarez sends England home as a result.
If all the over the top Gerrard/Liverpool mocking wasn't enough to steer me back to sense, then Roy Hodgson's 17-hour press conference this week – Sponsored by Vauxhall 'Is your team a sports car or a family saloon Roy?' Barf. – sealed the deal. I just can't get behind England, it's not possible.
If they were a club side they would be the type that has cheerleaders, plays the Fratellis when a goal is scored and their fans would sing songs exclusively to the tune of Sloop John B. The whole 'In-ger-lund' experience has always left me cold. It just has an air of small time about it and nothing epitomises small time more than spending the last day of your season singing about a player whose mistake had no effect on your club's own (mis)fortunes. Yet that is what thousands of football fans around the country we're reduced to on Sunday. Good for them.
No doubt most of those lads and lasses who exhibited their hilarious 'Gerrard Bantz' will be getting behind 'Roy's Boys' in a few weeks time. Me? Thankfully I'll be supporting the Azzurri and Luis Suarez.
F*** England. Forza Italia.
Pics: David Rawcliffe/Propaganda