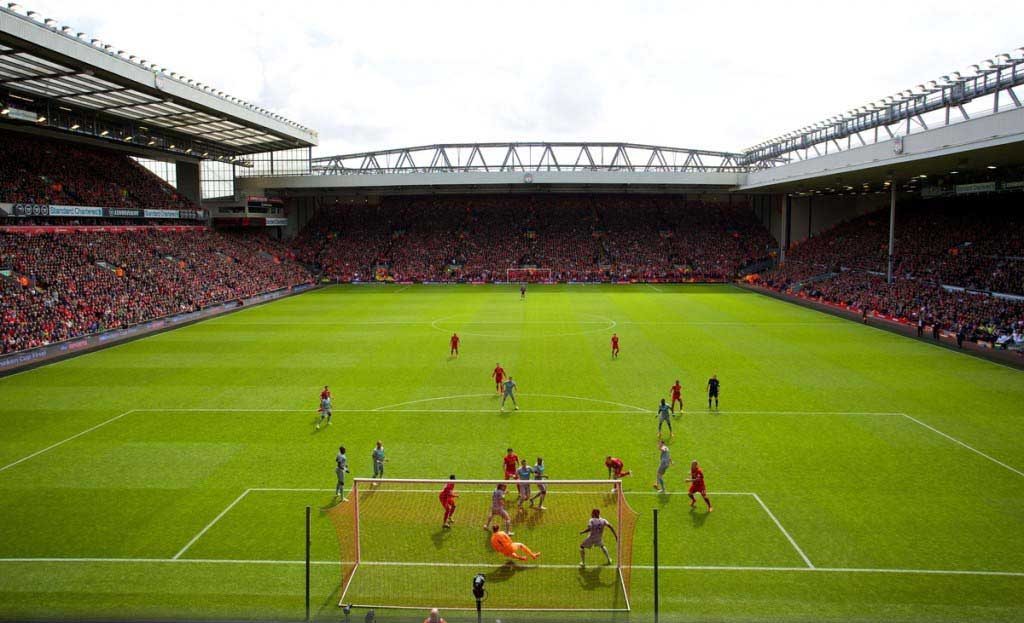 ARE you missing them yet? I know I am.
Life isn't quite the same without a Liverpool game to look forward to at the weekend. This imminent World Cup can't come – and go – quickly enough as far as I'm concerned. Forget Roy Hodgson and the Three Lions, I long to cast my eyes upon that mesmeric team in red again.
I'm sure you've been feeling similar things yourself. If you're anything like me, you've probably devoured countless highlight packages and revisited some of the more glorious games from Liverpool's season.
And so, generous as I am, I thought I'd offer something a little different here to break up the – admittedly enjoyable – repetition of rewatching Liverpool v Manchester City, Luis Suarez's four-goal haul against Norwich, Liverpool v Arsenal, the Everton games and the rest of those celebrated high points of 2013-14.
As an alternative, I've compiled below, a collection of eight moments from the campaign just gone that I believe slipped under the radar a little. Some are more significant than others while some will undoubtedly already be indelibly burned forever into your mind's eye. Hopefully though, a few will have escaped your attention among the stress of that title race and it's deflating conclusion. I hope what follows will bring a smile to your face as you relive these less-heralded memories of the magical ride that was 2013-14.
Enjoy.
The greatest goal Anfield never saw
Among the glorious madness that was Liverpool 5-1 Arsenal in early February, Luis Suarez produced one of the most ridiculous long-range strikes that you could ever wish to see.
With the Reds already two goals up inside ten minutes, Steven Gerrard took a less-than-perfect corner kick from the right-hand side down at the Anfield Road end of the ground. The ball was struck low and arrowed vaguely in the direction of Suarez, who attempted to control the cross just outside the penalty area. His touch resulted in the ball bouncing further away from goal and up into the air. Struggling for balance and running back towards the Kop, the Uruguayan somehow managed to wrap his foot around the ball and unleash a volleyed effort from nearly 30 yards out.
The velocity and swerve of the ball as it left his right boot was scarcely believable. To use a technical footballing term, the shot was a bona fide thunder-bastard. Wojciech Szczesny in the Arsenal goal offered a token dive but didn't even have time to extend his arms as the ball blazed past him in an instant.
The fact that the post was left shuddering and the goal netting remained undisturbed is one of the season's great disappointments. Had the ball moved just another inch or two in the air, Anfield would have been celebrating one of the most incredible goals in it's history. Forget goal of the year, this would have been goal of the decade. Instead, the entire crowd was left open mouthed and with hands on heads which, ironically, is exactly the same reaction that Kolo Toure gave immediately after he missed the rebound effort with the goal at his mercy.
https://www.youtube.com/watch?v=c0g1VyTpopI
Classy Coutinho leaves them on their Arse
Staying with that incredible day when the Reds eviscerated the then league leaders, it would be remiss of me not to include one of the numerous pieces of skill that Philippe Coutinho treated us to during his personal midfield masterclass. Having already produced a terrific slide rule assist for Daniel Sturridge in the first half, the little Brazilian outdid himself in the second period with a move of such grace and quality that it left onlookers slack jawed and Arsenal players hopelessly chasing his shadow.
Collecting a loose ball on the edge of his own penalty area, Liverpool's number 10 danced smoothly between Mesut Ozil and Lukas Podolski before dragging the ball effortlessly beyond Jack Wilshere with a shake of his hips. He then accelerated to the halfway line before delivering a perfectly-weighted, curling 40-yard pass that dissected Mikel Arteta and Kieran Gibbs to put Jordan Henderson clean through on goal. The England midfielder appropriately attempted to punctuate the move with a jaunty chip from the edge of the penalty area – merely blasting the ball home would have been no way to cap such a graceful assist would it? – but sadly, Henderson's effort floated wide of the post.
It may not have led to a goal, but the initial turn, the skill and the execution of the pass that Coutinho showcased was pure footballing fantasy and one of the most aesthetically-pleasing pieces of play that a Liverpool player contributed all season.
https://www.youtube.com/watch?v=_KQo5nBhIwY#t=3m35s
Back heels from you, Jordan Henderson…
Everyone knows how far Jordan Henderson has come in the last 18 months of his career. I could have picked dozens of examples from 2013-14 that illustrated his development but, in the end, I settled for three.
For a long while, Henderson was a player devoid of confidence at Anfield. Under Kenny Dalglish, he'd choose a safe pass whenever he could, he would rarely get himself into goalscoring positions and he certainly wasn't attempting any fancy flicks and tricks back then. Fortunately, he is now.
Henderson helped set up three goals with back-heels this term. If that doesn't display confidence and technique then I don't know what does. The first came at White Hart Lane on December 15. Breaking into the box and running towards the byline, the England midfielder pulled off an impudent back-heel that nutmegged Kyle Walker and allowed Luis Suarez to cross for Jon Flanagan, who battered the ball past Hugo Lloris.
Less than a week later, he was at it again. This time his perfectly-weighted flick rolled back to Luis Suarez following a quick one-two and the striker curled home a sumptuous goal to put Liverpool 2-0 up against Cardiff. Henderson's back-heel hat-trick was completed when Liverpool found themselves 2-0 down at home to Aston Villa back in January. A first-time flick through his own legs inside a crowded penalty area released Daniel Sturridge who got Liverpool back into the game.
These three incidents demonstrate just how much the 23-year-old has improved and also offer a glimpse of how much better he can yet become. So here's to you Jordan Henderson…
https://www.youtube.com/watch?v=0bXJWSLcd4M#t=2m40s
Sturridge does his best Jordan impression
There was a plethora of goals scored by Liverpool this season (sorry, but I'm refusing to call it 'last season' just yet. I'm just not ready let it go that quickly!) that didn't get the recognition they deserved. Daniel Sturridge's chip against West Brom and Luis Suarez's 18-yard header in the same game, to name just two. But the one that I feel is still most criminally underrated came courtesy of an outrageous Sturridge back-heel against Cardiff City.
With the Reds leading a topsy turvy game 3-2 on the hour mark, Glen Johnson got down the right-hand side and produced a pretty poor cross – I know, who saw that coming? –  that hit a Cardiff defender and ricocheted free in the box. With the ball rolling close to the byline and to the right of the goal, Sturridge decided that the easiest thing to do would be to blindly smash a first time back-heeled pass directly into the stride of Luis Suarez who, presumably, would be anticipating such ludicrous thinking and have positioned himself on the edge of the six-yard box. Suarez, of course, was exactly where Sturridge wanted him to be and put Liverpool 4-2 up in the game with a left-footed finish past David Marshall.
That this goal came in a match that yielded nine goals was fitting. It was perfect in execution and the imagination that went into it summed up just how enthralling Liverpool now are to watch. Henderson – who, as we've established, loves a back-heel himself – could scarcely believe what Sturridge had done. His reaction to the goal was nearly as glorious as the skill itself. Henderson couldn't contain himself as he skipped up and down on the spot with bewildered excitement as he watched the magic unfold. Just look at him! Brilliant.
https://www.youtube.com/watch?v=U_nbJk2Vdrs#t=4m20s
Flanno floors Soldado….
Liverpool v Tottenham at Anfield was a bit of a non-event in truth. The Reds waltzed their way to victory in comfortable fashion having sewn up the game in the first 45 minutes. Spurs' now departed manager Tim Sherwood admitted that he stayed in the director's box for the entire match because he 'couldn't do anything to help' his players by relocating to pitchside. Such was the difference in quality between the two teams. You could then, have forgiven Liverpool's players for easing off and playing the second half of this one-sided 'contest' in second gear.
Jon Flanagan had other ideas. With his side in a commanding position and all three points firmly wedged in their back pockets, Liverpool finally faced a rare moment of danger in the 81st minute. Spurs' £24m striker, Roberto Soldado, received a pass 20 yards from Liverpool's goal and began to stride into the penalty area. He didn't get very far.
Quick as a flash, Liverpool's Scouse fullback launched himself into a slide tackle that wouldn't have looked out of place in a Tommy Smith montage. After taking the ball, Flanagan's follow through saw him career into Soldado and deposit the Spain international on his backside, albeit after a somersault. A perfectly-timed, ball-winning tackle that left an esteemed international writhing in pain. It doesn't get much better than that for a young defender. Welcome to Anfield, Roberto.
https://www.youtube.com/watch?v=Xo_cpxlWjsc
….and gives Lennon the slip
If that Soldado challenge summed up Jon Flanagan's whole-hearted approach to football, this moment showcased the lesser heralded side of his game. The general view of 'Flanno' prior to this season was one of a gritty, determined defender who lacks a bit of finesse and serenity on the ball. To his credit, the youngster is beginning to alter such perceptions. This move against Spurs did a lot to further his cause in that respect.
Collecting a pass on the left wing, in the defensive third of the pitch and under pressure from Aaron Lennon, Flanagan initially feigned to take the ball inside on to his preferred right foot. Lennon bought the dummy and was left red faced as Liverpool's left back pulled off a delightful little Cruyff turn and sped away up the line leaving the England winger trailing in his wake. The move was greeted with a huge cheer from the Anfield crowd and the noise continued as Coutinho smashed home from 20 yards to finish Flanagan's work off. It may not have been the greatest piece of individual skill that Anfield witnessed during 2013-14, but this assist was a sweet moment for Liverpool's latest Academy starlet.
https://www.youtube.com/watch?v=GPke88Gi-gA#t=5m20s
Coutinho teases the Tigers
Liverpool 2-0 Hull City. One of the few games from this season that didn't really capture the imagination. It is best remembered for a trademark Luis Suarez free kick at the Kop end but, in truth, for little else. It could have been very different, though. This game could and should have yielded one of the best solo goals we'd seen in years.
In the second minute of stoppage time with the game winding down to it's natural conclusion, Coutinho picked up possession five yards inside his own half. Six seconds later he was bearing down on goal having danced past three opponents. Ultimately, he struck his shot straight at Hull keeper Allan McGregor who made the save, but the run that preceded the shot was dazzling. Two Hull defenders were left eating the turf as the Brazilian magician showed once more just why he is such an exciting prospect.
https://www.youtube.com/watch?v=cL1XGqGndE4
Sturridge juggles his way to goal
You know a goal is somewhat out of the ordinary when your girlfriend (who isn't much of a football fan) starts laughing her head off at it. After yelling with relief at the fact that Liverpool had finally sealed three valuable points in a needlessly stressful encounter with Stoke City, I enquired as to why my better half's sides were splitting. 'That goal was just weird. He was like a performing seal, I've never seen anything like that before' came the riposte. Touché.
Stoke City 3-5 Liverpool felt monumental. Steven Gerrard in a new role, the Reds' first win at the Britannia in a league game, an ever changing scoreline that that swung more times than the Foucault pendulum and the return of Daniel Sturridge. It was the striker's goal in this match that so amused my partner and delighted Liverpool fans. After his initial shot was saved at the near post, Sturridge kept the ball in play with his chest, steadied himself by heading it up into the air and finally rifled home on the volley underneath Jack Butland. It was certainly a unique way of finding the net and the improvisation and technique were second to none. It also finally killed off a Stoke side who had looked likely to snatch a point until that moment.
https://www.youtube.com/watch?v=-ZQbpVr-MN4#t=7m08s
So there you have it. A collection of nearly moments, sumptuous skills and glittering goals that were somewhat lost under the avalanche of highlights from this season.
Roll on 2014-15. Up the Reds.