ALISON McGOVERN, Labour MP for Wirral South, says the Richard Scudamore sexism row presents wider questions about women and football
BANTER.  The modern term for the age-old phenomena of joking around on the verge of acceptability. Yep, this article is about banter. I might have spent the past four years as an elected representative talking about the labour market, public service reform, and global poverty, but this one is just about chat – the funny (or maybe not funny) gags we share between our work colleagues and our friends. An unlikely subject perhaps, but if you're still reading, you've probably guessed that the prompt is Premier League chief executive Richard Scudamore and his delightful emails.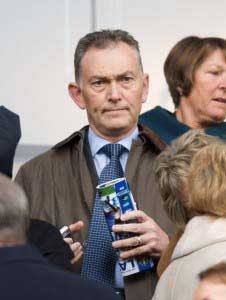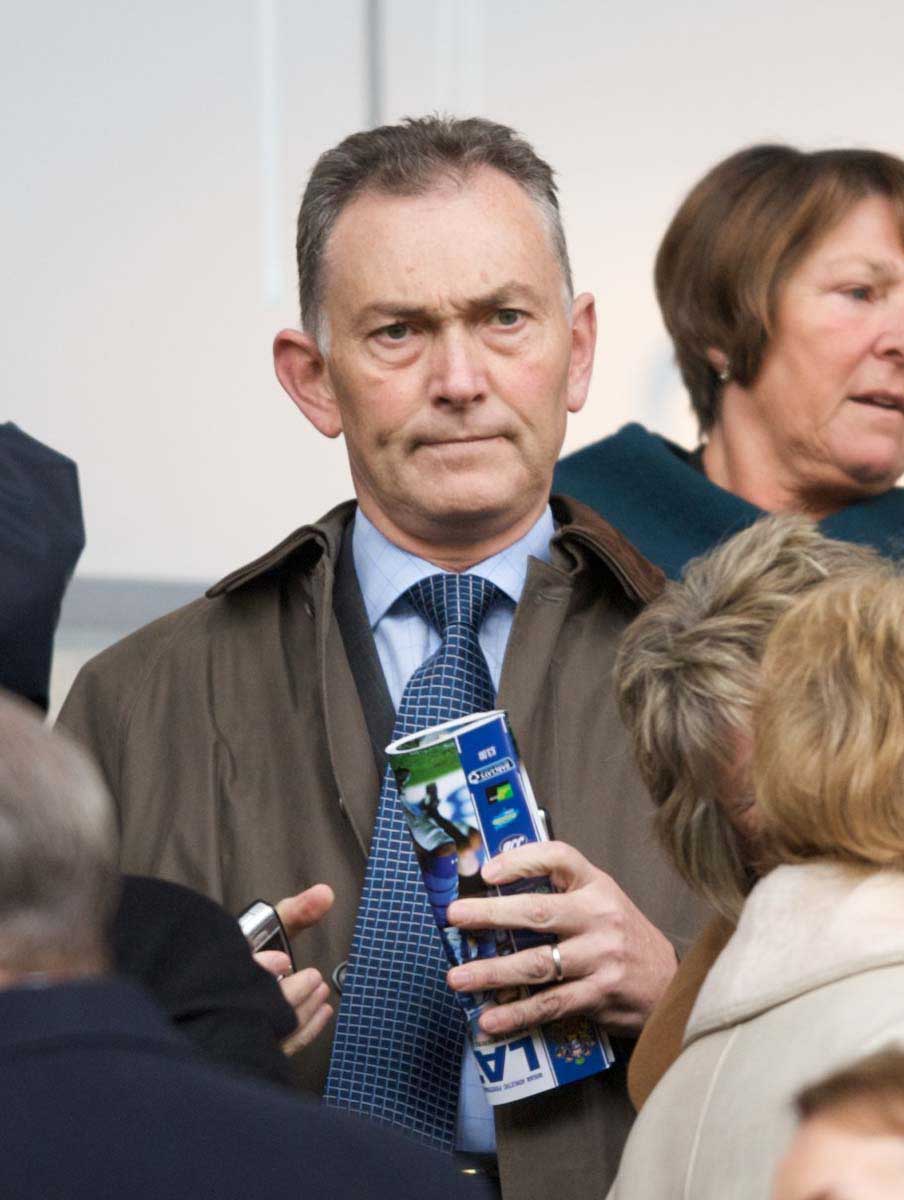 I don't wish to comment too much directly on what the man at the top of the sport I love has done. The Mirror's finest Oliver Holt has done so perfectly well.  So has the brilliant David Conn of The Guardian. But let me share a wider perspective on this phenomenon and the challenge it lays down.
Now the first thing about gags of this sort is that they happen (in my limited experience) in stressful workplaces. This is not something I am afraid of. I spent two years working with railway engineers, and recently, a year in the opposition whip's office of the House of Commons. Neither were places for shrinking wall flowers. In pressure-cooker-like conditions, we release the tension with humour. That's natural isn't it? Gallows humour gets us through.
I'm not afraid of banter. Joking around to get through the day is a human thing. My team at work would tell you, I make an effort with the jokes myself. They sometimes weep at the poor quality – more Dame Edna than Dawn French – but I try. Politics can be a ferociously hard business at times, and my constituents are frank and honest with me. That's why I love them so much. Sometimes they make jokes at my expense. Not unreasonably.  As George Orwell said: "If you had to define humour in a single phrase, you might define it as dignity sitting on a tin-tack."
Equally, there are rightly important barriers in workplaces to protect people from humiliation. As Rani Abraham, who discovered the emails from Mr Scudamore said herself: "I believe Scudamore's emails are very different from men having a laugh at the pub. I've heard those type of conversations but it's completely different when it takes place in the office. I had no choice but to see those emails as part of my job. In a pub you can walk away."
Indignity at work is not okay, especially when the balance of power is so clearly on the side of the bloke concerned. But in general, kind-hearted joking about at work (a bit) shouldn't be a problem. What is a problem, and what I'm really afraid of, is what men in football really think. I'm afraid of men who care about the game, and don't really want women in it.
According to the FA, the first women's football game was in 1895, three years after Liverpool FC was founded.  In 1920, 53,000 people watched a women's team from Preston beat St Helen's Ladies.  That's more than watched Liverpool versus Newcastle on the last day of the season this year.
Then in 1921 – three years after women were allowed to stand for Parliament – the Football Association banned women from playing football, describing it as 'quite unsuitable for females'.  I imagine women's campaign groups at the time had reversing that decision on the list somewhere, just  a few places below universal suffrage, stopping women dying in childbirth, and getting girls an education. Sadly, it wasn't until 1969 that women had a league again.
Women weren't left out of football as part of the natural order of things. It was a choice. And thankfully, a choice that been somewhat reversed in recent years.
The atmosphere around at the moment feels like a crunch point. We have to decide which way we are going. One minute Clare Balding stylishly interviews Daniel Sturridge to the applause of most true-hearted Reds, and you think the world has moved on. The next, you read about goings on at the Premier League and you wonder if it ever will.
I don't know what the truth is. I'm not a man, I can't answer for men. Maybe for some, they can't escape the the assumption that football (in that very tired expression) is a man's game.  Maybe they don't want to?
I know this however. If you are a man who is happy to have women around in the beautiful game, it's time to say so. It's time to speak up for the brilliant Liverpool Ladies who won the league last year, and get down to Halton Stadium and give them a cheer.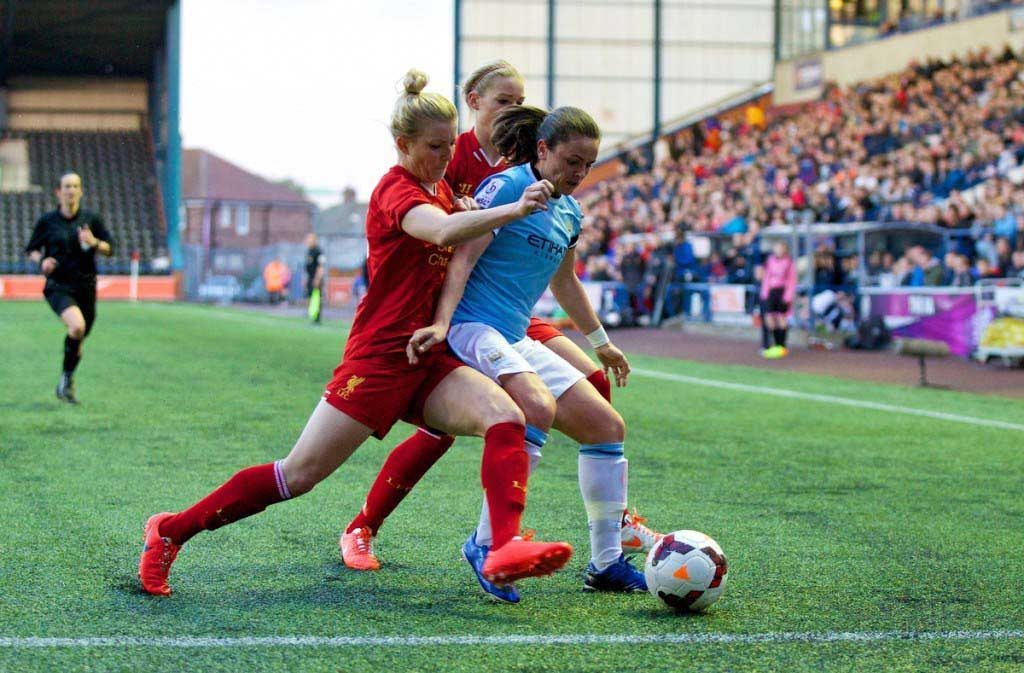 Women have always been in football. There are women who sit near me at Anfield who have been there as long as my Dad and his friends. They've made the tea, cleaned the toilets, and washed the kit for long enough. It's time to for you to ask why we can't have more women referees, managers, commentators, physios, or even owners.
It's time for you to make it clear what you think. Don't leave women around you thinking everyone is secretly wishing we weren't involved. Because inclusion only really happens when those on the inside welcome the outsiders in.
So how about it, football fellas? Can we come in now?
Pics: David Rawcliffe-Propaganda Photo