"If you are first you are first, if you are second you are nothing."
ONE of Bill Shankly's most famous quotes. It has adorned many a dressing room wall, inspiring hundreds if not thousands of people, not just athletes, to achieve their goals of being number one. 
Sadly, Liverpool did not finish first. That's the cold hard fact.
In the immediate aftermath of Liverpool 2 Newcastle 1 and Manchester City 2  Kevin Nolan and Andy Carroll 0, the Liverpool players were not allowed their moment to grieve. As always, before they had time to think, microphones and cameras were thrust in their faces, with a demand to know what was on their mind after Liverpool had 'thrown the title away'.
You could hear the exasperation in their voices, with Steven Gerrard, Daniel Sturridge and Daniel Agger in particular failing to hide their disappointment. They said words like "It's been a great season" and "We've achieved a lot" in the same way you say "It's very nice thanks" when you're forced to eat overcooked asparagus. They knew the title was in their hands, they knew it was a missed opportunity and they knew that, really, they should have been celebrating a Premier League title win in that moment. They were experiencing that feeling that first was first, and second was… not.
Alan Hansen signed off on his last ever appearance on Match of the Day by saying without hesitation that Liverpool's season was a failure. It likely just came from the pain and frustration of believing and being denied, as well as the fact that when he was at the club, the 'first is first' mentality was more than mere chest beating, it was ingrained through everyone at Liverpool. But to summarise this campaign, it was pure nonsense.
It was a fitting quote for Liverpool at the time Shanks uttered it, and it's a very apt mentality to have when competing for anything, but if ever there was a season when you could alter it slightly to say "If you are first you are first, but second is pretty bloody impressive too!" then this was it.
Is 'failure' and 'throwing the title away' really the most appropriate way to describe Liverpool's season? For me, you cannot look at a record of 14 games, 12 wins, 1 draw and 1 loss and say that we threw anything away. We just lost to Chelsea, that's all. As much as I dislike their style of play, they're rather good at winning big away games, just ask the new Champions of England.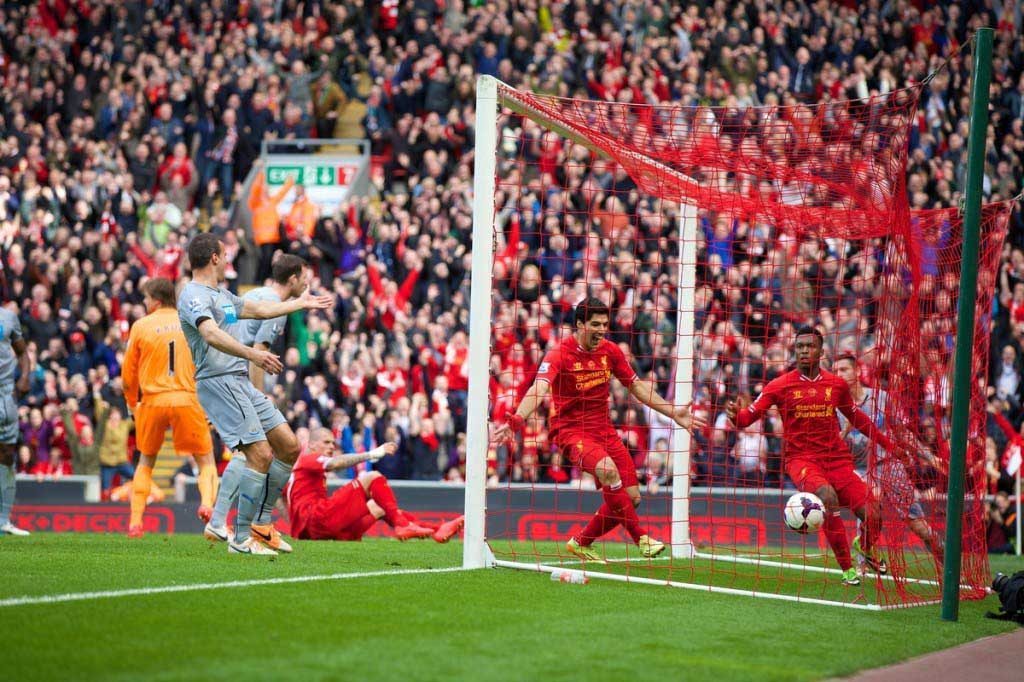 Crystal Palace was painful, so painful, but let's not kid ourselves that it made one iota of difference to the title race. Manchester City would still be champions if Damien Delaney's effort had hit the bar and we'd gone on to win 4,5 or 6-0. It was bad, it goes down as a failure to win in the record books, but Liverpool threw nothing away at Selhurst Park other than a goal difference and points total that still would have seen them come second.
We have used fighting words a lot this year, believing that we have simply come back to where we belong, but whether people want to read it or not, Liverpool had no right to be in the title race, or no more so than anyone else. We earned our way back there against the odds.
We weren't in the conversation when the season began, we were rightly mocked after losing at Hull, we were certainly out of the race after back-to-back defeats at City and Chelsea over Christmas, but we then clawed our way back into it with an unbelievable run of 11 wins on the bounce.
Second place hurts, of course it does. We were on our way, all the stars were aligning and it really felt like our year. The harsh fact is that the idea of a name being on the trophy is nonsense. Football is not scripted. Until the points are on the board, it isn't yours.
Sadly, we have been informed by all and sundry that this was the one and only year we would have a chance of winning the title. Everyone else was in disarray this season, that's why we were up there. Chelsea, City and United all had new managers, that's why we got 84 points and scored 101 goals. And they're all going to improve next season, so we don't stand a chance. It seems that some in the media are aware of a transfer and progress ban at Liverpool that the rest of us aren't.
Bullsh*t. If anyone in the top seven is likely to improve next year, it is Liverpool.
We have Mignolet, Sakho, Flanagan, Henderson, Allen, Sterling, Coutinho and Sturridge who have huge scope for improvement. As good as they've been, under Brendan Rodgers, you get the feeling they can all get even better.
We are the ones who are likely to bring in the most new players, with Rodgers admitting he will need to significantly strengthen and increase the size of his squad ahead of Champions League football next season. Sure we now have extra games to contend with, but why is that definitely going to hurt us? Look at the semi-finals of the European competitions. Sevilla and Valencia aside, the other six were all a big part of their respective domestic title races. Extra games costing you domestic points is an excuse I don't buy. We'll be fine.
Of course winning would have been the ideal outcome, but don't underestimate the power of second, or more to the point, the effect of a near miss on a group of players. Look at Leicester and Brentford. Both denied in the harshest of circumstances last season, so they came back stronger and got the job done comfortably this time round, same with Manchester United last season. The hurt and the pain that the players are feeling will be like fuel. When we smack someone 7-0 next season, a lot of it will be down to the pain of this season. This team is learning, and you learn a hell of a lot more from losing than you do from winning.
Success is the goal, continuous success. Rodgers and the owners have made a big thing about not just returning Liverpool to greatness, but ensuring that it is sustainable and long-term greatness. It may sound like the desperate cry of a Red in denial, but it's not the most outrageous suggestion that coming second could end up being better for us in the long run.
Not that this squad and its gaffer seem the type, but success can sometimes breed complacency. No-one has successfully defended the Premier League title since United pipped us in 2009. Don't get me wrong, I would much rather have won the title this season, but as the skipper said in the immediate aftermath of the game, the experiences of this season, both positive and negative, will do this squad no end of good.
I will follow Rodgers in offering my genuine congratulations to Manchester City. They do have the best squad, they held their nerve when it mattered and they got more points than anyone else. Manuel Pellegrini is a true gentleman of the game and I am at least relieved that it was he who gained the glory rather than the over-grown Portuguese child currently residing in West London.
Having the title in your hands with three games to play and not winning it is heartbreaking, but we move on. We look to the positives, of which there haven't just been many, but a season-full. I was calm on Sunday. Although a friend of mine said to me afterwards "Close, but no… Segar.", so I punched him in the nipple.
Bill Shankly's quotes are the stuff of legend, but I think it would be more fitting to end my last article of the season by quoting Mr Steven Gerrard.
In 2014/15… we go again.
Pics: Dave Rawcliffe-Propaganda Photo