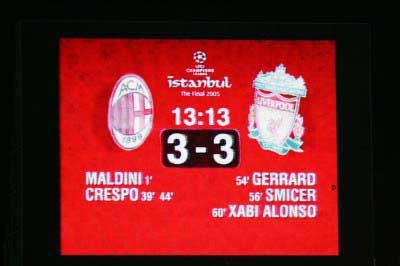 LOOKING back at this season, it's hard to shake the feeling of 'what could have been', writes PAUL McCABE.
The Chelsea defeat and the surrender of a three-goal lead to Crystal Palace prompted many to accuse Liverpool of bottling it; of coming up short when it mattered and of squandering their 'best ever' chance of winning the league.
There is the usual sneering from rival fans, from pundits and from those who revel in glorious failure. But there are other, more productive and more constructive ways to view this season and what may lie ahead.
Firstly, I have to preface this with a phrase made famous by the movie screenwriter, William Goldman – the writer of, among other movies, Misery. Misery would certainly encapsulate how many Reds felt on Monday night, as well as "sleepless" and "bemused." His phrase, "nobody knows anything," is a simple rebuke to how all the movie critics and studio analysts did not really know how a movie would play with audiences. They did not know for sure which movies would be blockbusters, which actors and actresses would be stars.
Basically, just like football punditry, predicting success is never an exact science.
Essentially, nobody knows anything, yet many people think they do. All we have are theories and guesswork.  We do not know what will happen today. Liverpool might thump Newcastle, and City could trounce West Ham. We suspect, but we do not know. Many pundits assume that this was it:  Liverpool had one chance, and it is gone, and that chance will never return.
That could prove true in time, but this Liverpool side goes into the very last game of the season with a mathematical chance of winning the League. It is not probable, but it is possible, and that cannot be said of Arsenal, Man United, Tottenham or Chelsea.
These are teams who have more recent experience than Liverpool of competing in and for the top four places, of playing in the Champions League and of spending megabucks. This is a chance.
3-0 down to AC Milan at half-time…
It was not meant to be this way, of course. Brendan Rodgers' Liverpool team finished the patchy 2012-13 season with some sparkling performances. There was a sense of real progress towards the end of the season, and a plan was starting to take shape. Some thought it may have been another false dawn.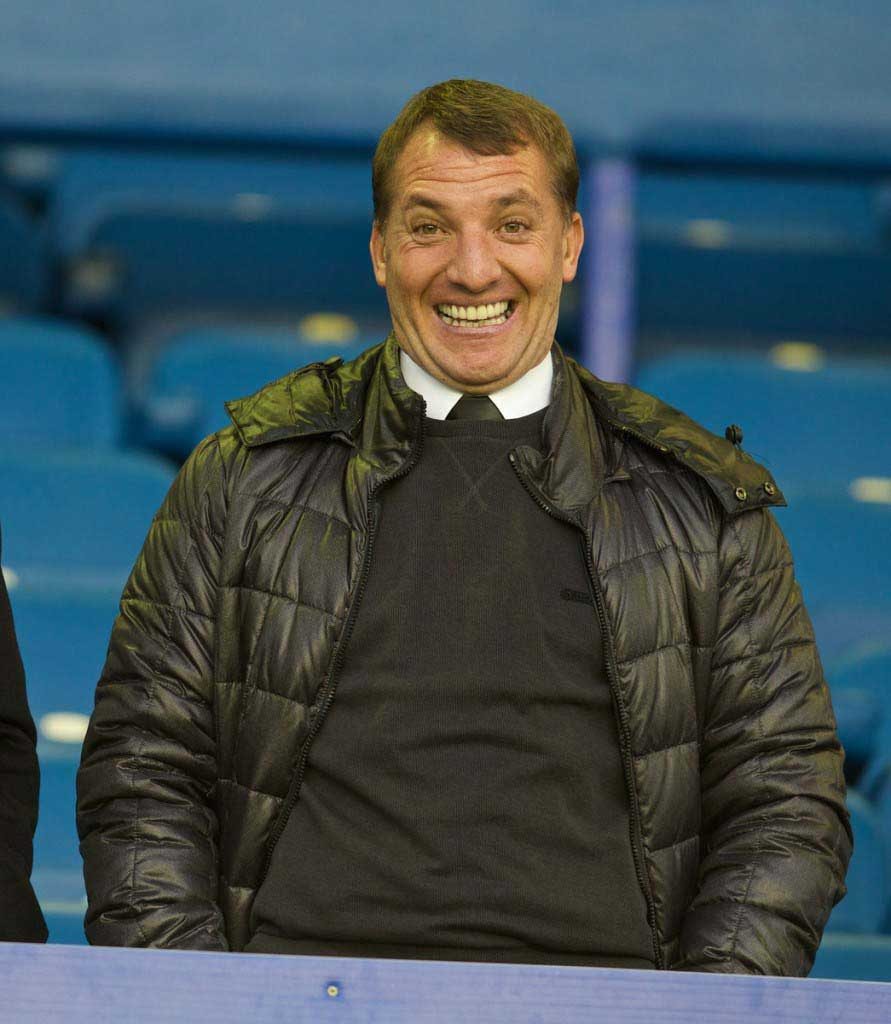 The club spent conservatively in the summer, and it was considered unlikely by many pundits that the club would even finish in the top four, let alone be in a position to be competing for the title.
Mourinho was back, Moyes was a 'terrific manager', Pellegrini had millions at his disposal, and Spurs were likely to push for the league. And there was always Wenger.
Liverpool were not given much of a chance: out of 13 of The Mirror's football pundits, only one predicted that Liverpool would even finish in the top four.
Fourth was the goal set by FSG, but Rodgers had no track record of achieving this and no-one had at Liverpool since 2009; up against big-spending rivals and talent-rich squads, the club had its work cut out for it and it seemed a daunting task. The summer 2013 and January 2014 transfer windows disappointed many fans, as the club wrestled to keep Suarez and did not recruit much in the way of proven talent.
In truth, most of the signings from last summer have failed to deliver. Suarez has delivered in droves, whereas the critics predicted he would merely sulk. Again, nobody knows anything.
Rodgers has clearly delivered. In fact, putting recent disappointments aside, he and the squad have over-delivered. They have not scraped fourth. They were the first team to qualify for the Champions' League this season, with third now representing the very worst finish, second most realistic and first still a minute possibility.
It has been an incredible achievement, done so with some stunning wins, an 11-game winning streak and 99 goals (and counting). Forgetting all of the excuses about not having European football as a distraction and Liverpool "having a clean run of it", Rodgers has still had to manage expectations and coach winning performances. He has done so with gusto, and he has improved the output of most of the players he has had available to him. Liverpool are in the mix on merit and due to being given a lot of licence.
With one day in this amazing season to go, I just wish to express my own thanks to this great team for making me believe again. I mean, to really believe and to really enjoy. Granted, my thoughts during most matches have ranged from "oh, great, 2-0, it's in the bag" one minute to "2-2! Not AGAIN!" (sans numerous expletives and reddening of face), but that has been part of the emotional rollercoaster. The footballing verve has been incredible and, even if we do not get the "mother of all twists" or the brilliant Hollywood ending, the achievements in the table and on the pitch underscore what has been a sensational season.
Like other Liverpool supporters, I do experience the disappointment and the desperate hope that things would be different. I am certainly not glossing it over, pretending it should not be acknowledged. For me, this team deserved it, even just for karmic reasons.
Everyone is entitled to feel how they feel, but I am offering a different perspective on things – one where we do not have to believe the doomsayers, or attribute blame indiscriminately. It is also one where, for the first time in years, there is a real sense of meaning in the final game.
At worst, there really ought to be a sense of true gratitude.  It is easy to wonder "what might have been", but equally you cannot help but wonder whether fate plays a hand too and things are just out of your control. So many seasons have been like that – including, but not limited to, how Man City won the league two years ago.
Certain factors that might have made the run-in tougher for Man City in the last couple of weeks did not pan out as we had hoped; ultimately, Everton were less incentivised to beat City as their defeats to Palace and Southampton effectively ruled them out of the running for fourth. Spurs losing on the same day meant that Everton's fifth-placed finish was also safe. Villa secured their safety in the game before they ventured to the Etihad. West Ham are safe and a pretty poor side. Bad omens.
Liverpool put themselves in this position with some brilliant wins and actual consistency. In recent seasons, three straight league wins was "nosebleed stuff", so 11 on the bounce is a truly phenomenal achievement.  Every team can point to slips, own goals and dropping points to teams they would expect to beat. In fact, those slip-ups let Liverpool go top, albeit fleetingly, but Liverpool have steamrollered most teams and will have learned important lessons about those who "park the bus". It is unreasonable to overlook a winning run like that, to only magnify mistakes, and then point to Steven Gerrard's slip being "the moment." If not for Gerrard, Liverpool would have been battling for fourth, so it is always too convenient to look for "moments", lapses or scapegoats.
Big Sam says he wants Gerrard to win it…
To point to that draw here or that defeat there is to miss the point. Of course, we should have beaten Villa at home or Palace away (God, yes), and if only we had safeguarded those winning positions at Goodison, St James', Stamford Bridge and the Etihad. If…ONLY. There is no point torturing your mind with "if only", for Liverpool is still a team in transition and the mistakes can only be used as learning points, rather than emotional scars. This is something Rodgers has preached all season: one game at a time, we are learning all the time, and we cannot change what has happened. We can all be wise in hindsight, but Rodgers is studious about improvement.
It's not over yet…
The narrative was beautifully poised, and this would have been a fitting season for Liverpool to win the League. The pieces seemed to fit: 24 years, Kenny Dalglish watching from the stands, spellbinding attacking football, Steven Gerrard's passion, Suarez's brilliance, 99 goals, Hansen's last season as a pundit, Carragher's first…But alas, it does not always end the way it should. Football does not always give you what you want, but occasionally it gives you what you need. It has given the fans their pride back, and it has given Rodgers a brilliant platform from which to build.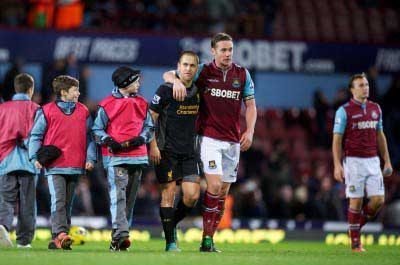 And maybe…a Nolan assist.
So, again, nobody knows anything. Nobody realistically predicted this. We all hoped. We always do. Every season starts with hope for every team. This season has finished with it, grown with it and it has taken us on a few journeys. There remains hope (okay, maybe a miracle) for the last day of the season, and hope for the upcoming seasons.  Certainly, we know that Anfield will be a difficult ground to visit and Liverpool will be a team in which exciting players will be given a chance to shine. We do not know what the future holds, of course, but all indications are that it will be bright…
Especially if Andy Carroll pops up with the winner in injury time.
Pics: David Rawcliffe-Propaganda Photo