NOTHING said 'cup final day' more than a dog in full football kit.
The FA Cup Final used to be the biggest day on the football calendar. It was absolutely massive and the country would grind to a halt to decorate front windows of houses, to hand over good money to buy unthinkably shite cup final records, to beg borrow or steal their way to a match ticket and yes, dress their bewildered canines in a full football kit on what was often the hottest day of the year so far.
It was a day of the year that was a serious rival to Christmas Day and birthday in the pecking order of importance. Up until the near mid 1980s, the FA Cup final was more often than not the only domestic football match you got to see live on television. Even my despairing-of-football Mum would look up from whatever she was doing to keep an eye on proceedings, while some years (when Manchester United we're  contesting the final) she'd be – with far too much seriousness – questioning why her husband and two young lads weren't 'rooting' for the northern team.
"Muuuuuuuuum, they're Man United!" we'd splutter, sending a fine mist of Tizer into the atmosphere, accompanied by globs of beef-flavoured Monster Munch.
"But we live nowhere near Brighton, and besides don't speak with your mouth full you horrible dog," she'd protest.
I'm still pissed off with Gordon Smith to this very day.
When both the BBC and ITV broadcast the cup final, the two channels would start their coverage early on the Saturday morning. And often crap fare it was too – Cup Final It's a Knockout being the heady highlight.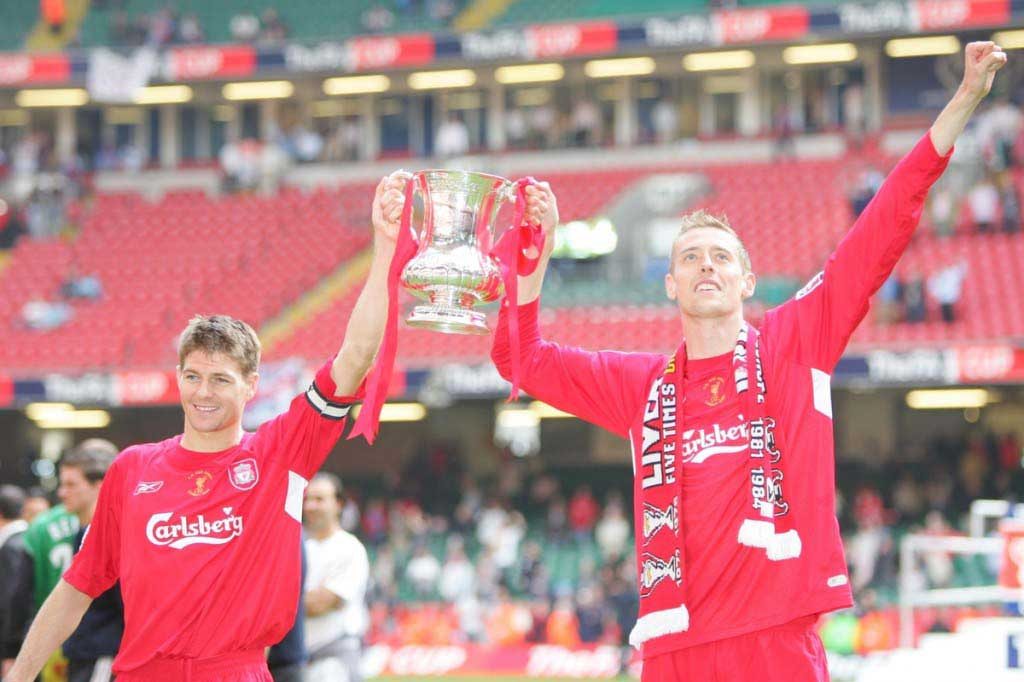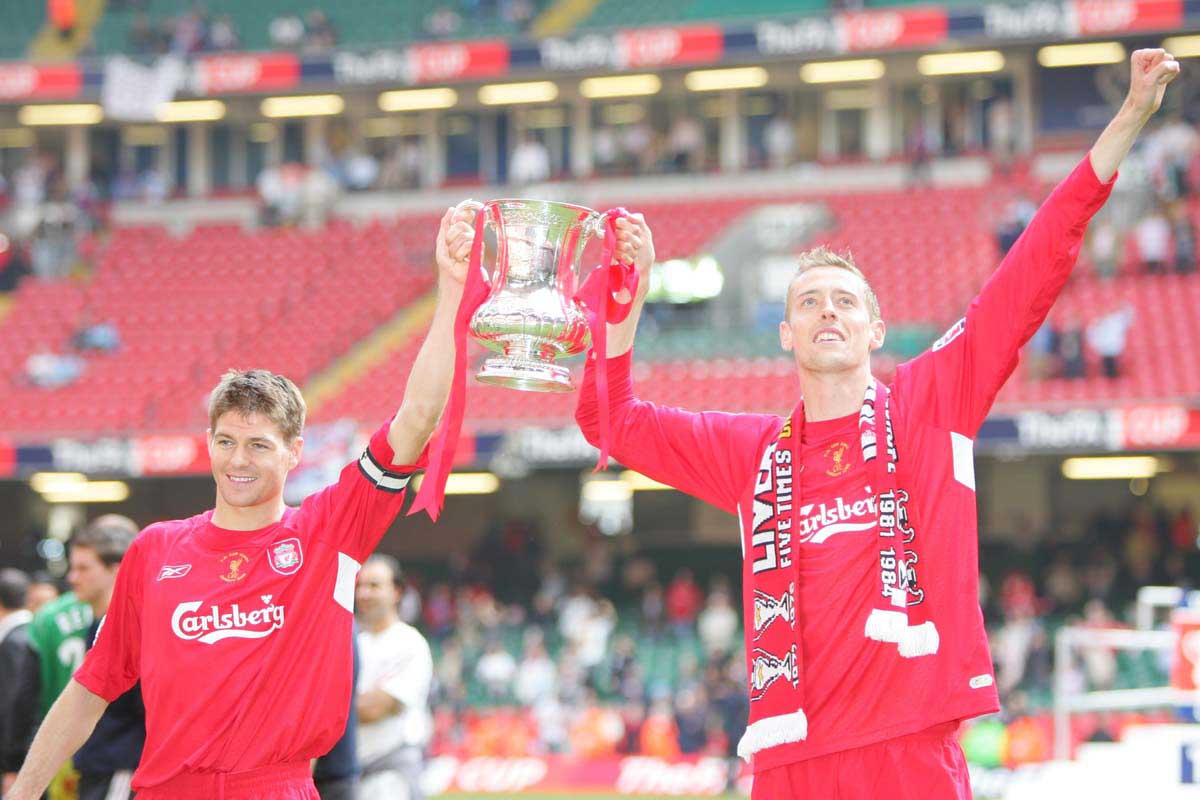 Yet still you'd sit through it as every half hour they'd throw on highlights of a classic cup final of years past and you knew it was only a matter of time before they showed Manchester United blowing the 1979 final with virtually the last kick of the match, having just scored twice in three minutes to level the game at 2-2.
Then you'd switch channel as soon as you realised they'd dug out the 1971 final instead, declaring the sight of Charlie George lay on his back on the Wembley turf as out of order, "It's a Man United fan picking these" – "bastards!"
I was born three weeks after Liverpool took Newcastle United apart in the 1974 FA Cup Final, too young to remember the 1977 final. I was a fortnight shy of my 12th birthday before I got to see the Mighty Reds do that long walk from the Wembley tunnel to line up in front of the royal box for an FA Cup Final.
Somehow they'd seemed cursed in my eyes as far as the FA Cup was concerned. Supporters of some clubs spend a lifetime waiting and hoping to see their club reach the FA Cup Final and some clubs never actually fulfil that dream for their supporters. But I was a near 12 year old whose consciousness of football and Liverpool FC had been nothing but silver lined, with league titles, European Cups and League Cups being routinely won during my formative years of supporting the Reds.
The FA Cup was different, though. It shunned us and brushed off our advances year after year. The FA Cup always belonged to someone else. I was in awe of it, but hated it too, the vile and unforgiving temptress that it was.
1981, Tottenham Hotspur vs Manchester City was the first FA Cup final I consciously sat down and watched. All other finals up until then had been background noise to my plastic wind-up Evel Knievel's latest death defying stunt, usually a stack of books made into a ramp for him to leap across one unbridgeable chasm or another, or in reality aiming to clear the sleeping family cat without clipping the unsuspecting feline.
That meant I'd had to sit through five FA Cup finals, eight if you count the replays of 1981, 82 and 83 to finally get to see Liverpool involved in this end-of-season showpiece. An eternity to wait at that age, especially when even Everton had played in the final for the two previous years, no word of a lie, Everton! This was getting personal.
Goaded at school by blues about our inability to reach the final, let alone win the damn thing. I brushed it all off, trying to argue that the Milk Cup was where it was at. Indeed we just didn't bother with the FA Cup because we always beat the winner of it in the Milk Cup final anyway. Spurs in 82, Man United 83 and Everton 84, were all beaten by us in April at the Milk Cup final, before they returned to Wembley to win the FA Cup the following month.
1986 was going to be our turn, and the monkey was coming off the back. Everton though, it just had to be Everton that got in our way. Every house decked out in either red or blue, or in the event of a 'mixed' family then decked out in red and blue. I despised those Prudential posters with the combined Liverpool and Everton squads stood together on them, all the more so with them being at Bellefield. It was a sign, a bad sign. I was always nervous as a kid watching Liverpool and the 1986 FA Cup final was the worst I'd ever felt. Why did it have to be Everton? Why couldn't it have been a London club? Why did our opponents have to be ones that had a handy supply of supporters right on my doorstep ready and armed to take the piss if they beat us? I felt sick.
At 1-0 down and with Bruce Grobbelaar squaring up to Jim Beglin after a bad case of "to me, to you" with the ball in our own penalty area, and with Everton comfortably the better team on the day up until then, I'd resigned myself to my fate.
I could sense the neighbourhood Blues were already beating a trial to my front door in celebration. However from the moment Gary Stevens carelessly rolled the ball to Ronnie Whelan in the 56th minute the fickle footballing gods had had a change of mind.
Within seconds the ball had been passed through Jan Molby, on to Ian Rush and was nestling in the back of the Everton net. Me and my mate Lee, who I was watching the game with, were five seconds later out in the street in unrestrainable celebration and relief.
We knew there and then that there could be only one outcome, as Liverpool didn't lose when Rush scored. OK, so there could be two outcomes, but at the least we'd be heading into a replay, allowed five days to compose ourselves before we had to go through this all over again. Grobbelaar's tip over the bar from Graeme Sharp's header after a rush of blood from Alan Hansen apart, our confidence remained high and our blood pressure low, all the more so when just six minutes after Rush had drawn us level we were in front.
I loved Craig Johnston so much for that goal I was willing to give him our first goal that he'd attempted to rob on the goal line. It was still gut wrenching until Rush made it 3-1. The whole experience had been that first dawning of "why do I do this to myself?" There was even a feeling that I never wanted to go through it ever again. Happy to stick with the routine jobs of winning league titles and League Cups.
The game has moved on in the last three decades and the FA Cup sadly means much less to football in general now. Cup final week has been condensed. The final took place yesterday and in many respects it was invisible compared to how it was with many footie fans preferring the Barcelona vs Atletico Madrid title decider in La Liga instead.
Unthinkable from the game that used to bring a nation to a standstill, and that desperate 12 year old I used to be would hate to find out about the 'meh' attitude he grew into as a near 40 year old.
Hull City tried to bring some romance to the occasion, just like when Wigan turned over Manchester City. But if there's still life in the FA Cup, it's a life more ordinary compared to how it was.