LIVERPOOL are now five points clear at the top of the Premier League with just three games left to play. Seven points will guarantee the 24-year wait for the title is finally over. Here is how some of the mainstream media reacted to the 3-2 victory for Brendan Rodgers' side at Carrow Road today.
Oliver Kay, The Times
"Their rivals have wondered how Liverpool might cope with the nerves that usually kick in at this stage of the season, particularly for a team in unfamiliar territory. Quite simply, Rodgers and his players have made a mockery of such talk, approaching every game with the conviction and confidence that they will clear every hurdle, looking to kill off the opposition so quickly that anxiety does not stand a chance.
"They were 2-0 up inside ten minutes, meaning that they have now scored 23 goals in the first 20 minutes of Premier League matches this season. Neil Adams had warned his players of the need to weather the inevitable storm early on, but forewarned is not the same as forearmed, not when it means trying to contain players of the talent of Suárez and Sterling."
Sachin Nakrani, The Guardian
"Brendan Rodgers' side need seven points from their final three games to wrap up the title and face Chelsea at Anfield next week knowing a draw is likely to be all they need to pip José Mourinho's side, as well as Manchester City, to the post. They have 80 points, one more than they secured in their last title-winning campaign; 1989-90, while Suárez secured his 30th league goal here – the first Liverpool player to reach that landmark since Ian Rush in 1986 – and Sterling delivered another performance to suggest he is not only a banker for England's World Cup squad but also Roy Hodgson's starting side. Had it not been for the shakiness at the back, this would have been the most perfect of Easter Sundays for all those connected with the league leaders.
"Viewed another way, it was the resilience which Liverpool showed that suggests more than anything that their title charge is not going to crash into a late hurdle. Their defending was not pretty on many occasions and, coming up against a side who had failed to score in their previous three games, rather worrying, but they hung on, with the centre-backs Martin Skrtel and Mamadou Sakho forced to clear a barrage of direct deliveries into the visitors' area."
Henry Winter, The Telegraph
"They had been singing "poetry in motion" early on. Within four minutes, Liverpool fans were also singing about the league. Chelsea's surprising defeat by Sunderland, and the rattled behaviour of Jose Mourinho and his back-room staff, had delighted the Liverpool supporters. So did their team's start.
"Sterling was magnificent, scoring with a wonderful finish. Even the deflection off Michael Turner could not detract from the majesty of Sterling's touch and movement, cutting in from the left, taking a couple of touches to guide the ball past Bradley Johnson. Sterling's next touch sent the ball flying past John Ruddy, albeit via Turner, for his eighth league goal of the season. Sterling immediately raced to Rodgers, leaping into his manager's arms, a sign of gratitude for that inspiring guidance earlier in the season.
"Sterling then played the creator after 11 minutes, crossing from the left for Suarez, who was running in, adjusting his body to meet the ball to deadliest effect. The Uruguayan cleverly turned the ball across Ruddy and in. Suarez's 12th goal against Norwich in five games was his 30th league goal of the season, matching Ian Rush's return in 86-87.
"The record books were updated all game. Sterling's strike broke Liverpool's record for 56 first-half goals set in 1895-96. Liverpool have now found the mark in 25 successive league games, equalling their top-flight record set between April-December 1933 and March-December 2001. Only Southampton (at Anfield) and Arsenal (at the Emirates) have stopped Liverpool from netting in a league game this season."
Martin Samuel, Daily Mail
"There is an irresistible quality about Liverpool now. While the teams around them are finding ways to lose, they find ways to win.
"The significant margin may be a random error, a deflection or a misplaced pass, but the history books do not record trivia. Scorelines, points and places are all that matter now as Liverpool move away from the pursuing pack.
"Is it easy? It most certainly is not. Yet five points clear with three matches remaining, Liverpool have every reason to feel confident. Chelsea visit Anfield next Sunday, but they are a better team than Chelsea.
"And so Liverpool walk on; increasingly alone, but in a good way as Chelsea and Manchester City stumble. Manager Rodgers said he had posted the inspirational words of Hillsborough campaigner Margaret Aspinall on the dressing room wall.  Speaking at least week's memorial service, Aspinall said: 'Stress is difficult – but stress is also good. It gives you a determination to fight.'
"Rodgers took the trouble to have that sentiment translated and printed out in three languages. That was perhaps unnecessary. This Liverpool team is speaking a universal language now, and what they are achieving, match by match, will be understood by all."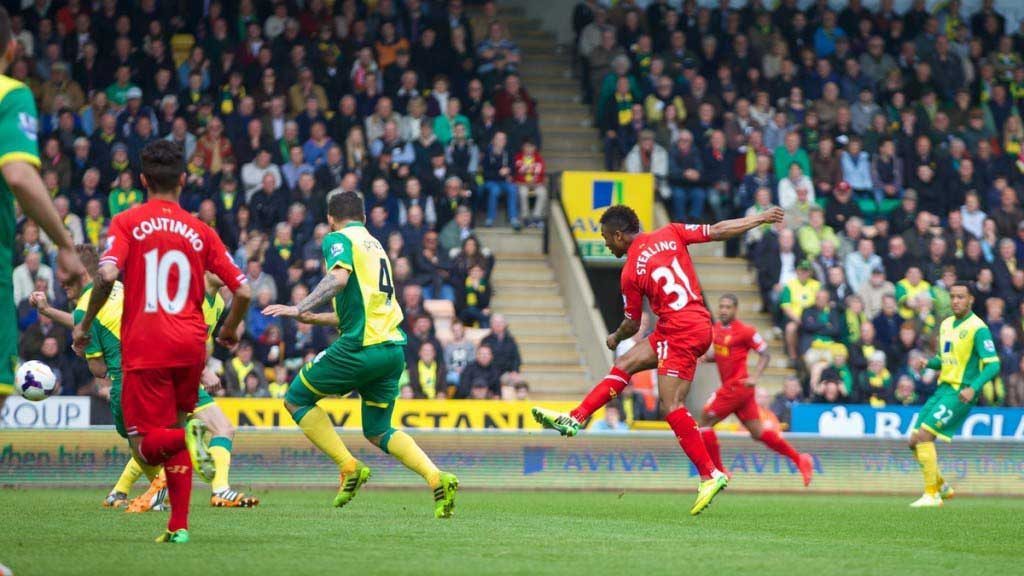 Pics: David Rawcliffe-Propaganda