AS the minute's silence ended and roars once again thundered off the Kop, Steven Gerrard could be seen looking to the skies, no doubt taking a moment to remember Jon-Paul Gilhooley, his 10-year-old cousin who went to Hillsborough a quarter of a century ago and never came home. Close to two hours later the same man was in tears and then, his face red with emotion, he banged his fist and spat orders into a huddle of team-mates, making himself heard as Kopite-roars once again swirled around him.
 
"We go to Norwich and do exactly the same. We go again. COME ON!!!"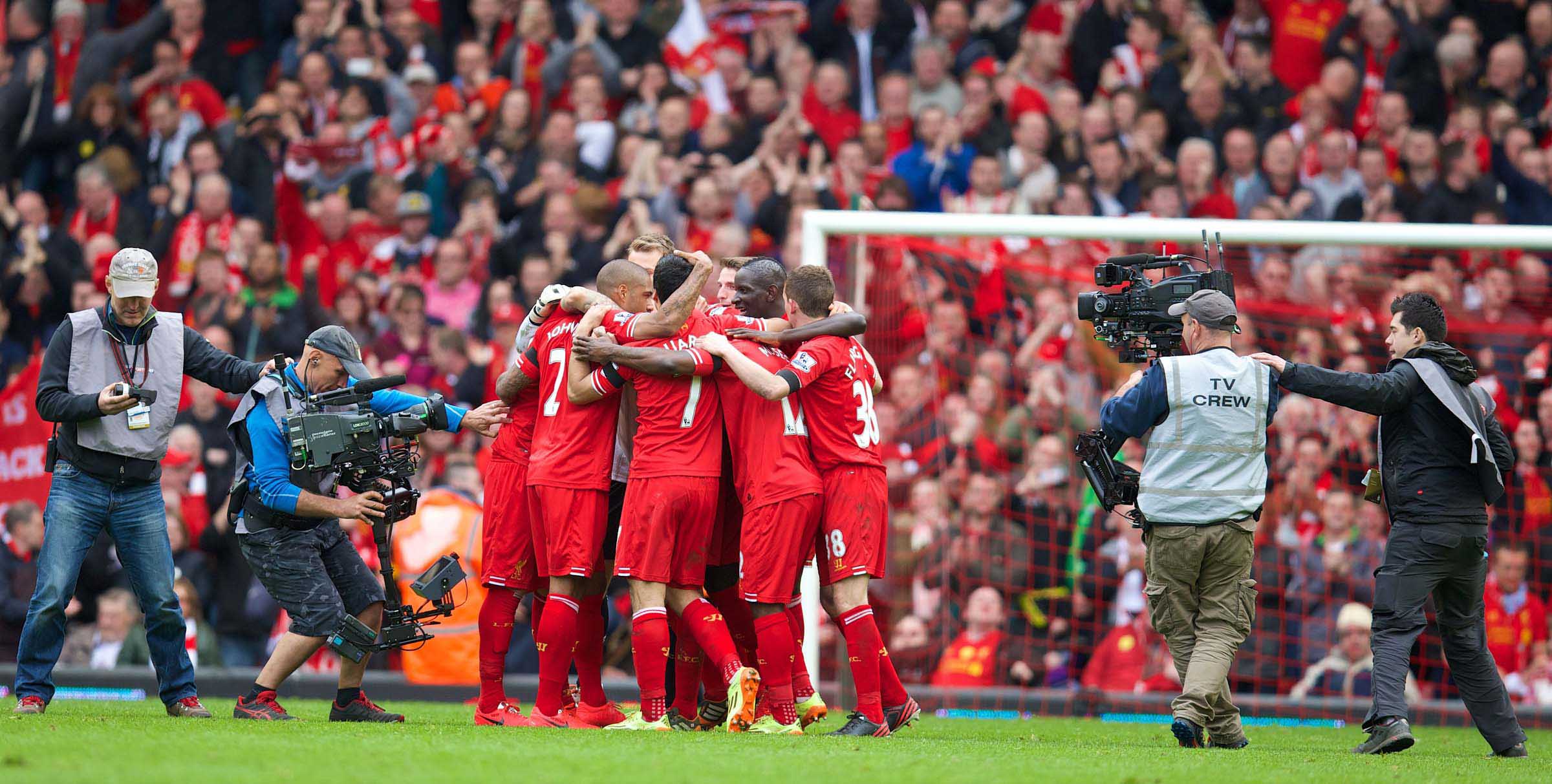 If ever there was an afternoon that encapsulated Steven Gerrard's relationship with Liverpool, it was this. Here was a life, a love affair, drawn out across a helter-skelter encounter tinged with great emotion, which ultimately ended with Liverpool beating Manchester City 3-2 and the sense that the title, No19, is on its way to Anfield.
 
At the centre of it all, quite literally, was Gerrard; the boy from Huyton who was raised a Red, idolised John Barnes, dreamt of being Steve McMahon, lost a family member in what remains the saddest, most hurtful chapter in Liverpool's history and had dedicated his adult life to representing not just his club but also his city. Of course he cried at the end, and of course it was him who told those around him to keep going. After all, he's kept going ever since he was 18.
 
The scrawny substitute of November 1998 has become a man, leader, icon and force of nature in front of our eyes and now stands on the brink of his crowning achievement. Forget Istanbul '05 and Cardiff '06; this is the one Gerrard really wants, the one you believe he would swim through lava and dance through broken glass for.
 
Outsiders don't get it. Those from Salford sing about how Gerrard handed in a transfer request but seem to have conveniently forgotten that, 24 hours later, he took it back and chucked it in the bin, that for all his doubts he ultimately knew, in his heart of hearts, that Liverpool was the only club for him. His is a cause, not a career, and now, 16 years after he replaced Vegard Heggem against Blackburn on a cold afternoon at Anfield, Gerrard stands on the brink of achieving it all.
 
"We go to Norwich and do exactly the same. We go again. COME ON!!!"
 
Four games. That is all, four games. Gerrard knows how close Liverpool are to glory, he has been here before and went onto touch the sky. What is different is that he is now leading and inspiring from the back. Less Freddie Mercury and more Roger Taylor.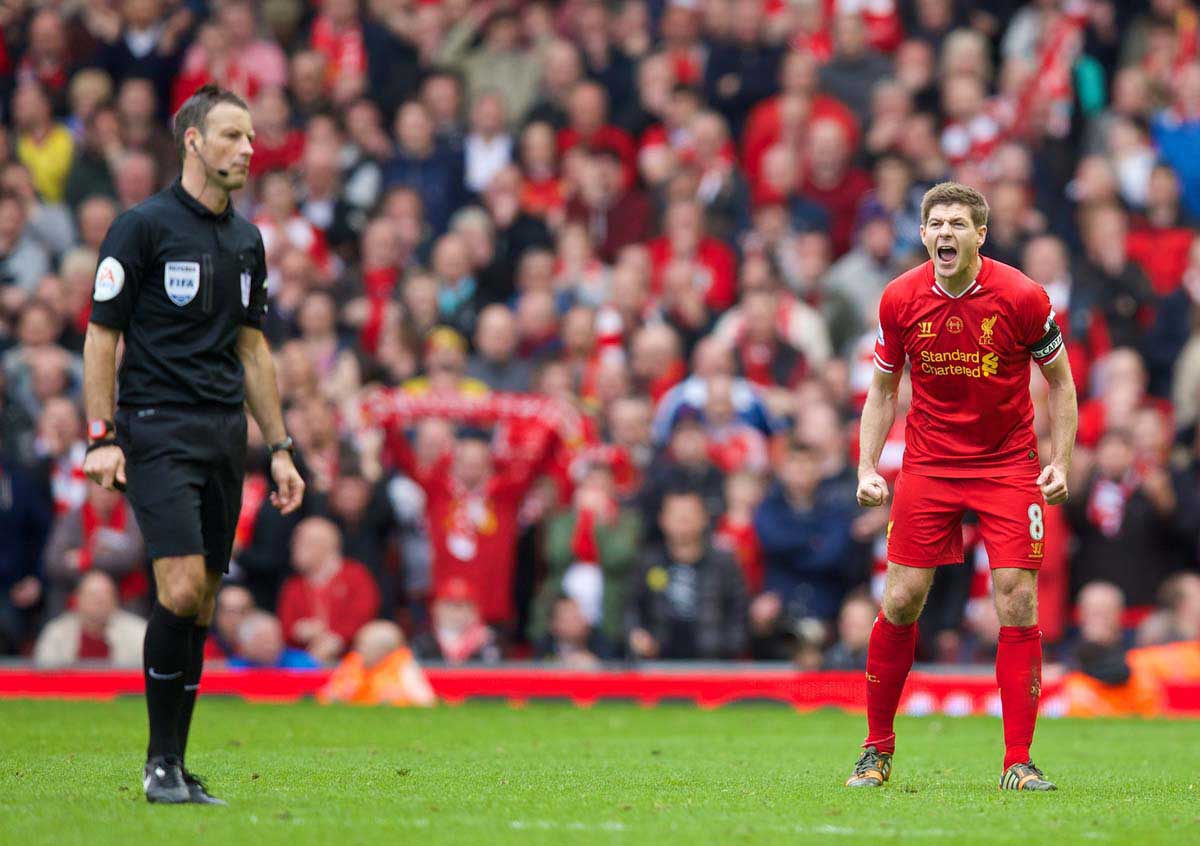 The deep-lying role took time for Gerrard to adjust to but now it fits him like a glove. He was there again against City and for close to an hour patrolled the space between the edge of Liverpool's area and the halfway line with majestic assurance. The task was slightly different on this occasion in that the 33-year-old had to also keep an eye on David Silva, but time and again Gerrard made the right movement or delivered the right interception to stop the Spaniard getting onto the ball and posing a threat to the home team's back four.
 
Straight after Raheem Sterling has given Liverpool a sixth-minute lead Gerrard took the ball from Silva near the edge of the area, and then on 20 minutes he not only blocked off the City playmaker but also found the time and momentum to seize possession from Jesus Navas. In the 38th minute came an out-stretched leg to stop Javi Garcia's pass from reaching Silva and if that wasn't enough, Gerrard had by that stage also delivered the corner from which Martin Skrtel made it 2-0 to the hosts. That, by the way, was Gerrard's 10th assist this season, only Luis Suarez has provided more.
 
Gerrard's influence waned in the second-half as City swarmed forward and Silva, having moved to a position on the left of the visitors' attack, became the game's most dynamic and irresistible performer. It was he who scored City's first goal on 57 minutes – finding space in the centre of Liverpool's area after Gerrard had drifted left in an ultimately unsuccessful attempt to block James Miner's assist – and delivered the cross from which Manuel Pellegrini's side equalised though a Glen Johnson own-goal five minutes later.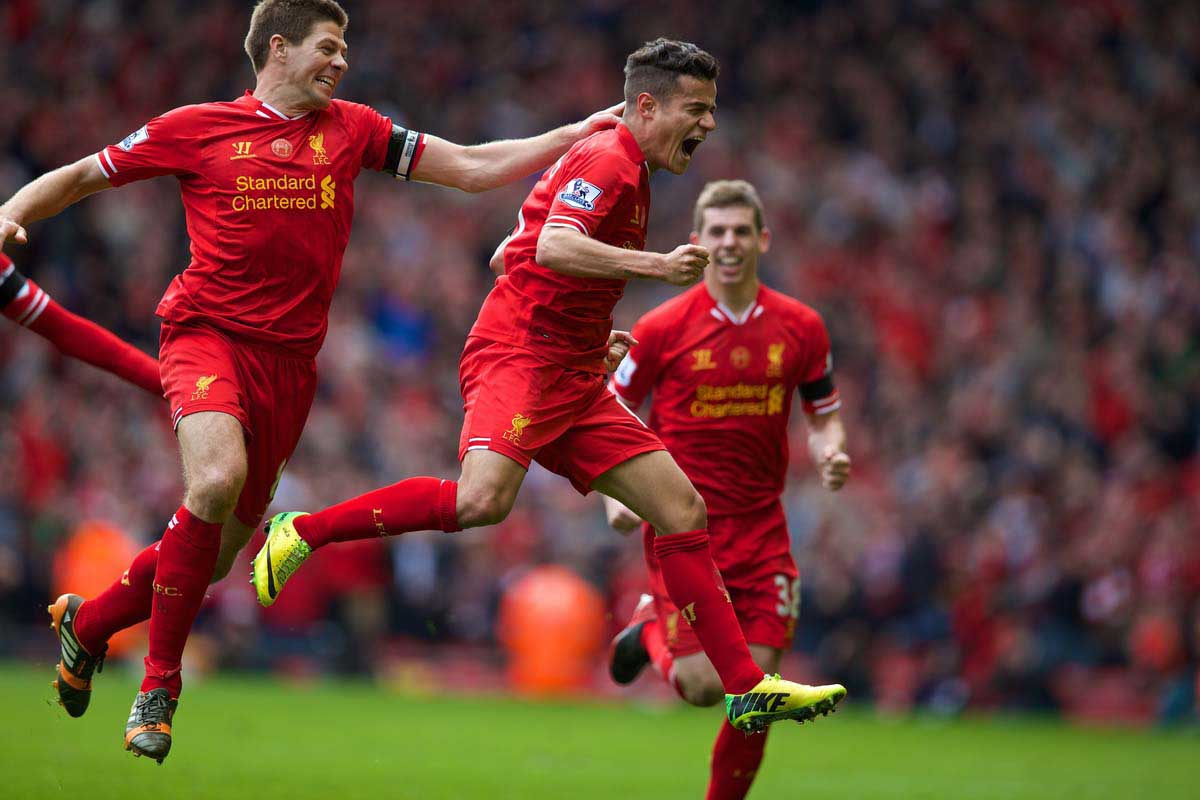 Liverpool were rocking and it felt then that the time had come for the old Gerrard to rise again. He was too deep, too much in the periphery of the action, and needed to rampage forward to assist or, even better, score the winner. But the minutes ticked away and Gerrard stayed where he was, only to come into full view as Philippe Coutinho lashed home the winner and felt his captain's arms grab him in delight. Gerrard took hold of the Brazilian with the vigour of a man who, there and then, could feel himself taking hold of the Premier League trophy in May.
 
"We go to Norwich and do exactly the same. We go again. COME ON!!!"
 
In those moments after the final whistle, as tears bubbled from his eyes and a demand for focus coursed from his lungs, Gerrard personified exactly what this title means to Liverpool and what Liverpool means to him. There has been much talk in recent weeks of the players wanting to win it for him, but he doesn't need their sympathy; he just needs them to do his job as he continues to do his. But that's the point – this whole thing is more than a job for Gerrard. The city, the club, the people, those who are still there and those who have sadly passed, all burn inside him each and every day. He won't give up and his demand is that those around him – players, staff and fans – do not either.
 
"We go to Norwich and do exactly the same. We go again. COME ON!!!" 
Four games. A 19th title and the Premier League trophy in the hands of Liverpool's greatest homegrown leader. It's on.

Pics: David Rawcliffe / Propaganda