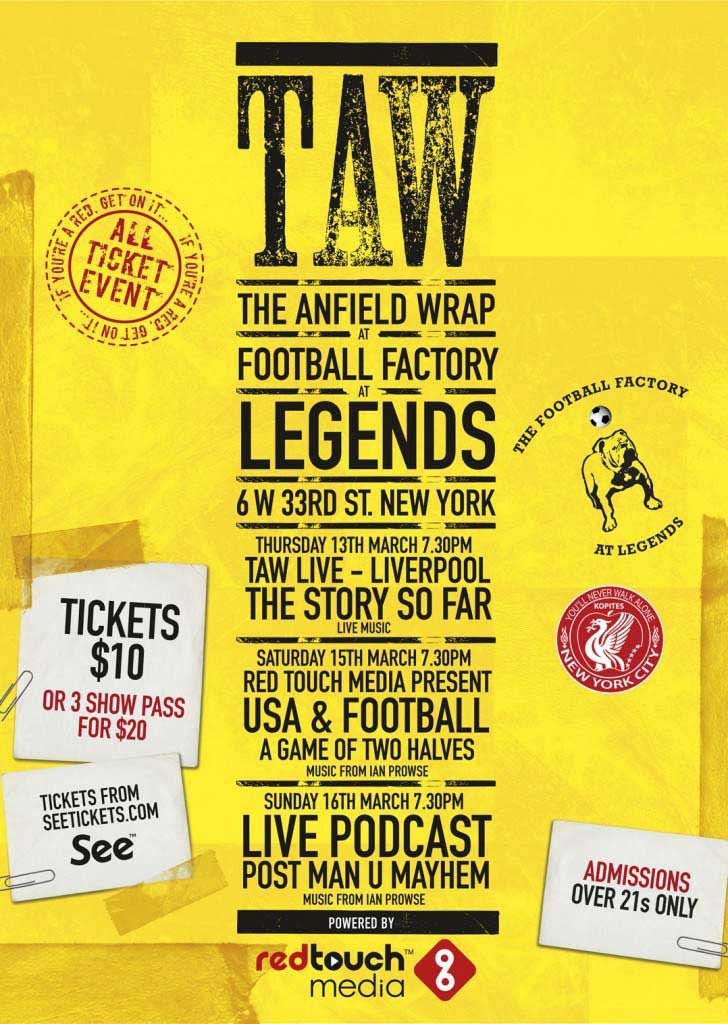 IT'S official, we're coming back.
Powered by Red Touch Media and in association with New York City Kopites, The Anfield Wrap are made up to announce that we're returning to New York City to host three nights at The Football Factory at Legends Bar.
The aim is to provide three unique nights for New York-based Liverpool fans.
The first night is a typical TAW panel when the lads, joined by Football Editor of The Times, Tony Evans, will discuss the club's remarkable progress this season under Brendan Rodgers and ask whether The Reds really can win that elusive 19th title.
We will return 48 hours later with a specially put together panel of fans, journalists and US Soccer personalities, chaired by Neil Atkinson, to discuss growth of football, or rather soccer, in the USA, the growth of the MLS and what it means to be a fan of a team that plays its football thousands of miles away.
The final show, on Sunday, March 16 after Liverpool have beat Manchester United (ahem), will be a specially recorded podcast in front of a live audience.
We will be announcing more information and guests over the next 48 hours and tickets are limited.
Each show will start at 19:30 and will be followed by a live band, with entertainment on the Saturday and Sunday being provided by the excellent Ian Prowse.
TICKETS ARE PRICED AT $10 EACH PER NIGHT OR $20 FOR A THREE NIGHT PASS AND ARE AVAILABLE NOW VIA SEE TICKETS AND WILL ALSO BE AVAILABLE FROM LEGENDS BAR AND NYC KOPITES