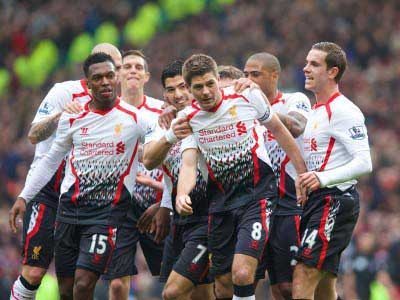 SOMETHING'S happening here.
For all of us who are used to false dawns, missing pieces of the jigsaw and good runs ending with terrible results and performances this is all becoming a bit worrying.
We can't win at Southampton.
0-3.
Well alright, the wheels will come off at Old Trafford as they might have sufficient will and ire to drag us down.
0-3.
So next we're entering a new realm. We're up against a side we should beat. This is, as Buzzcocks once observed, a different kind of tension. This is where Liverpool fall down, isn't it? This is Coventry at home in 1997 to put us clear in the title race. This is David James coming for a ball that isn't there. That's in the script.
Except…except…well, I don't know. We look up for it now. No it's more than that. We look less scared. Fear of success is identical to a fear of failure in many ways. "Jesus, what if?" is a pretty terrifying concept, but Liverpool don't look terrified. Liverpool look far from terrified. Liverpool look ready. Liverpool look patient. Liverpool look prepared.
How is this possible? We've gone from a team of weens and old lags into a unit of single-minded artisans. Jon Flanagan is more Nicol than Jack Robinson. He faced everything yesterday and didn't blanch once. Put Mata, Rafael and Januzaj on him. No problem. Send Fellani over to deal with him. Not arsed. Send anyone you want and he'll win it and pass it – not hoof it – sensibly to the nearest correct shirt. Jon Flanagan is a 21-year-old who's playing like a veteran looking forward to his testimonial next week. The difficulties of his past look as if they happened to someone else. He's like the goddess Athena. He's appeared into the world fully formed and armed.
 Yes, I've just compared Jon Flanagan to a Greek goddess. I don't care. Nothing makes sense anymore.
How is this possible?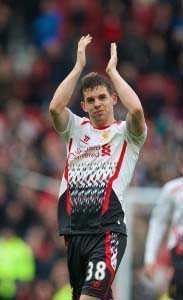 What is Joe Allen? He's four foot two and made out of milk. How is he charging down the ball against men three times his size? How is it that he's not being flung around like a rag doll? What's he doing standing in the centre circle of the champions' own midden and taking the ball off them at will. What is this?
Why is Luis Suarez? I thought he was a little below par yesterday (just the goal and a penalty won then) but how can he have a defender at his heels, be pushed in the back while trapping the ball between his knees and STILL get up with the ball in situ? There are moments in the game that you forget almost instantly but I'll take that one with me. He seemed to have bounced on his knees and be standing perfectly with the ball. I want Euclid to have a word as his laws of geometry have just been savaged. Newton should weigh in too as I'm almost certain that gravity's had a day off. How does he do that?
Who is Raheem Sterling? He can't be the same lad who looked massively out of his depth at Hull. It can't be. He's not a bit part player anymore. He's vital. Absolutely vital. So vital that he's keeping Coutinho out of the side and no one's arsed.
And finally, who, what, why and how is Steven Gerrard?  Getting slower by the year? Should either push back or forward to save his weary legs? Not the player he was. So, tell me how he takes a game like that by the scruff of the neck when he should be winding down to his dotage? I know why, I think. He can smell May. It's in his nostrils as much as May 2005 drove him on to an extra couple of percent. He wants the League and he wants it bad. It's his waking thought. I suspect he's ringing around the first team of a night to pep them up before they go to bed. Actually, scratch that. He's probably parked outside their houses to see what time the bedroom lights go off.
You know that scene in Dirty Harry where the killer is on the school bus and he looks out of the window, stunned that Harry is standing on the bridge waiting, just waiting for him? Well, Steven Gerrard has worked out the route from Cardiff's training ground and is staring at the road below. His withering look is already in place. He's waiting for them. What's more he's dressed in his full kit.
What the hell is happening to Liverpool Football Club?
We go to a place where we've lost 10 in 11 and practically snort at the temerity of the opposition's perceived right to be on the same pitch. How did we get here so soon?
It's the manager, isn't it? I'll hold my hands up, I'm not always a fan but you can't argue with what he's done. He seems to have reversed his talking big-delivering little philosophy from his first months in charge. That's what we like at Liverpool. Achieve incredible results and performances but only talk about the next game and leave the histrionics and hyperbole to the rest of the world. The League isn't important at the moment. Only Cardiff is. That's how you build upon success. No more talk about fighting for your lives or envelopes. That was old Brendan. It's all about ruthless focus on the next 90 minutes now. United has gone. It was glorious but we've won those points and Cardiff are holding on to the next three, the next three we need more than anything in the world – so let's work on them.
Yesterday was great, confusing, nervy and utterly hilarious. Everything from Moyes bringing on Ferdinand for Mata in injury time to the two Reds in the tier above us dancing and singing at us before they were removed (you had to be there).
I might be alone here but there was also a lack of needle in the ground. I can't remember being let out of the ground at full time there before but there was little risk of danger. United and their fans were spent. All played out. We were still on our guard but you could spot the Liverpool fans. They were the ones trying not to smile and not quite managing it.
But it's irrelevant now. Everything is about Cardiff. About 3pm. About doing it again and not thinking about anything else in the world until that game is done. City and Chelsea can wait. We'll get to them in time.
Jesus, I love this. The bad times are worth it just to feel like this again.
Something's happening here…
Pics: Dave Rawcliffe-Propaganda