by NEIL SCOTT
PERSPECTIVE. 
Something we're always being told we must maintain a sense of, yet no-one can definitively state what it does or doesn't entail.  An unflinching optimist's perspective will differ wildly from that of a committed misery-guts and it seems pointless trying to establish any common ground between the outlooks and values they each hold.  Usually, they'll just end up getting cross and calling each other bad names on the internet.
To confuse matters further, perspectives change as the years pass.  An example: in 1990, it would have been inconceivable to consider a time when Liverpool were not winning league titles.  Granted, we'd just secured our tenth championship trophy in fifteen seasons and had established a dominance not previously seen in the domestic game.  Perspective was a shiny silver trophy with red ribbons tied to it.
By contrast, for your average Manchester United fan perspective was a series of continual disappointments.  It had been 23 years since the Best, Law, Charlton vintage had delivered their last title triumph, in 1967.  Busby had long gone, Atkinson had flopped and Ferguson had only escaped the chop due to a redemptive FA Cup win.  It would have taken a brave man, or a delusional one, to predict a reversal of the existing order anytime soon.
23 years.   It's now been more than that since the sunny April afternoon in 1990 when Liverpool were last crowned champions.  In the same period United have won thirteen titles, employing a subtle mix of subterfuge, hubris, voodoo and possibly human sacrifice.  And, to a much lesser extent, because they've been quite good at winning football matches.  Sticks in the craw, doesn't it?
I remember what it was like in the '80s.  Year after year we knew that we'd be challenging for the league and, if we played to our potential, chances were we'd finish on top.  Villa, Ipswich, Everton, Arsenal – they'd all had their moments, all threatened to gate-crash our perennial end-of-season party.  But we'd always come back even stronger.  Meanwhile, Old Trafford's drought was extended by another season, and another.  How we laughed at their misfortune, derided their underachievement and gloried in their disarray.
No-one saw the end coming.  Not really.  True, we might have had some concerns about the manner of our victory in '89-90.  We had laboured uncharacteristically on occasion; for the first time Kenny's judgement was being questioned in some quarters; an increasingly unsettled Anfield crowd had begun to vocalise its disquiet.  But, with the only real challenge coming from an over-performing Aston Villa team, Liverpool did what was needed without ever reaching the devastating heights of two seasons previous, when Barnes, Beardsley and Aldridge shredded defences throughout the division, in much the same way that Paul Merson shreds the English language every time he opens his pie-hole.
If, at that precise point, someone from the future had emerged from an electrical storm like Arnie in The Terminator, to warn us that we were about to be plunged into a bleak 23-year long wilderness, and that the forces of evil, which had lain dormant while we feasted, would soon establish a reign of terror that would blight the land, we'd have locked him in a secure unit and hidden the key under a vase or something.  I don't know.  I haven't really thought this through.  We'd definitely have told him to put some pants on, though.  Of that I have no doubt.
Effectively, that's what happened.  Not the stuff with the pants.  That would be hideous.  But the wilderness thing and the reign of terror propagated by Ferguson's grunting orcs.  They became ugly reality.  And our sense of perspective has never recovered.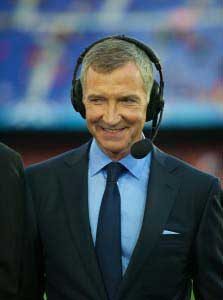 Most people blame Graeme Souness.  And in truth, they'd have a strong case.   Though the obvious candidate to replace Dalglish when the pressures of Hillsborough finally took their toll, Souness oversaw a seismic overhaul of both the club's culture and its personnel.  To a degree it may have been needed, as an ageing squad and new restrictions on numbers of non-English players, combined with a spreading complacency, meant that action was required.  But the decisions taken, the players brought in and the abrasive methods used to bend people to his will, meant that within two seasons Souness's Liverpool had lost the air of invincibility that had sustained the club for so long.
When the dust settled, we were left with a Liverpool that found itself back amongst the mortals.  That this co-incided with a United finally getting its act together and quick to capitalise on the newly-created Premier League's status as a Murdoch-funded cash-cow, was an accident of timing that could not have worked out much worse.
What was perhaps most painful was the knowledge that our expectations would have to be adjusted.  As much as we all still clung to notions of red supremacy, stark reality had a painful habit of intervening.  However much we fought against the need to keep a level of perspective that reflected our position, we knew that things had changed.  There was no turning back the clock; this was our future and it sucked, big time.
As the years went on, we grew accustomed to our role.  For a while, Roy Evans gave us hope that we could close the gap.  He instigated a style of bright, progressive football that appealed to our aesthetic sense, but which lacked the steely pragmatism of genuine contenders.  The winning mentality that had underscored our dominance had been replaced by a fragility of mind that, isolated instances aside, we have struggled to overcome.
Houllier, too, made us dream of resurrection.  He reminded us what winning trophies felt like, built a solid foundation and took us back to second in the table.  But we were unable to make the final leap, ultimately reverting to the now familiar story of squandered opportunity and entrenched disappointment.
With Benitez, it seemed different.  In bringing us European success, he showed that he was prepared to challenge the biggest and the best head on.  He convinced us that we had nothing to fear and, just to prove it, he took on Mourinho and Ferguson at their own game and left them shaken.  For probably the only time since 1990, we saw a genuine title push and, as Benayoun crashed home a last-gasp winner at Craven Cottage to take us top with seven games to play, we believed it was on.  This time it was really on.
We all know what happened.  Despite the cliché, it's hard to see a failure as glorious.  But Christ, we came close.  Just four points separated us from the title.  For once we were entitled to let our sense of perspective run away with us.  We were back and our coronation as champions was merely postponed, not cancelled.
But as we've discovered over the years, perspective can be a slippery bugger.  And, almost inevitably, ours was soon brought back into line, like a disobedient pooch that's soiled a carpet.
What came next was a masterclass in expectation management.  Hicks and Gillett, stetson-wearing Horsemen of the Apocalypse, brought the club to its knees. Hodgson, trumpeted as a safe pair of hands, instead resembled a man with grease smeared on his palms attempting to catch jelly as it was fired at him from a cannon made entirely of lard.  Kenny returned to steady the ship and restore our pride, but was then undone by a combination of poor results, badly-perceived transfer deals and executive haste.  Given the vitriol that some of our own supporters aimed at our greatest living legend, it was easy to conclude that he was better off out of it.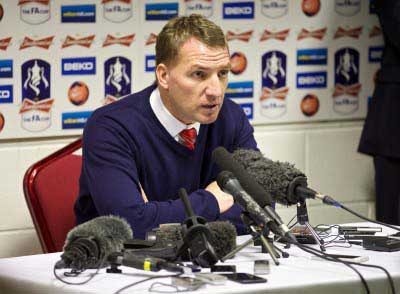 It is now Brendan Rodgers' turn to see if he can end the wait.  We all knew it was a huge ask.  As the season kicked off, we weren't just up against the traditional powerhouses, United and Arsenal, or the bankrolled behemoths of Chelsea and City.  There was also a newly-vibrant Tottenham to contend with, not to mention our increasingly competitive neighbours.  Amid that sort of opposition, not many people seriously saw us as genuine title challengers.  Not really.
As we know, all that's changed.  United have been Moyesed into oblivion; Tottenham have proved that cashing in on your biggest asset can unexpectedly backfire; Everton have struggled to maintain their early-season form and suffered from a quality shortfall.
We've forced our way into genuine contention, playing a brand of football both incisive and effective, and which chimes with the traditions of the club.  We've shown the consistency and creativity that has often been lacking in our recent past.  We look capable of winning any game by a landslide, no matter the opposition, and it doesn't take a top pundit, or Andy Townsend, to point out that that's a solid base for any team to have.  And we've got a manager of conviction and imagination, who has fully bought into the Liverpool ethos and who has the rare gift of coaxing the very best out of his players.
Put all that together, stand back, and enjoy where this ridiculous ride takes us.
Yes, we've had false dawns before.  We've become experts at envisaging the oak tree while the acorn is barely in the soil.  But isn't that what football should be about?  Hope?  Expectation?  Daring to dream?
I'm done with lying in the gutter.  You just end up with a bad back and mucky trousers.  Let's aim for the stars.  Let's decide that this is the year and go all out to make it happen. Let's win the sodding league.  What's the worst that could happen?  Don't answer that.
Me, I'm taking my sense of perspective for a long walk and pushing it in a lake.  After all these years, I've realised I don't need it anymore.  This Liverpool team have given us a new set of 'what ifs' and there's no point holding back now.  We've got big fish to fry.
Doesn't it feel good?