"TO a New Yorker like you, a hero is some kind of weird sandwich."
– Oddball to Crapgame; Kelly's Heroes. 1970. Crapgame portrayed by Don Rickles.
THE greatest line from the greatest war movie ever made –  the 34th best war movie ever made, according to Channel Four's 100 Greatest war films of all time – escaped from the lips of the greatest war film character ever to command a Sherman tank in open combat, up against three Tiger tanks of the German war machine.
This conversation then continues with Kelly himself (Kelly portrayed by Clint Eastwood).
Kelly: "Nobody's asking you to be a hero".
Oddball: "No? Then you sit up in that turret, baby".
Kelly: "No, because you're gonna be up there, baby, and I'll be right outside showing you which way to go.
Oddball: "Yeah?"
Kelly: "Yeah".
Oddball: "Crazy… I mean like so many positive waves, maybe we can't lose… You're on!"
Just how a late 1960s stereotypical North American hippy, as depicted by Donald Sutherland, was found charging around the ravaged landscape of World War Two France in a tank is strangely never questioned by those who come into direct contact with him during the mid 1940s.
Oddball: "I'm drinking some wine and eating cheese, catching some rays, you know."
Oddball to Big Joe – while sat on a deck chair in the sunshine as the town of Clermont systematically explodes behind him. And, as futile attempts are made to repair Oddball's tank, his complete and utter 'hippyness' is further accentuated. Big Joe portrayed by Telly Savalas.
The man forlornly trying to resurrect Oddball's tank is his sidekick, Moriarty, as played by Gavin MacLeod. After a spirited attempt Moriarty declares defeat in his efforts to get the tank moving again. Oddball reacts to Moriarty's downbeat appraisal of the situation.
Oddball: "Why don't you knock it off with them negative waves? Why don't you dig how beautiful it is out here? Why don't you say something righteous and hopeful for a change?"
Moriarty: "Crap!"
In essence we, the fans of Liverpool FC, are Oddball and Moriarty battling it out over whether we can really win the title or not. For each of us in the Oddball camp, there has been another in the Moriarty camp. However, since the win at Old Trafford, there has been a marked swelling to the ranks of the Oddballs. Suddenly, we are the plucky, under-protected little Sherman tank – on the brink of unexpected glory – led on foot by Kelly, or is it actually Brendan Rodgers in disguise?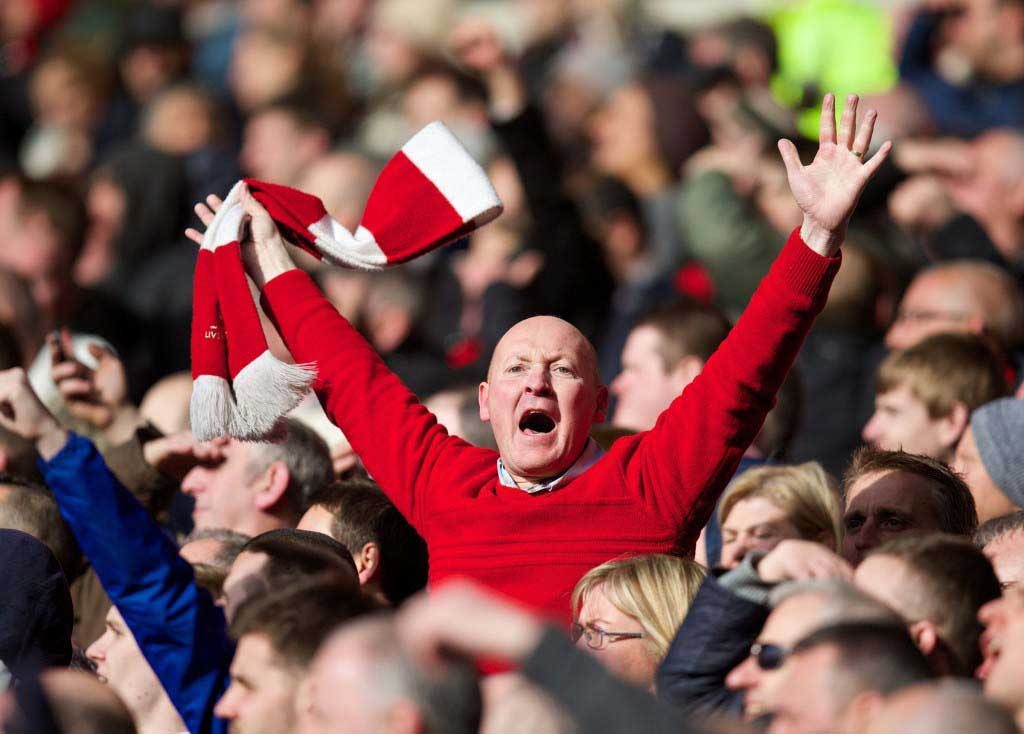 The three opposing, prowling, menacing Tiger tanks are Chelsea, Manchester City and Arsenal – blessed with a greater depth of firepower and a stronger defence, yet less in the way of cohesion, unity, subtlety, cunning, intelligence and the element of surprise.
And then there were only eight games to go.
This time next week, it will be six. Of the eight that remain, five are at home, three away. Big ask – but win all eight and only Manchester City can mathematically stop us winning the league. Should Manchester United beat them in the Manchester derby tomorrow, and we go on to win all eight, we will win the league.
No mathematical equation can alter that fact. So let's just think about that: Manchester United can put the destination of the title into our hands. If that doesn't make you laugh, you have no sense of the absurd. Can David Moyes, the man to have given us so much so far already this season, possibly be any more generous? The gift that keeps on giving could just give us the present that makes the title dream a living breathing possibility.
Cardiff City 3 Liverpool 6 was a result that wouldn't have been out of place in the 1950s' era of 2-3-5 formations. Twice we fell behind, yet on neither occasion did we panic. No heads dropped, we just got back up, dusted ourselves down and got on with the task of scoring more goals than the opposition. 2-2 at half-time didn't present cause for concern. It's OK, we just go back out and win the second half 3-0 for a 5-2 final scoreline, I thought.
Going into the 88th minute this spooky outcome was about to unfold. This 2013-14 Liverpool FC was on the brink of adding the power of results by request to its growing and increasingly startling repertoire.
So much about this Liverpool FC is nothing less than bonkers. Martin Skrtel has scored 33.3 per cent more league goals than Fernando Torres. Luis Suarez has scored more league goals than he's made league starts. We've scored 20 more goals than the team above us having played a game less. Suarez and Daniel Sturridge have scored more league goals than Sunderland and Crystal Palace put together. Suarez, Sturridge and Steven Gerrard have scored just five league goals less than the entire Chelsea side have managed this season. Bonkers – totally and utterly bonkers.
Now – after three successive away games – four of the last five having been played away from Anfield, a spell which many thought would see us falter, and our focus returns to L4. Two back-to-back home games over a five-day period is our next bite-sized portion to navigate.
Come away from those intact and we're left with just half a dozen games. Essentially, these two upcoming home games are the final bend before straightening into the sprint finish that is the last six games. This campaign continues to shrink. If we can reach out to those last six games with two more wins at home to Sunderland and Tottenham Hotspur, then anything is possible.
It takes just six games to win the FA Cup. It takes just six games to win the League Cup. Since we last won the league title, we've won three FA Cups. Since we last won the league title, we've won the League Cup four times.
It's no longer a marathon. It's a fight to the finish line.
And I'm firmly an Oddball.
Pics: Dave Rawcliffe-Propaganda