TO be honest, I still haven't got over Stoke away.
Stoke was the season. It was 0-0s and defeats only prior to the current insanity. Stoke is Jon Walters, long throw-ins, getting smacked all over the park, always cold and that nervous walk back to the car across the footbridge. I've never liked it there but being a Livepool fan and therefore intrinsically illogical,  I've always gone to grounds I can't stand.
It was the microcosm of our season; the utter madness of this campaign. We don't score many there. We got five. We needed to shut up shop. We let in three. Aly Cissokho is the new whipping boy. He got the opener. Daniel Sturridge shouldn't score goals like that. So he did. It was a goal so good that it's almost been forgotten because this is what we do now. We make the last mad game look normal.
Southampton wasn't quite as mad as Stoke but it wasn't ordinary. I'd only been twice before and my record read P2 W0 D0 L2 F1 A5 Pts 0. Actually, it's worse than that as the results were irrelevant. They were two of the worst games I've ever seen and I've seen Europa League games. We were on a hiding to nothing yesterday so, obviously, we won 3-0. We've been shipping goals all over the place so naturally we kept a clean sheet. This is what Liverpool do now.
Who the hell knows what to expect next?
The day didn't start well. Me and my mates drove down and found that the hardest miles were the first five. Gridlock. I don't know what was going on but it meant a detour through Croydon. We didn't mind though. It was a late kick off and the in-car conversation drifted from tuna to some pretty strong views on St Theresa. We're an eclectic bunch.  Later that day we would meet our mate Martin and discuss, amongst other things, the new Sun Kill Moon album and Jonathan Edwards' atheism.  It's not just Liverpool, the team, that are strange.
I managed to find the same car park as we used last year and, illogical again, took this as a good sign. We headed over. How aggressive was that body search on the way in? It felt like a practical demonstration on how to shower vigorously.
Liverpool aways are magical days. They just are. I love the moment where everyone is drinking quietly and having chats on the concourse then it suddenly goes all raucous a nanosecond later. Stoke scored mid song but many didn't break the sentence they were in. Boney M have never been so popular. It's a strange song to sing, particularly as the 'Yes, we are' seems almost defensive rather than emphatic. Always giggle at that bit.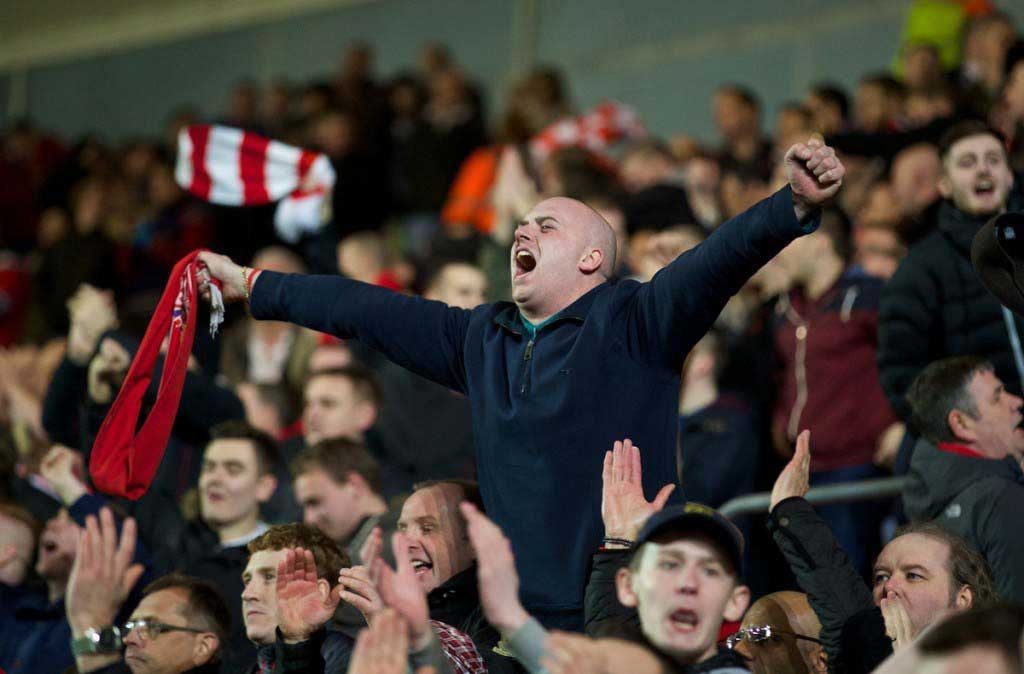 The teams. Sterling dropped for Allen. Good. We need a strong midfield given what happened last time. Brendan called it a 'diamond formation'. Yeah, sort of. I would have rested Coutinho rather than Raheem but at this point you just get what you're given as there's a rollercoaster coming.
The checklist then. In the right seats? Check. Both sides wearing terrible kits? Check. Chance to go second? Check. Talk loudly about the possibility of it? Check. Shut people up for talking about the possibility of it and thereby tempting fate? Check. No idea what was going to go on in the next two hours. Check.
We start well enough. I like Lallana and Chambers, their number 22. We press but they're sitting deep. Then we let them back into it. I've no idea how that lad hits the post. Someone near me blames Glen Johnson. I'm still pondering this hours later. I'm tempted to ask how but we're moving again.
A drunk behinds me decides to pick a fight with my mate. 'First game? Where are you from, dickhead?' Pleasingly, before it gets too nasty, the people around us (including the biggest man I've ever seen) turn on him and he soon disappears. The stewards and police move in but we've got this sorted between us. Not that it's relevant but I reckon my mate's done a good couple of hundred games more than this anus. Anyway, we move on. We've got a League to win.
Enter Luis.
It's odd this. You celebrate the goal and you sing the song but it's too early to see the big picture. I doubt anyone was thinking about the League position at the time. It was more about the moment. We seldom score here so let's enjoy that. It means little as we won't defend our advantage. We never do.
So we defend our advantage pretty well. This is Liverpool and logic is merely an afterthought. The lad to my left tells me that if Southampton score, they win. I disagree. I think we've got this won already. I've no idea where my zen like calm has come from – I had none of this at Fulham- but today it felt appropriate. I'm tempted to don a white robe and roam the away end, issuing wise aphorisms to tortured souls. 'Be at peace, my child. We have Joe Allen.'
Half time.
We discuss how many Scousers have been thrown out in the home end to our left. Quite a few.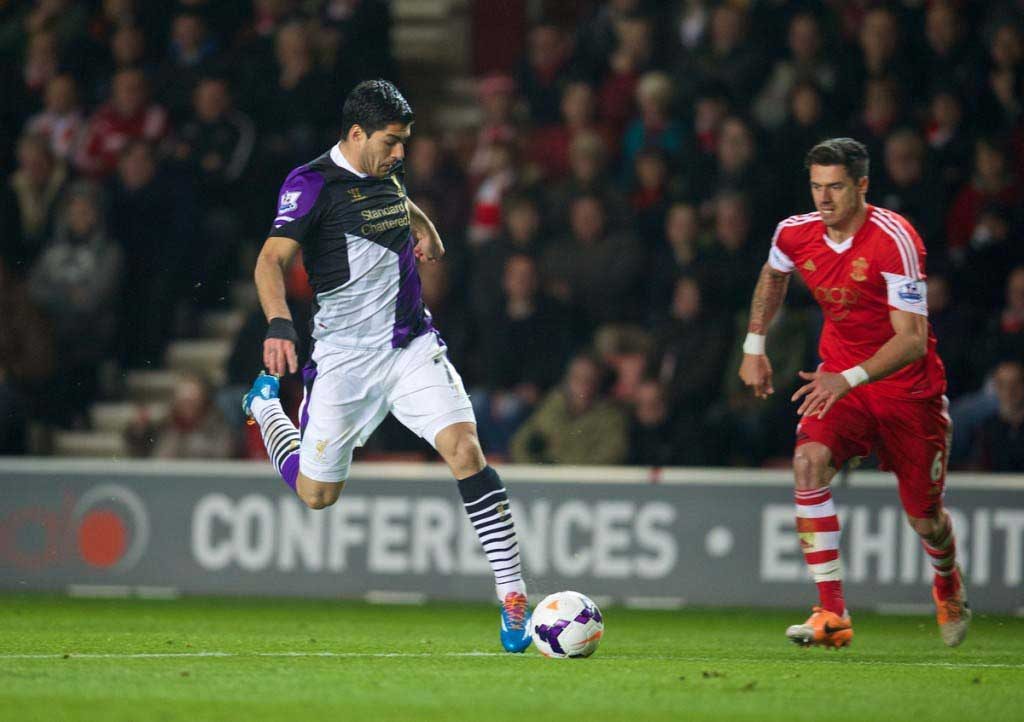 Second half. The ball heads towards Suarez. He could trot to meet it but he lets it come. He could take a touch as it reaches his foot. The defender is waiting for him to do so so he can slow it down and he can react. Luis lets it come. It trickles in front of him. Luis lets it pass. The situation has gone from an 'alright' through ball to a goalscoring opportunity because Luis Suarez was patient enough to see what would happen if. That's a genius at work and it'll never be noticed in the grand scheme of things. He squares it and in comes Raheem. Enter joy. Enter carnage. Enter bliss. Enter Boney M.
Yes, we are.
Someone near me slaps an HJC sticker on a policeman. He takes it off. Slowly. We all laugh. Lads near me stop celebrating, stare at each other and then hug intensely. We're winning the game we can't win. We're on our way to winning something bigger we can't win. Brendan gives us a wave. The lad next to me can neither sing nor remember any of the words to anything. I don't care. He's having the time of his life. He shouts 'Stevie Gerrard on the wing/We had dreams and songs to sing'. This makes me insanely happy so I hug him. I'm still laughing when they kick off again. I stop when I remember the Glen Johnson goal post accusation. I fall into a brown study. No, I'll never understand that.
We get the pen. There is no tension in this one but it's still greeted like the opener. 3-0 might as well be 2-0 but the celebration is more about the improbability of LFC than a scoreline.  Liverpool were supposed to struggle today yet a 3-0 smacks of a run-of-the-mill fixture. We've reduced logic and understanding to ruins. It's mini Stoke. Now do we do this?
I don't notice the final whistle. I'm too busy shaking hands with strangers who became brothers and sisters for a tiny window in our lives.
The journey back was easier. We discuss the amber light that's come up on the dashboard (bulb's gone), the lack of motorway lighting north of Winchester, how condensation works, the wife in Breaking Bad, the timbre of James Alexander Gordon and whether the Uruguayan team 'Liverpool' were playing (they weren't but Penarol had just kicked off).
Away days are mad. May might be madder.
Jesus, imagine May.
Yes, we are.