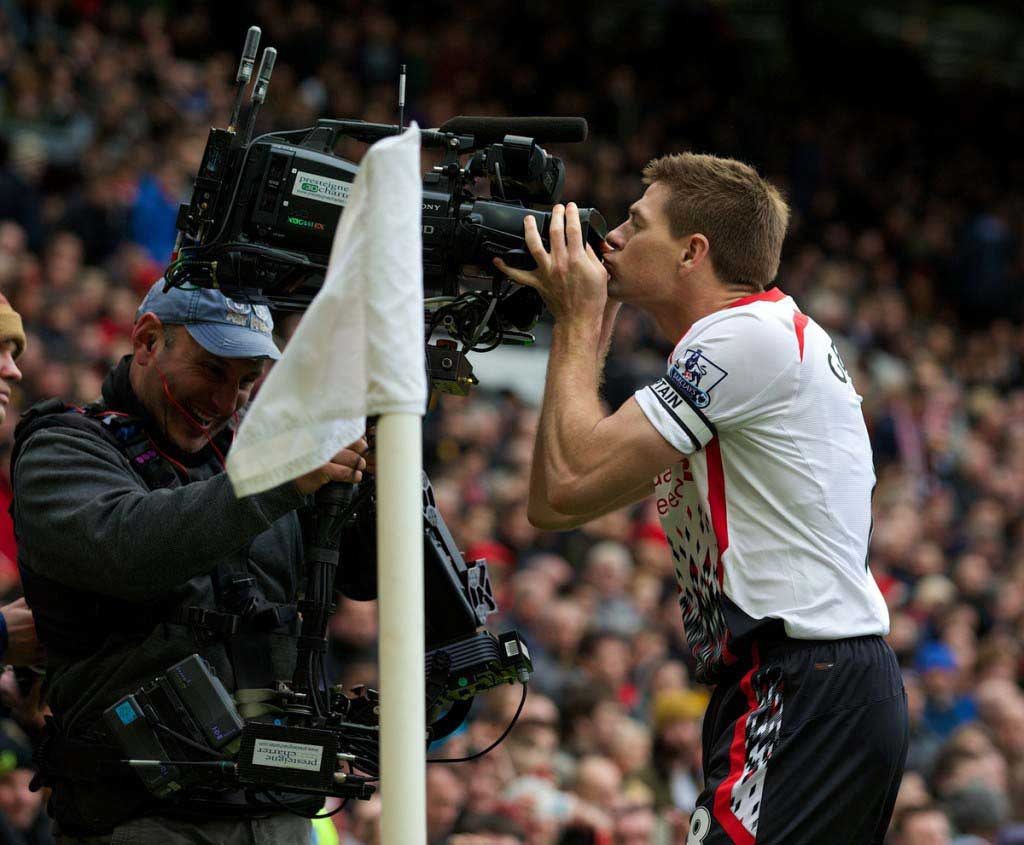 A REGULATION 3-0 away win against average and limited opposition? We can laugh, and of course we do, but if truth be told, it was a regulation 3-0 away win against an average and limited opposing manager.
No team that can boast forward players of the calibre of Robin Van Persie, Wayne Rooney and Juan Mata should be responsible for such a dearth of goalscoring opportunities.
David Moyes, among other notable 'achievements', has successfully killed off the fear factor at Manchester United.
This whole 'Moyes at Old Trafford' scenario reminds me of that episode of Father Ted when they let Father Dougal conduct a funeral. A gift that just keeps on giving.
In the early 1990s we lost the very same fear factor, and it's arguably only now that we are truly threatening to reclaim that aura of invincibility.
Soon opposing sides are going to feel beaten before they take to the field against us. Even the free spirit of the mid-1990s Roy Evans era, the early 'success by rigidity' of Gerard Houllier, or Rafael Benitez's special brand of Liverpool FC couldn't boast such a surety of it's own footing.
Each of those versions of our football club could beat any side on their day, yet none could consistently, game in game out, make football look quite so effortless as the Brendan Rodgers version of our football club has this season.
Rodgers has taken us so far forward in such a short space of time it's utterly surreal, while Moyes has taken Manchester United so far backwards in a short space of time it's – erm – also utterly surreal.
As I said a couple of articles back, we had no need for fear, no need for panic, because if we went into the game at Old Trafford with the mindset that we were simply going into it against yet another club that sets itself up in a manner that suits the way we play, then the only logical outcome would be three more points for the Tricky Reds.
And sure enough so it came to pass, and three more points for the Tricky Reds it was. Can't smile wide enough. It didn't matter that it was the big bad bogey man that we rode into battle with on Sunday, as this was widely irrelevant; we've beaten better sides than Manchester United this season by goal hauls that ran up to fours and fives. It's not about anyone else any more.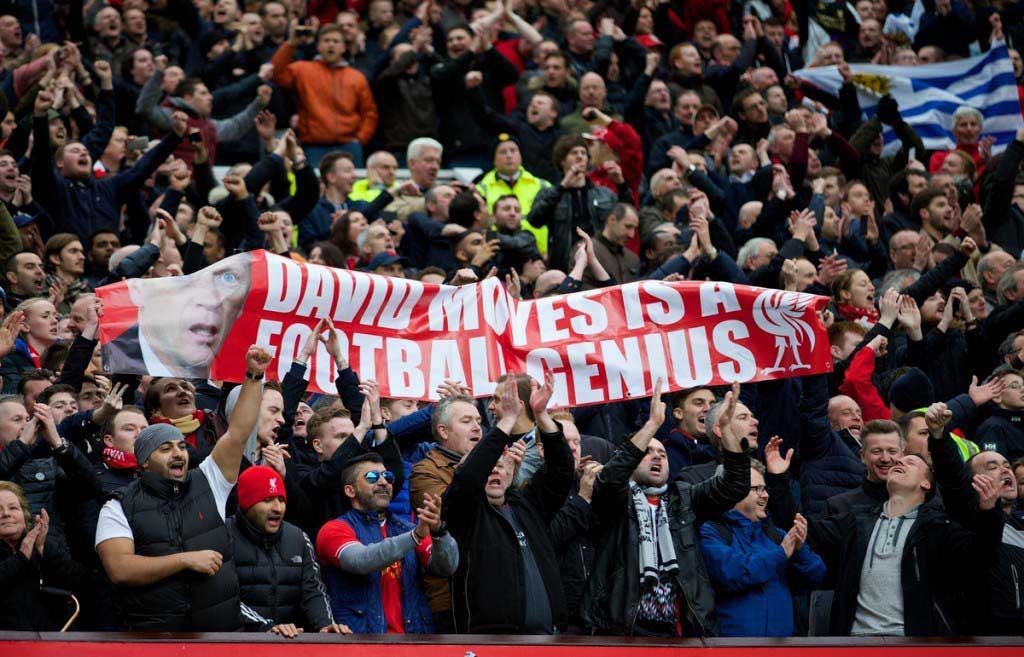 Yes, a win against some sides is always going to taste that little bit sweeter than others and, yes, we are going to party to the tune of a win at Old Trafford that bit more enthusiastically than we we're going to celebrate a win at St Mary's.
But it's no longer about taking one-off individual victories as the be-all and end-all to our serenity and well-being. We've done that in the past with all too painful regularity because we haven't been in a position to challenge for the title. We don't have to be small time any more.
It really is all about us, it's all about that rebirth of the concept 'this is what we do, you try to deal with us'. We can challenge for the title, we are challenging for the title. We can win the title. Don't be afraid of it. It's incredulous, but it's very, very real. The glass-half-empty view of some maintained how we'd be 10 points behind Chelsea as we walked out at Old Trafford for a game that we wouldn't be taking three points from. We now sit four (four) points behind the league leaders, with a game in hand, to be played out at home to Sunderland, and the very same league leaders have still to come to Anfield.
Going back to that article I wrote a few weeks ago, I also stand by what I said about Crystal Palace. The club from Selhurst Park will most certainly give us bigger headaches than Manchester United. The games against those 'awkward' sides will be the major tests we have left to face, and we will need to take the game to sides like Cardiff City, Crystal Palace and West Ham United from word go, while Norwich City can surely be relied upon to be the one side that definitely takes to the field against us feeling beaten before they leave the dressing room. In fact, can we get a hypnotist in to convince Luis Suarez prior to kick off at all remaining nine games that we're going out on to the pitch to face Norwich City?
All four of the away games we still have left to navigate are against sides that are attempting to fend off relegation. Games that are likely to be more complex on grass than they initially appear to be on paper.
I can't help but feel the gods are with us. Suddenly our paper-thin squad is looking that bit more bountiful. Raheem Sterling and Phillipe Countinho are now vying for one place in the starting line up. The fresh legs of Joe Allen in midfield could prove crucial. Lucas and Mamadou Sakho returned to the bench on Sunday, with Lucas even making it out on to the pitch to allow Steven Gerrard his well-deserved hero's substitution late on.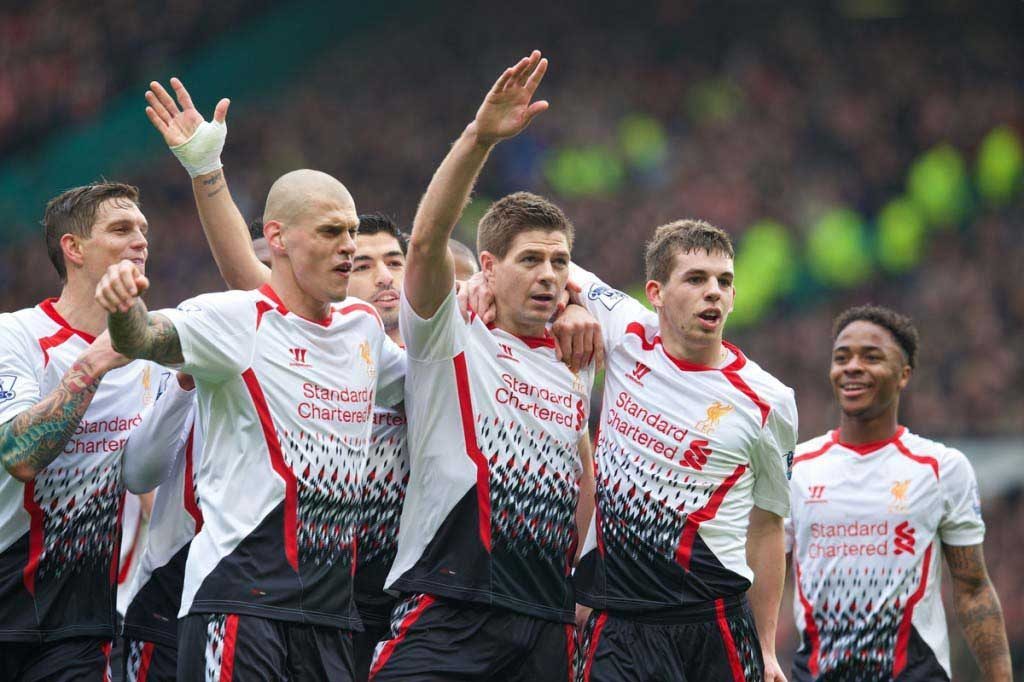 Simon Mignolet, after much recent condemnation, has pulled off critical saves at pivotal moments during two back to back 3-0 wins away from home in games that were meant to cause us sleepless nights, a confidence and morale-boosting turn of events for a keeper that was a couple of games ago facing the wrath of his own defenders out on the pitch on a increasingly regular basis.
Glen Johnson is nearing full match fitness and Daniel Agger has unearthed his form just in time for the run in. What's not to like? Sunday even brought the late slap in the face for our opponents that we felt them to be so lacking in threat and consequence that we could approve of Iago Aspas entering the field of play.
We really are living through and experiencing remarkable times.
How else can you explain the head-scratching occurrence of Mark Clattenburg awarding us not one, not two, but three penalties at Old Trafford, yet still deny us another one if not two more?  Another game where we could have scored double the amount of goals that we finally recorded.
The number of games continues to shrink, nine to go, we're into single figures, more games at home than we have away, none of the sides away from home we still have to face currently resides in the top half of the table, while two of our rivals for the title are still to come to Anfield.
It's hard to imagine, in this era of the steeply-tilted playing field, that we could ever be handed a better opportunity to challenge for the title.
Maybe someone should start work on a 'Rodgerstollah' portrait. It might be getting marched around L4 very soon.
Pics: Dave Rawcliffe-Propaganda