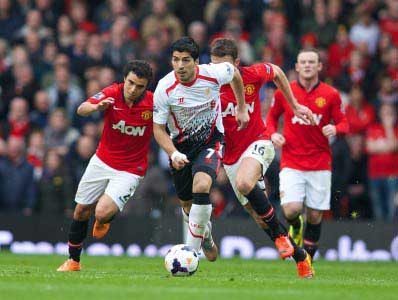 by ALEX HESS
ROME may not have been built in a day, but this Liverpool side feels like it's sprung up overnight.
It there's one thing to be noted about the thing that we can now legitimately call a Liverpool Title Challenge then it's how completely unexpected it has been. Coming off the back of last season's seventh-place finish, even the most hopeful of Kopites wouldn't have placed Liverpool second in mid-March; the most bouyant of dreamers couldn't have conjured some of the performances we've seen this term.
Who, at the start of the season, would have envisaged the lightweight Raheem Sterling as a vital cog in the freewheeling attack that would sit atop the football league on Christmas Day? Who would have foreseen Jordan Henderson's rebirth from admirable engine-room workhorse to a ten-foot-tall big-game conquistador? You certainly needn't have looked too far to spot someone or other laughing up their sleeve at the first mention of Gerrard and Pirlo in the same sentence.
And yet here we are. Sterling is rampant, and one of the league's more frightening wingers, Henderson (perhaps along with Ross Barkley) has been the season's outstanding English midfielder, and Gerrard has just played the puppeteer in the most dominant Liverpool performance at Old Trafford in decades – doing so in the Pirlo role, of course.
Say what you like about David Moyes' Manchester United – plenty have; plenty will – but the sort of comprehensive crushing that was inflicted upon them on Sunday afternoon is not easily done. On average, they'd conceded less than a goal per game at Old Trafford before Liverpool stuck in three, missing a penalty along the way.
This wasn't the away performance we'd seen at White Hart Lane and Eastlands, or the home destruction of Arsenal. Those were full-blooded maulings, games in which the opposition were given the impression that they'd just inadvertently booted a hornets' nest of red-shirted attackers. This was more measured, more patient, and it somehow seemed a sturdier, more unavoidable result. And it was all the more emphatic for it.
The win looked to come from a well-rehearsed strategy: the first half spent silencing Old Trafford, the second spent putting its heroes to the sword. Authority was imposed, and imposed knowingly, before it was made tangible. This was essentially 90 minutes of Steven Gerrard and co holding their hosts at arm's length, letting them swipe desperately at thin air before picking them off with cunning ventures forward.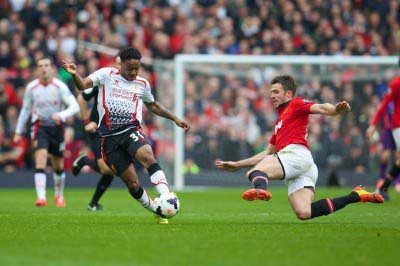 United may have presented the occasional threat, but never was a cohesive attack assembled by the home side, and at no point did they look to be acting from a playbook in the way their visitors were. Liverpool's training-ground keep-ball of the last 20 minutes was the final confirmation of a game's worth of understated but utterly undeniable superiority.
This difference in approach is significant, as it hints at the fact that Brendan Rodgers' Liverpool is no one-trick pony.
He can, in fact set teams up differently, for different games, and with great success.
In a way, we should know this already – the tactical set-ups employed by Rodgers over the last three months have been as varied as the results have been consistent. And yet before Sunday, all the side's most convincing big-game performances had tended to be cut from the same basic cloth: high-intensity, explosive pressing, Liverpool leaving the opposition punch-drunk by half-time.
This, though, was a slow turning of the screw, with the pressing more selective and the attacks constructed rather more carefully.
The suspicion has always been that Rodgers is a manager defined by his training-ground expertise rather than his ability to negotiate the sport's more political, sharp-suited terrains. Sunday was another confirmation of that, as he added another scroll to his collection of winning big-game blueprints.
It may feel as though it's come from nowhere, but Rodgers has been subjecting this Liverpool side to his own fine-tuning process for nearly two years. Few would have foreseen the benefits being reaped this quickly – and this emphatically.
Pics: Dave Rawcliffe-Propaganda