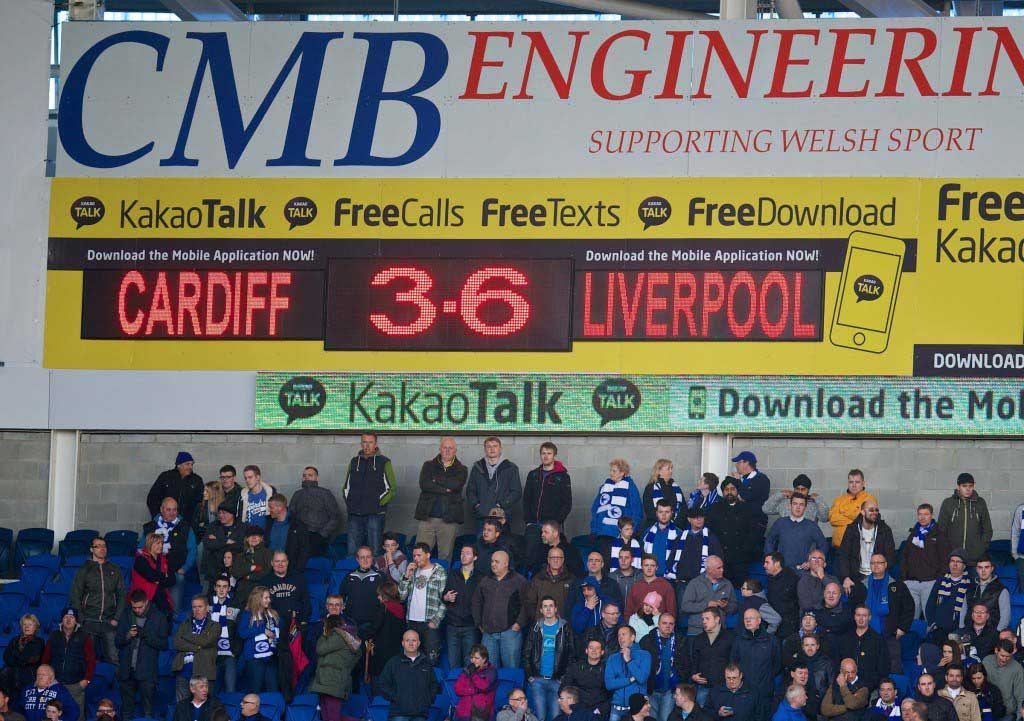 LET'S start with the facts.
1988: Arguably our greatest side – 87 goals in 40 games.
1979: For me, the perfect Liverpool team – 85 goals in 42 games
1977: Our greatest season – 62 goals in 42 games
Ladies and gentlemen, Liverpool currently sit with 82 goals after 30 games. At this rate Liverpool will end the season with 104 League goals in the bank. That is insane.
When Cardiff got their second, and our end fell momentarily silent, I pondered that, given the way the defence is playing, we'd need four goals to win the game. Then I wondered what I was worrying about. Four's easy. Four shouldn't be easy but it is. We got six.
Our centre back got two goals in a game for the second time this season. He has now outscored Fernando Torres. As Andrew Beasley (@BassTunedToRed) points out, only 27 players have scored more Premier League goals than Martin Skrtel this season. That is also insane. Luis Suarez scored his third hat-trick of the season. He has now outscored Europe. Daniel Sturridge is only the second best striker at the club. Second best. Daniel Sturridge. Daniel Sturridge is the best English striker in the game today and he's only our second best striker. This is also quite, quite mad. Liverpool are goals.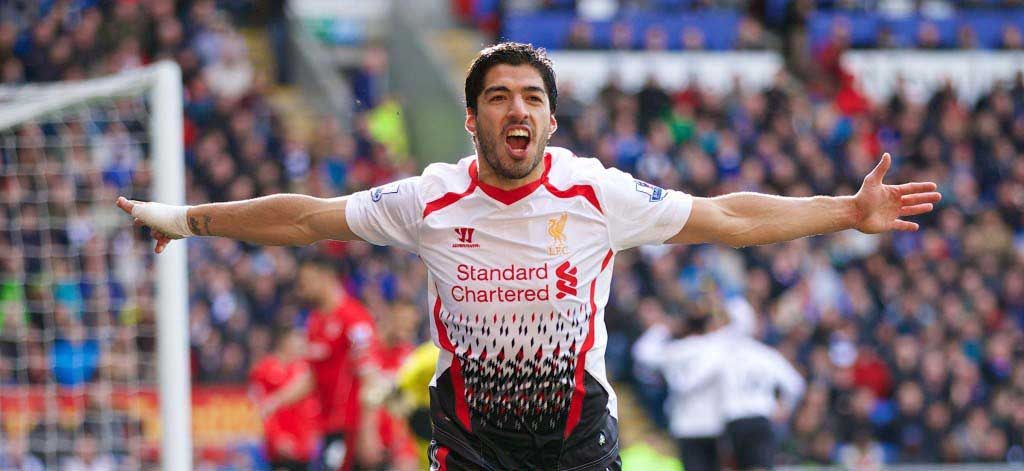 Cardiff is a strange place. A proper concourse with shiny new walls featuring posters boasting about the length of the Welsh coastal path. Lots of tellys showing the 2006 Cup final that we'd all watched a week earlier on the Old Trafford concourse ('It's an omen'). But the layout was designed by the architectural equivalent of William Burroughs. It's thrown together.
To get to my seat I had to walk to the back of the stand, turn left and push through two rows of fans because my block didn't have stairs! As my mate said, Keith Lard has signed off the health and safety certificate after being blackmailed with photos of him with Airedales. How the hell is that safe?
But it also has much to recommend.
The stewards were dead nice to us when they knew what they were doing. One gave us a printout of the Away Guide as we were standing outside the turnstile. Some might say that it was a bit late at that stage as we'd done the majority of the work by then. We asked another where Turnstile 7 was. He told us to ask his mate. He was standing outside Turnstile 5 at the time. Maybe he went to find an Away Guide. Still, they were nice and friendly and I'm going back if they stay up.
Then there's the game. Seriously, where do you start with that?
We didn't blow them away. They came for us as they did at Anfield in December but is time they scored. I'd like to see Mignolet dive for the first, just to let me know that our defence is having a go. I'd also like to see Agger close down their lad for the second. It wasn't entirely his fault as some back up might have been nice but he was all over the place there. 2-1 down with only six goals left in the game. Look, you know what happens next so there's no point in going on about it but I want to talk about the Sturridge back heel. It's obscene. It's playground stuff. It's not just a back heel. He really smacks it and he knows it's perfect. Suarez only has to pull his leg back and in his mind he's thinking about his celebration. That was a simple goal for this LFC. It's almost a forgettable goal for LFC. We do this all the time now. How many of you have instant recall of Suarez first header against West Brom? Did you have to think about it? If that were any other side or any other season that goal would appear on T-shirts. It was arrogant, it was foolish, it was spellbinding. It was also your average run of the mill Liverpool goal in 2013-14.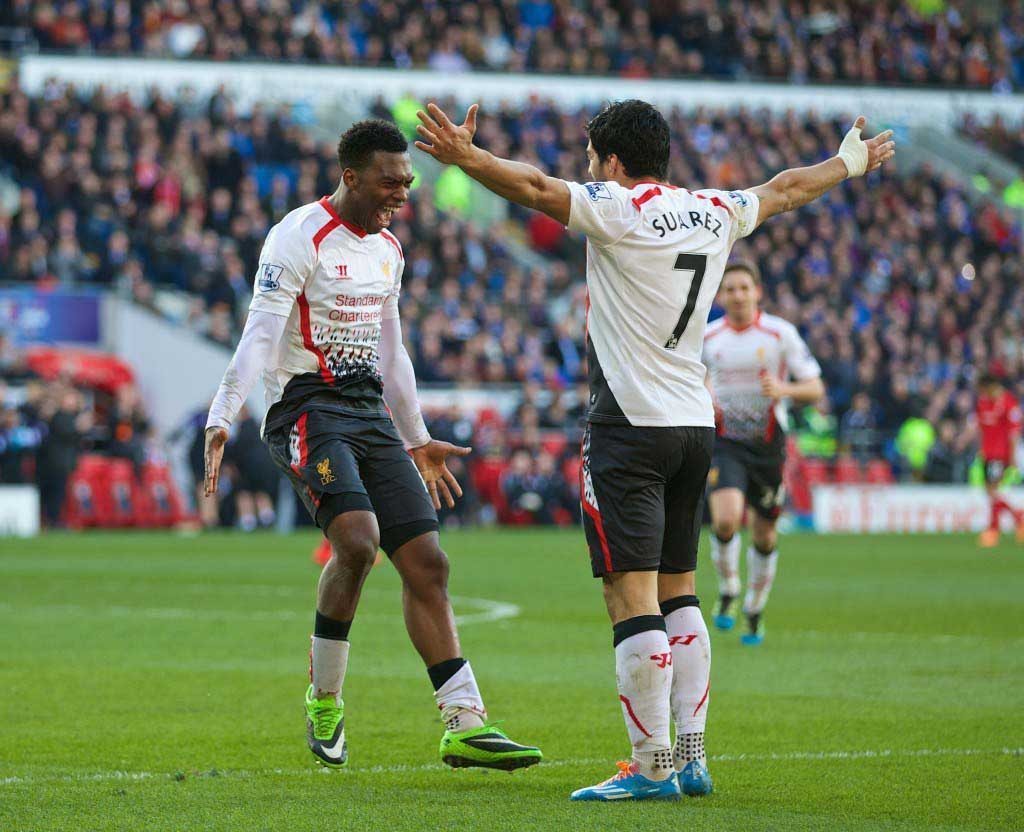 Think about Sturridge's goal at Stoke away. HE'S DOING KEEPY-UPS WITH HIS HEAD ON THE SIX-YARD LINE BEFORE SCORING. That is ridiculous but it's just another goal buried deep in the 82. In a few weeks we would have forgotten about that outrageous back heel as something new will eclipse it.
82 League goals.
Yesterday was nearly our second 3-5 of the season. I honestly think we're getting 10 in a game at some point. The final goal. The breakaway. It reminded me of Babel's goal in the Arsenal 4-2 game. He legs it clear with a bit to do but the keeper just says, 'Oh, just hit it and finish it off. I'm not arsed any more' like he's going to storm off in a hissy fit. Almunia didn't even dive for Babel's goal and he could have stopped it – but they were broken by then. Yesterday felt like that. Their manager had his own little hissy fit afterwards and then the world went back to talking about Kieran Gibbs but Liverpool FC just carried on with what they're doing.
Nothing matters other than Sunderland now. The Cardiff points have been and gone. Now it's all about another three points and at least one more goal. One? Is that it? I doubt it. Think again about that incredible side of 1977. We won the League and scored only 15 away goals that season. We've matched that in the last four aways.
So as we trundled off home via a pub near Bath and talked about tuna, the Revolver album, Lee Marvin standing on top of a moving car, King Lear, the Pleidaes star cluster and the chances of getting back for Match of the Day, we almost forgot some of the six goals we scored earlier that day.
This is routine now. Goals are routine. And, ladies and gentlemen: Liverpool are goals.
Pics: Dave Rawcliffe-Propaganda