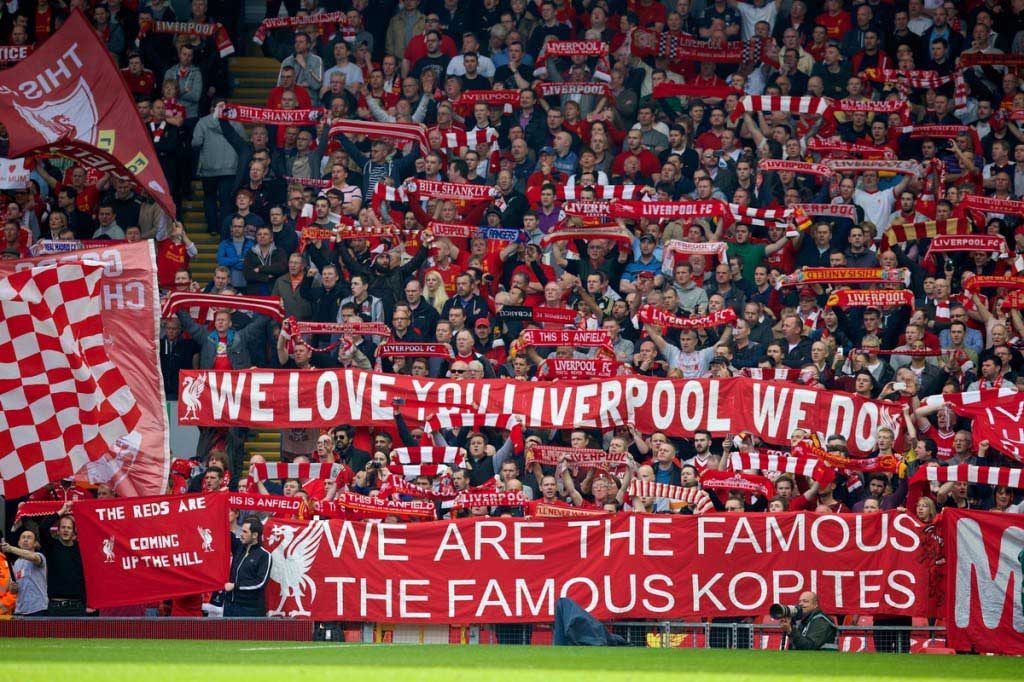 WHEN the final whistle went in The Excelsior last night after City/Arsenal all I heard was people saying to each other: "It's in our hands. It's in our hands."

Today we grabbed it. Seized it. Knuckles white, grip tight.
In our hands.
We are Top Of The Pops. Six to go.
Der der der der der der, der der der der.
Top of the pile.
A proper number one. Entered at sixth. People fell in love with them. Kept buying it. More people, the housewife's choice.
Number one in April. With a bullet.
Return Of The Mack. It is. Return Of The Mack. Come on. Return Of The Mack. Oh my god. You'll know the Mack is back. Here I am.
Here we are.
The first half was an explosion, the atmosphere sublime before the own goal. And whatever goes beyond sublime after it. Nerves gone, everyone roaring the Champions Elect towards the promised land.
Johnson's odd season continued in the own goal; only thing more unpredictable than him being Spurs. Coutinho's goal divine, his changes of pace effortless in a team which could simply rush passed him. Flanagan looking for more battles to win, his own boxed early, covering across with panache. The centre halves not taking any nonsense.
The front three interchanging with such understanding. Each occupying every position along the line, knowing exactly what they are about in and out of possession.
Sterling was devilment personified, holding the world off just as Gerrard holds it up. He twisted and spun, finding angles and mischief everywhere. This is how to be man of the match.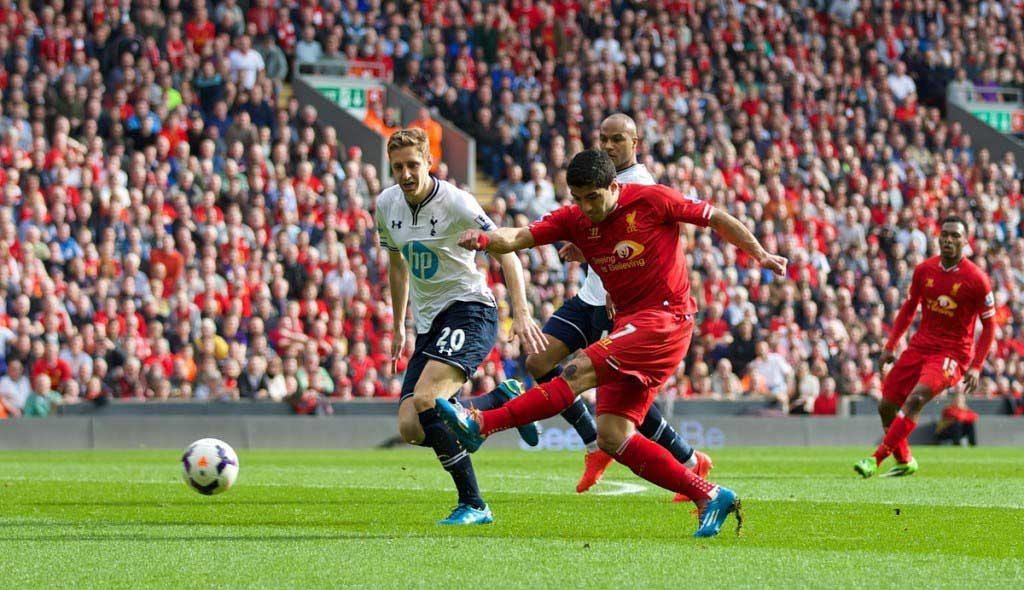 The word "undressed" has fallen into misuse in football. Just as Larkin thought the sexiest word in the English lexicon was "unbuttoning", the sexiest in football's is "undressed".
Tottenham Hotspur were undressed.
Time and again they were undressed.
Sturridge's backheeled attempt, Suarez's missed header, Henderson firing over when it just needed to stay low. These weren't the modern statistics' definition of "clear cut chances", they were undressings. Emphatic exposure of the shortcomings of opponents. These opponents, by the way, finish top seven.
This on a day Suarez wasn't great. Lovely, lovely goal, but not at his best given his fury over that brilliantly saved header. That doesn't matter as much as it once did. He's been the catalyst in making this the best football team in the land.
We've hit the front. Six out. We've hit the front. Six to jump.
Trickyred hits the front of the Grand National six out. Rodgers sits motionless in the saddle, the 25-1 shot smooth while all around him horses are clipping fences.
Check your slips.
Skyblue, the classy 9-4 favourite, from the Sheikh Mansour yard looks suddenly uncomfortable. Grinding Machine is being shown reminders by Mourinho while Fourthenough is tailing off.
(Moyesnoise has the screens around him. "Nobody wants to see this," opines Scudamore).
Six to jump. And he hasn't had to reach for the whip.
Trickyred is travelling beautifully. His form has belied his price since around last year's National. Rodgers the calmest man in the racecourse, punters on Trickyred excitable, those on his rivals terrified.
Setting the pace. Liverpool.
At some point in the near future people will refer to something as being akin to doing a Liverpool. Doing what wasn't done, what wasn't deemed possible. Those people can fuck off. Tell them now from me.
You deem from outside. You bestow. We aren't asking for your permission. We are Liverpool. This is a side that will take what it deserves. The ball, the goal, the league title. This is Liverpool.
We've looked at those around us and seen flaws. Do we have them? Yes. But we've been hopelessly flawed not so long ago. Now? We're the best team in the country and perhaps, those of you outside, perhaps there should be someone better. There isn't though. There is nothing out there for us to fear.
The notion that it is "the hope that kills you" has gained popularity in recent years. This is bullshit. Render it as such. It is Evertonian thinking that Evertonians have grown out of. It is badly, badly English. I remember being hopeless and I was almost dead. Hopelessness nearly killed me, let's not remember it quite so fondly.
This is being alive. It's thrilling and exhausting and overwhelming. Unbuttoning. Undressing. Hope is wonderful. It, like Liverpool, is the business. The Business.
This is Liverpool. Tra-la-la-la-la.
Pics: David Rawcliffe-Propaganda-Photo