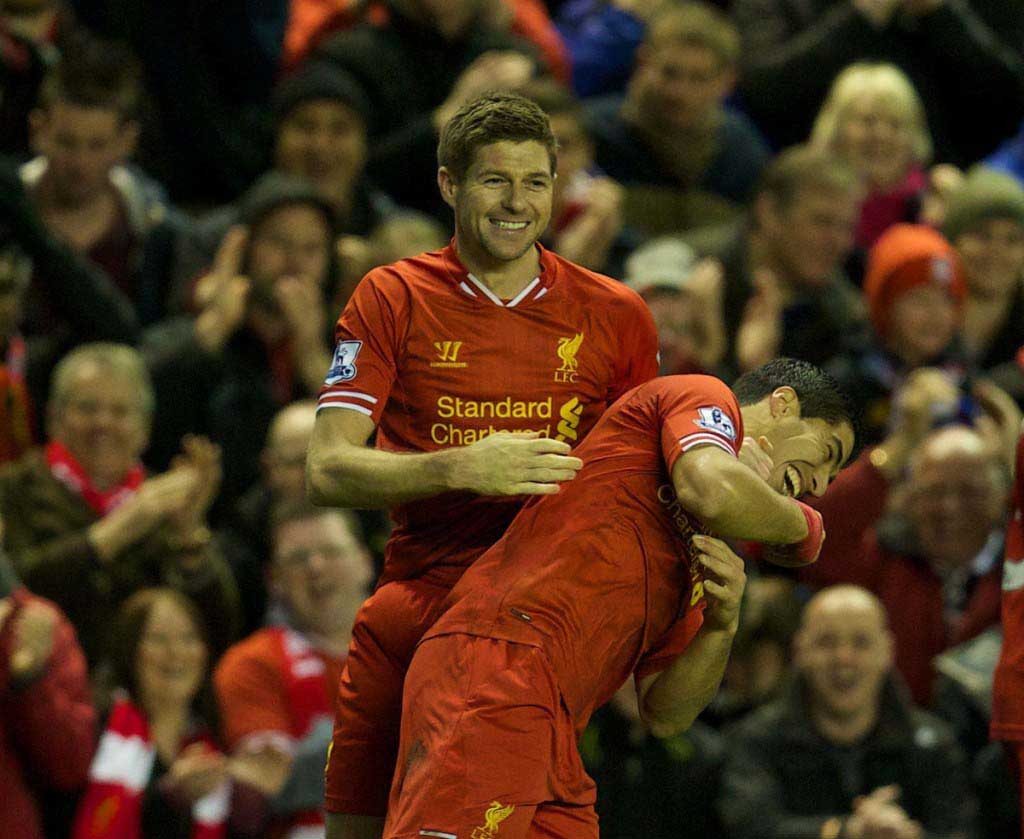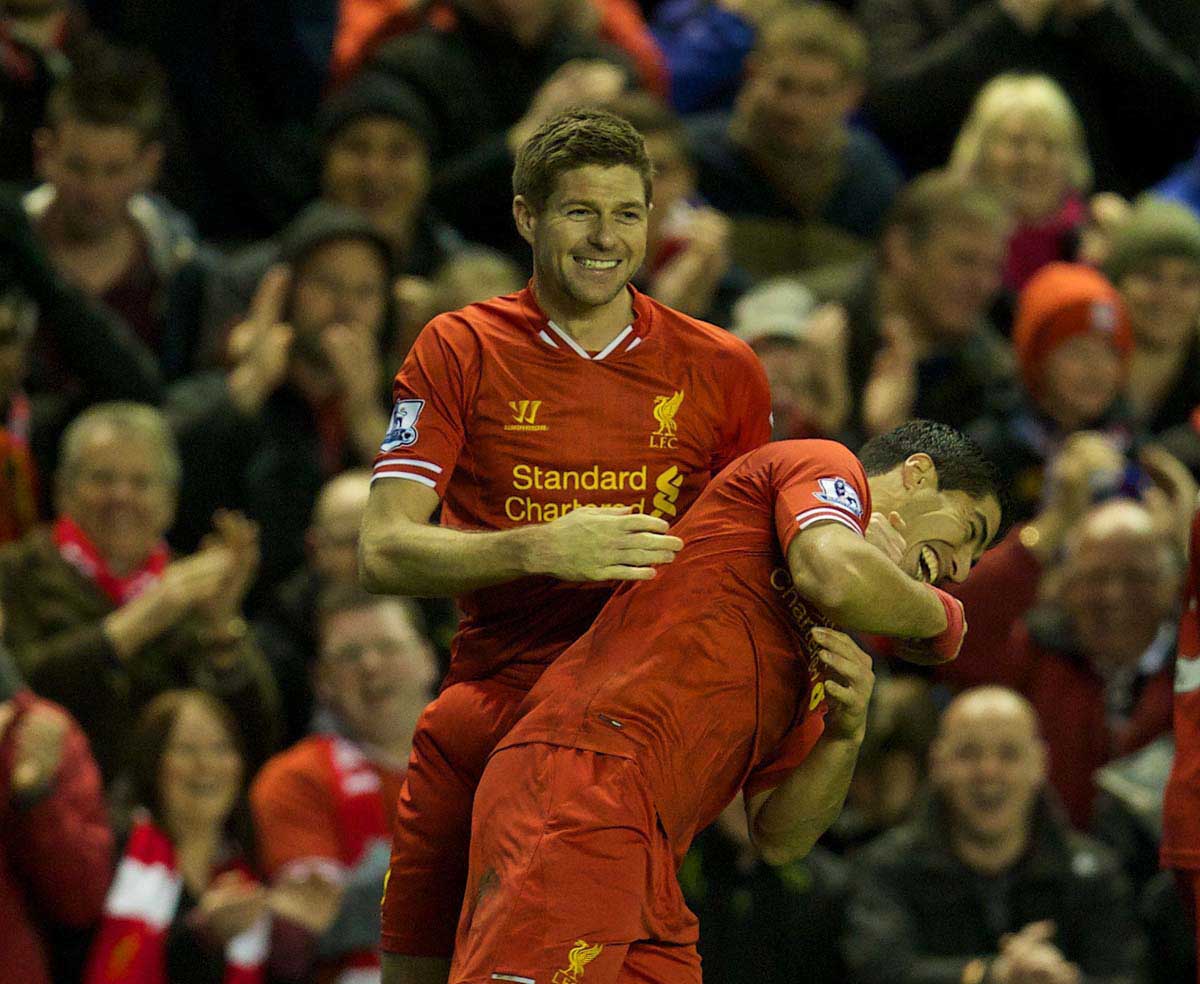 AND on we go. And on we fucking go.
That wasn't nice. That wasn't fun. That wasn't Brendan Rodgers's Tricky Reds. That wasn't the People's Champions. That was the Champions Elect.
They didn't play well.
It wasn't pretty. It can't always be pretty. That's conventional sense. It can't always be pretty. In a sense, in this league-winning season, it is as conventional as it gets. Liverpool score two against a side digging in, they get on the front foot but are just about repelled.
Tonight I was with two young lads at their first game Aden and Eli. They would have hoped for more.
We aren't used to this.
The problem with being endlessly unconventional is that the return of convention is terrifying. We've become used to the wild and unexpected. Banal only hurts.
And on we go.
The diamond today seemed that bit too functional. The full backs struggled to impact. For 45 minutes Sturridge was human. And then he was super human.
Aden and Eli, they come, they are brought to see Cavaliers. They got Roundheads. That they can get both or either is worthy of more than a nod.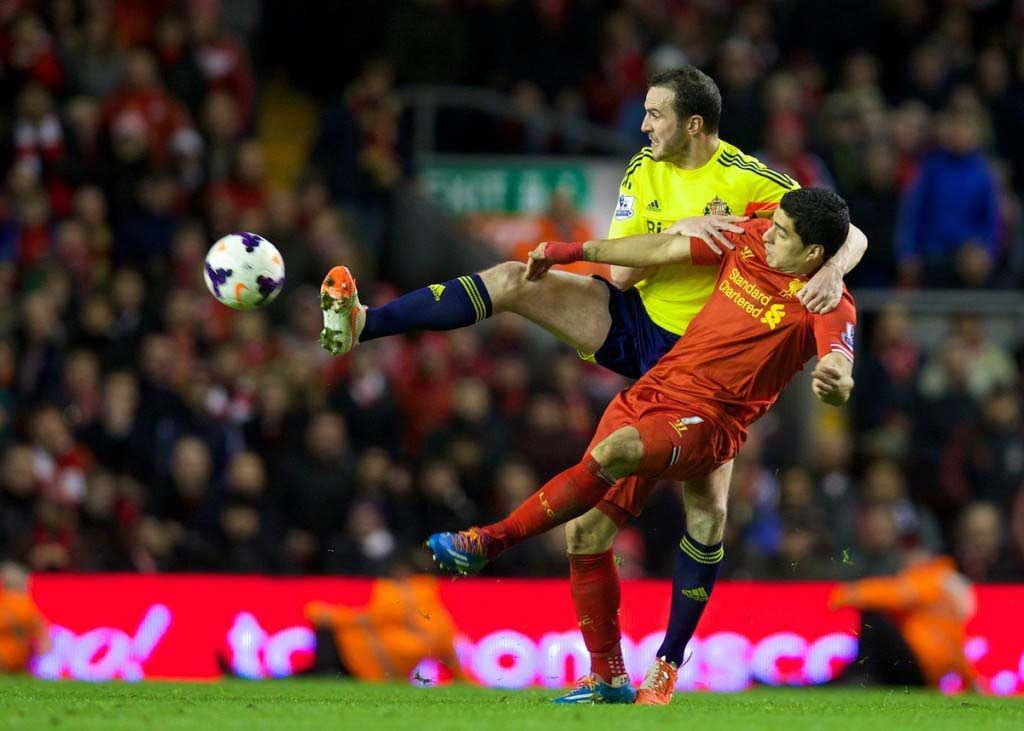 And this is the thing. The front two can be off song but they are worth a goal and an assist. At least. The positives include Suarez's single-minded hold-up play when the game was on a knife edge. Blamming it into a Sunderland player with two to go felt as good as a goal.
I have to be honest, the alehouse bellend in me loves that sentence. He blammed it into the defender. It felt like a goal. I've needed that even if we haven't. This makes more sense to my basic mindset.
My mindset has become basic. Just win. Just fucking win. Well that is that. They won. They just fucking won.
Few impressed. Liverpool never felt in control of the game. Johnson added ballast. Gerrard was solid but needed company. Suarez showed a thousand times. Coutinho prompted and probed and looked to find. Brave all game.
Three points. All the points. All three of them. No dancing. No singing. No spinning. Just teeth gritted points.
It is seven to go. We'll take 2-1s in all seven but God knows that will hurt. It will feel against nature.
Sunderland deserve credit in amongst this, yes the referee was poor, yes they were rough but they fought for their lives. They were tactically sophisticated and fought for their very being. This is something we overlook, when we look at our rivals's remaining fixtures, when we look at ours. What we are all up against will fight for their lives.
We have shown we will fight. We won't step backwards, we won't panic, we won't flinch. Panicking is passe.
We are one point off the pace. There are seven games to go. This is the dark side of what the business looks like. Win again Sunday. Throw the gauntlet down.
Aden and Eli don't know it but all the three points in a run-in are equal. These are no different. Lad, lad, this league won't win itself, lad.
Grit your teeth. Hold your breath. Call the lads in on the Anfield Road and God bless you for it. This is what the business looks like. It hurts and it is right it hurts.
Embrace the agony. We have more to come.
And on we fucking go. It can hurt. But it should.
Pics: Dave Rawcliffe-Propaganda