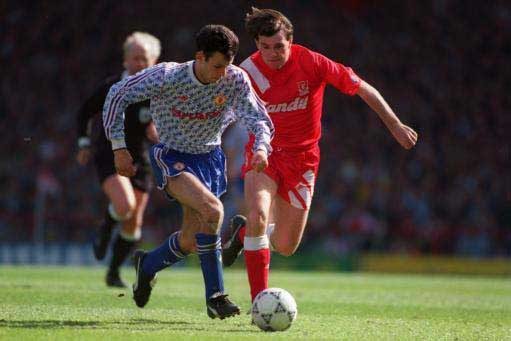 RAY HOUGHTON was hailed as the final piece in the jigsaw of Kenny Dalglish's side when he signed for Liverpool from Oxford United in October 1987. Most would say the class of 2014 is missing more than one piece, and an improbable title challenge has puzzled many. We spoke to the former Anfield midfielder, who won two league titles with the Reds, including Liverpool's last in 1989-90, about the current team's title tilt.
GR: It's pretty clear that Liverpool haven't got the best team, or the best squad in the league. But the best team on paper doesn't always win the title do they? Manchester United last season being a case in point.
RH: They weren't the best team but they were the most consistent team. Chelsea kept changing the manager, they brought Benitez in, and they had other things to focus on. Man City had a manager in Mancini who the players didn't really believe in and Arsenal were Arsenal – they're there or thereabouts but never really there when it matters at the end of the season. It is about making the most of it, getting the best out of the squad that you have and the truth is Chelsea didn't do that last season, nor did Man City.
GR: Do you think that this season represents an opportunity for Liverpool, given Man United's problems with David Moyes, Mourinho is settling back in at Chelsea, Man City have got a new manager…everyone is saying Liverpool are an outsider, but isn't this a real chance?
RH: Yes, and they have to seize it. They mustn't just think 'we have done well if we get in the top four'. Of course they would have done well, no doubt about it. When you're outside the top four, your advertising revenue isn't as much and you don't bring as much money in in other ways either; I think it's worth £30million being in the Champions League. These are good reasons why Liverpool need to be in there but with all the upheaval around, and with teams losing to each other, there is a definite chance for Liverpool to do something quite spectacular. Now, if you look at history, there are only two teams that have actually done it like this – maybe three – which is Man United, Liverpool and Arsenal when they had The Invincibles. I'm talking about putting a run of results together in the second half of the season and virtually go unbeaten, win every game and do it. Liverpool will have to start believing in themselves and the more games they win, the more they will believe.
GR: Have you been impressed with the change in Liverpool's mentality as the season has progressed?
RH: Yes, I've been impressed to a certain degree but I don't get carried away because I'm also looking at the defending side of it. When you say defending, everyone thinks you mean the back four and the goalie – I don't mean that. You attack as a team and you defend as a team. Liverpool have been giving up too many chances and too many soft goals and they have proved costly. They wear you down and put added pressure on you.
GR: Do you think there is more belief in the Liverpool side now? For instance, Liverpool's performances at The Emirates were world's apart in the league and in the cup – the players seem to be backing themselves to win games compared to earlier in the season.
RH: Yeah, that's on the back of beating Everton 4-0 and Arsenal 5-1 in the league, that's where that belief comes from. They beat Fulham 3-2 as well. But you also have to look at the team and the changes that have been made. Liverpool played three centre halves in the league game against Arsenal, they were a lot more positive in the FA Cup. When you're winning and playing with confidence there is belief, that's what it gives you and that's what momentum gives you. You go into games not fearing the opposition and at the moment, with the run of games that Liverpool have got: Chelsea at home, Man City at home and only Man United away, they've played all the other big teams in and around them – so it's in their own hands if they get the right run of results.
GR: What do you think of the job Brendan Rodgers has done at Liverpool so far?
RH: I think the enormity of the job hit him early on and I don't think Being: Liverpool helped; he was thrust into it somewhat. The envelopes didn't help him, and I think he's quietened down considerably from that point of view – he's focused much more on the training ground, on games and far less on the things around the periphery of the game, and I think that's to his credit. He's much more of an accomplished manager now. I was in the press conference after the defeat to Arsenal in the cup and I thought he handled himself extremely well. That side of his management has improved as well.
GR: Is it a concern that Liverpool are so reliant on attacking football to win games – they don't seem to be able to shut up shop very effectively do they?
RH: Only time will tell. It's finding the balance. Also, when you get good at something, you keep doing it while trying to work on what you're not so good at. At the moment, Liverpool are very good at attacking and they have to work on the defensive side of it: it's when you haven't got the ball, getting back in numbers, how you protect your back four, don't allow people to push too far ahead…some of the players just need to relax a bit more because some of the goals Liverpool have given away haven't been down to the opposition's great play, a lot of it has been down to Liverpool panicking at the back and in defensive situations, not dealing with crosses – they are things you can easily work on, they're not difficult. The difficulty of the game is trying to build, trying to create, trying to score – if that was a problem then we'd be concerned but it's not.
GR: What players have impressed you the most this season?
RH: Obviously Suarez has, once again, been outstanding. Stevie G has started to pick up of late but Jordan Henderson has been the one who consistently, week in, week out, has performed to a higher level. He's grown into the position, looked a lot more positive in possession of the ball and he's looking forward, not just passing it easy. Time was where he looked to just be getting rid of the ball quickly but now he's been a lot more pro-active in possession and looks for the right option, the right pass. His game is moving on and moving on in the right direction very quickly.
GR: Given what you've said there, do you think Henderson should be considered for the World Cup?
RH: Yes. I've been over to Brazil, I was there for the Confederations Cup last summer, and fitness is going to pay a huge part, never mind ability. To get around the pitch game in, game out is going to be hugely important. The conditions will be very hot so you're going to need players that can last the pace. Jordan's got great energy levels and I think that might be needed.
GR: Talking of energy and fitness, how much longer do you think Steven Gerrard can play at the top level? He's 33 now and it's been the subject of much debate among fans.
RH: It depends on injury and fitness, doesn't it? You just don't know. If he looks after himself, he could play in that deep-lying role for quite a while. He's got a fantastic range of passing and he just has to be more disciplined and that's the thing. You know, when you've been in the team as an attacking player for so long and all your thoughts and every bone in your body wants to get forward, and take the positions you did as an attacking player, you've got to quell that to be a defensive player and sit and protect the back four. If he can get around that and really believe that is the way to prolong his career then he still has at least another couple of years in the game, I would imagine, if he remains fit.
GR: Whatever happens this season, Brendan Rodgers and the rest of the transfer committee will already be looking at potential transfers. Where do Liverpool still need to improve?
RH: You need to change the back four, I really think that needs improving and probably in every position from a left back to a right back. Young Flanagan has done well when he has come in but what Liverpool will be looking for is consistency of performance. Whoever the back four is, are they going to be consistently good enough, week in, week out to win you the league? There's no use in just thinking about top four again, you've got to think beyond that and you're also looking for players that can win you the Champions League – they are the two major competitions Liverpool will be going in for. Once you're in the top four, and into the Champions League, there's no use just going in to be part of it, you've got to go in to win it and you need the quality of players to do that.
GR: Do you think it is harder to win the Premier League now than it was then; do you think the standard is higher; are there more or less competitive teams in the league?
RH: It's probably the same sort of level. It's ultimately all down to finances, isn't it? When you look back, Liverpool had the most money and were the team that could bring in the best players. Manchester City at the moment have got the best squad of players but they don't win it and you have to question why, what is it? What's stopping them doing it? I think it's down to the previous manager and the attitude of the players wasn't quite right. This season, with the players that they have got, they should be doing better than they are. Maybe it's because they have had injuries to key players, particularly Aguero and Kompany being out. They need to bring in another centre half and they haven't done that. Going back to what Liverpool have to do next, they have to bring in better players than what they have got to improve – that's the next level. There's no use looking for more squad players – I'd rather have a smaller squad with better quality because the problem sometimes when you've got a big squad with weaker players is that you are forced to play those weaker players at some stage because they need games or injuries force you to play them. That's when you get found out.
GR: You were in the '88 side that famously beat Nottingham Forest 5-0 in a performance that is always held up as one of Liverpool's best. How do you think the 5-1 against Arsenal this season ranks against that routing of Forest?
RH: They're different games, both great for different reasons. We were top of the league, we'd just knocked Forest out of the FA Cup on the Saturday before the game on the Wednesday at Anfield. You'd have to say what was their frame of mind going into it? Were they really focused? How strong mentally were they? Were they just ready for a beating? Arsenal were a team that were sitting top of the league when Liverpool played them. From that point of view, and the way that they started, with the four goals early on, you have to say it was an outstanding performance. But I just don't think you can compare the two games because they are from different eras. In our time the Forest game was an outstanding performance, one of the best by any team, but I think Liverpool's against Arsenal was the same for this generation – it was an outstanding performance in the Premier League.
GR: Do you feel there is a camaraderie between this current side, maybe something similar to what Liverpool had back in 1990 in the title-winning side you played in?
RH: It looks that way, doesn't it? It really does. When I look around there doesn't seem to be any bad eggs, there doesn't seem to be anyone upsetting each other. When they score a goal they all celebrate together and congratulate each other and that's fairly evident of something good. It looks like fantastic camaraderie, which was definitely the case in our day. If you've got a happy dressing room and everybody is pulling in the same way it makes it easier when you go on to the pitch and I think that shows with Liverpool at the moment.
GR: So that's another positive for Rodgers isn't it? He has managed, and controlled, what have been presented as two very big egos in Luis Suarez and Danny Sturridge?
RH: The other thing is there is no need now for him to say I've got envelopes with names. He might have wanted to make an impact when he first come into the club but he doesn't have to do that now – he's learned about the players, he knows there are no bad eggs, no bad attitudes; they are going to get on with the game. He knows he's got a good squad to work with, everyone wants to get out there and do the right thing so it makes his job that little bit easier. From that point of view, the players deserve credit and Brendan should reflect that as well; it's not all about what Brendan's done. I think what the players have done is they have bought into the philosophy and what they have been asked to do and they've got out there and tried their very best to implement that in every game. They deserve a lot of credit, as well as the manager.
First published in issue 8 of the free Anfield Wrap Magazine.