JEROME Champagne will be anchoring the football segment of the seventh Liverpool Sound City conference this May joining a bill that already includes football luminaries such as former Chief Executive of The Premier League and former CEO of Liverpool Football Club Rick Parry and award-winning Times football editor Tony Evans.
Former French diplomat and close advisor to Sepp Blatter, Champagne worked at FIFA from 1999 to 2010 and made headlines earlier this year when he announced he would stand for the presidency of the world governing body. A close friend of Pele, he was immediately endorsed by the Brazilian legend who felt it important to support Champagne's vision for the future of football.
Jerome Champagne will be in conversation with sports correspondent and award-winning author James Corbett and will be discussing a wide selection of topics in front of a live audience including Champagne's presidential campaign, the forthcoming World Cup and future of the tournament, the World Cup's transition to TV mega event, the inequalities of global game.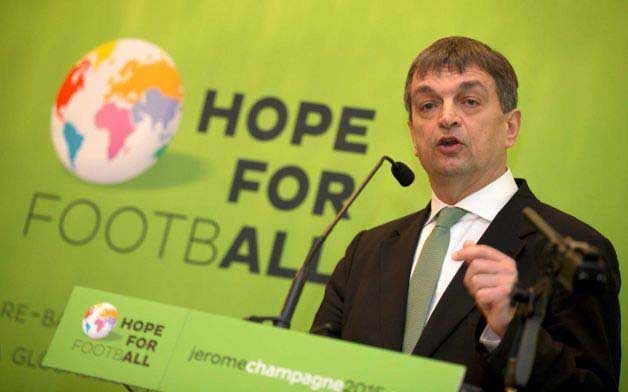 Commented Mr. Champagne: "I am extremely excited to be speaking at Liverpool Sound City. Liverpool was and remains a powerhouse for football globally – what better forum to explore the synergies of football, culture, music and style which is this year's conference theme."
Jerome Champagne is joining music legends John Cale and Thurston Moore on the conference bill amongst a host of leading lights from the worlds of culture, fashion and football.
David Pichilingi, CEO of Sound City, said: "We are delighted to announce Jerome Champagne. After landing John and Thurston on the music side it was really important to us that the speakers from the world of football were on a global scale and Jerome certainly represents that.  It is without a doubt the biggest Sound City to date and we still have plenty to reveal."
The football segment of Liverpool Sound City is curated in partnership with the award-winning The Anfield Wrap www.theanfieldwrap.com
Said Anfield Wrap co-founder Andy Heaton: "Securing Jerome is a real coup and just reinforces the fact that Liverpool is a world class city and Sound City is a world class event."
Sound City is the biggest urban festival in the UK with over 45,000 attendees expected in 2014. The conference will run on 1 & 2 May in the Hilton Hotel and Liverpool ONE.
3 days Delegate passes, which are normally £120, are available for a limited period exclusively via the Anfield Wrap for £80 at  www.liverpoolsoundcity.co.uk