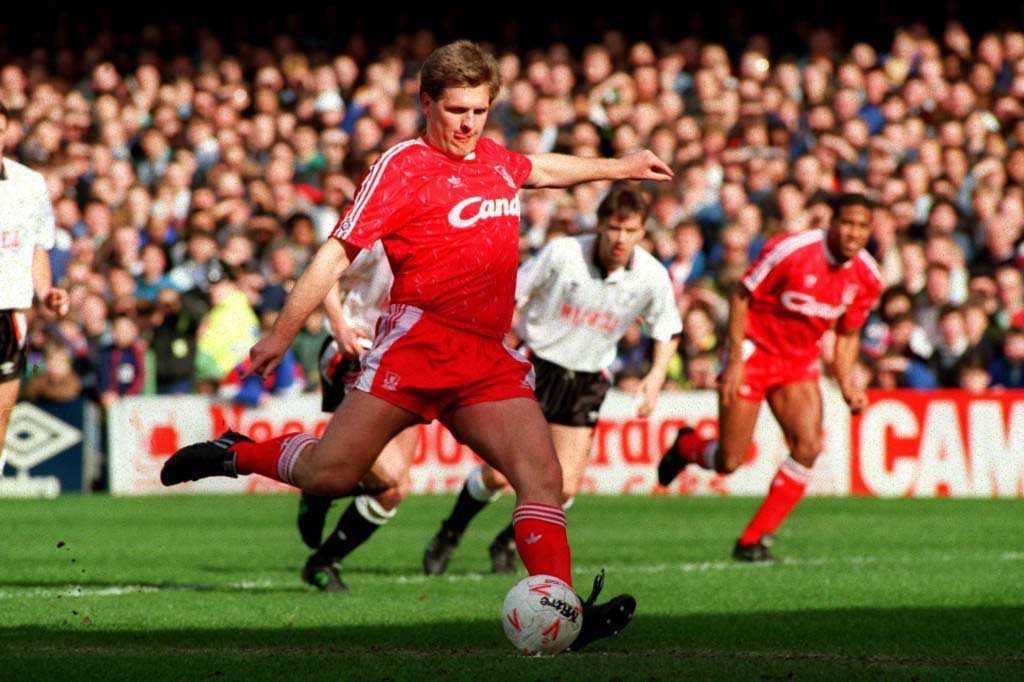 FOOTIE players at the top level carrying a bit of timber are as rare a sight these days as semi-flared cords on The Kop. Many would argue both developments are no bad thing.
But as a wearer of said cords back in the day (so?) – and a devout fan of the often gloriously rotund Jan Molby – I'm not so sure. I mean, yeah, it's great that players are super-fit athletes now; all capable middle-distance runners with the physiques of boxers who can bench press more than I can ever dream of (I'm not bitter, honest). But, along with the mind-boggling money, the personality-sucking media training and the pop-star culture that surrounds the modern player, it's all served to widen the gap between the men that take to the pitch and the people that pay to watch them.
I'll be honest, I always liked a player carrying a few extra pounds, just as I admired a bloke that would say his piece or rage against the machine, and I've never opposed a fella who enjoys a bevy or two. Jan Molby was all of those things. A real, proper bloke.
But if his diet, drinking habits and predilection for a bit of trouble put him on a par with the people clicking through the Anfield turnstiles every other Saturday, the Great Dane's magic with a ball at his feet set him apart.
Nowadays, football at the top level is about balancing ability with the ball with athletic prowess. Some might say it's gone too far towards the latter – too much pace, power and incessant running at the expense of touch, precision and skill.
Running and clocking up kilometres may have been low on his list of attributes, but Molby was a football genius; a wizard, a dream – the best passer of a ball, an expert penalty taker (the most prolific in the club's history: 45 taken, 42 scored if you're counting), a player with vision, supreme technique and a cannonball of a shot.
And all of that delivered with the nonchalance of a landlord pouring a pint or a street vendor serving a hot dog. Football at the highest level? Piece of piss.
Aged 21, Molby was earmarked as a replacement for Graeme Souness after one of the most influential players ever to wear the red shirt left for Sampdoria following the glory of captaining Liverpool to the European Cup in Rome. No pressure then.
Lesser mortals would surely crack in such circumstances, particularly with the added anxiety of having to impress on trial. But Molby? Nah. In his trial first match, against Home Farm in Ireland, he took the ball on his chest, kneed the ball over a defender's head, went around another player and volleyed it into the net. Joe Fagan signed him two days later.
In Molby's 1999 book, Jan The Man: From Anfield to Vetch Field, the man who was affectionately nicknamed 'Rambo' (he could get nasty when he wanted to) details his initial shock at the Liverpool players' lack of preparation, their love of a pint and how basic the training was back in 1984. It's probably not unfair to say that he quickly embraced all of those things – to the detriment of his career.
But while the subject of Molby's weight inevitably rears its head in any discussion of the Dane, it should not overshadow his talent – one of the top three to play for Liverpool in those terms, according to Alan Hansen; and I'm not ready to argue with Jockey.
A foreigner plying their trade on these shores was still a relatively new phenomenon when the Dane swapped Ajax for Anfield. Yet, despite the culture shock, Molby quickly settled in. His league debut against Norwich was notable for an assist – he set up Steve Bruce, making his own debut for the Canaries, to score an own goal for Liverpool.
Molby went on to make 24 appearances for the Reds in his first season, scoring one goal, before losing his place to Kevin MacDonald. But it was 85-86 when his talent really came to the fore. Backed by the now player-manager Kenny Dalglish, Molby went on to rack up 58 appearances during that campaign, scoring 21 goals and turning in a man-of-the-match performance in the 1986 FA Cup final against Everton when he played a key role in all three Liverpool goals.
It's a performance still talked about by Reds, and rightly so. Elsewhere, it was recognised less so: Gary Lineker picked up the PFA and Football Writers' Player of the Year awards that season. Same as it ever was.
In the modern era too, Molby's ability is rarely referred to outside of Red circles. There is, however, seemingly endless fawning over the passing ability of Paul Scholes, even after the ginger mute's retirement. "They called him Sat Nav, you know?" Really? No-one's EVER mentioned it.
It's never going to happen, but I'd love to see a pass-off between Molby and Scholes – I know who my money would be on, and it's not the mumbling expressionless lad from Oldham.
Molby's passing ability was honed at Ajax, under the tutelage of the legendary Johan Cruyff. And when you read just how it was honed, it's easy to understand Molby's arrogance when it came down to finding his man on the pitch.
In Jan The Man, he said: "There was one drill in particular which he [Cruyff] used to put Ronald Koeman and I through. We had to try to hit the corner flag from the halfway line. It sounds impossible, but he would have us standing with our backs to whichever corner we were aiming for. The ball would be played to us and we were allowed one touch to bring it under control and then put ourselves into a position where we could drive the ball towards the flag. He wanted us to drive everything – and it only counted if you actually hit the flag! It was tedious at times – especially as sometimes it went on for more than an hour – but when Johan told you to do something, you did it.
"To be honest, I don't think all those hours spent driving the ball towards the corner flag did us any harm."
Dalglish certainly didn't think so, varying his use of Molby from match to match and even within games – sometimes deployed as a sweeper, other times playing behind Ian Rush. For one so unflappable, it was no problem. No titty lip, no cry-arsing about best position – that season in particular Molby cracked on. And then some.
Bob Paisley once said of Molby: "He can't get enough of the ball when everything is running for him. He's like a compulsive gambler. No pass is too difficult to try, no shooting chance is allowed to go untaken. He can go through a ten minute spell when you think he's operating it by remote control."
As ever Sir Bob nailed it. This was before FIFA et al, but it was like watching a modern-day computer game when Molby was on song – all types of passes coolly delivered to any part of the pitch, seemingly without a thought. It was effortless, machine-like, and yet again Liverpool had unearthed another midfield cog that would prove vital to a period of success – albeit a cog that should and could have contributed more in over a decade at the club.
Dalglish said of him: "I couldn't believe such a creative player was languishing in Liverpool reserves and I couldn't wait to use him. Jan had unbelievable feet and I defied anybody to state categorically which was the stronger, because either foot could propel the ball at unbelievable speed towards goal."
That unbelievable speed is something Gary Bailey witnessed (or not, as the case may be) in another highlight of 85-86 – THAT goal against Man United in the fourth round of the League Cup.
https://www.youtube.com/watch?v=LvgEQ5EzRlc
It was a goal that for 24 years took on mythical status. A TV strike meant no cameras were present at Anfield to record it, and so those that bore witness to the goal at the ground were free – like the camera-less fisherman alone with the catch of his life – to exaggerate and improve what was undoubtedly a fine goal. It was a badge of honour to have been there that night – "You should have seen it, lad!"
Molby was later given a police surveillance camera tape of the goal and in 2009 he decided to share it with the world. Such was the legend of the strike that Liverpool held a special night for the screening of the goal and it made headlines almost a quarter of a century after the ball was met so ferociously by Molby's boot.
Was it as good as the legend perpetuated by so many of the 41,291 that watched live as Molby ran from the halfway line? It's highly subjective, but no goal that so spectacularly leads to a fight back (Liverpool trailed to a seventh minute Paul McGrath goal) against a rival club gets old. And who knew Molby could run that fast?
A minute after the goal, Molby scored a second – from the spot – to seal victory.
His own words about that special first strike bear repeating: "I took the ball off Norman Whiteside inside our own half. I went on a run past three or four United players and then shot with my right foot from about 20 yards. Gary Bailey, the United keeper, still insists it was the hardest shot he had ever faced. It's true that from the moment it left my boot to the moment it hit the net Gary didn't see it."
That 1985-6 season ended with Molby a double-winner at 22, League and FA Cup winners' medals pocketed. It's worth a moment of reflection that – a feat the majority of professionals don't experience in a lifetime and one that goes a long way to explaining that while Molby was relentlessly ribbed by Liverpool fans – hilariously so in fanzine Through The Wind & Rain (below) – for his weight problems down the years it was always a jovial poke in the ribs rather than a malevolent knife in the back. Big Jan will always be held in high regard for his ability and achievements and his second season in red will never be forgotten.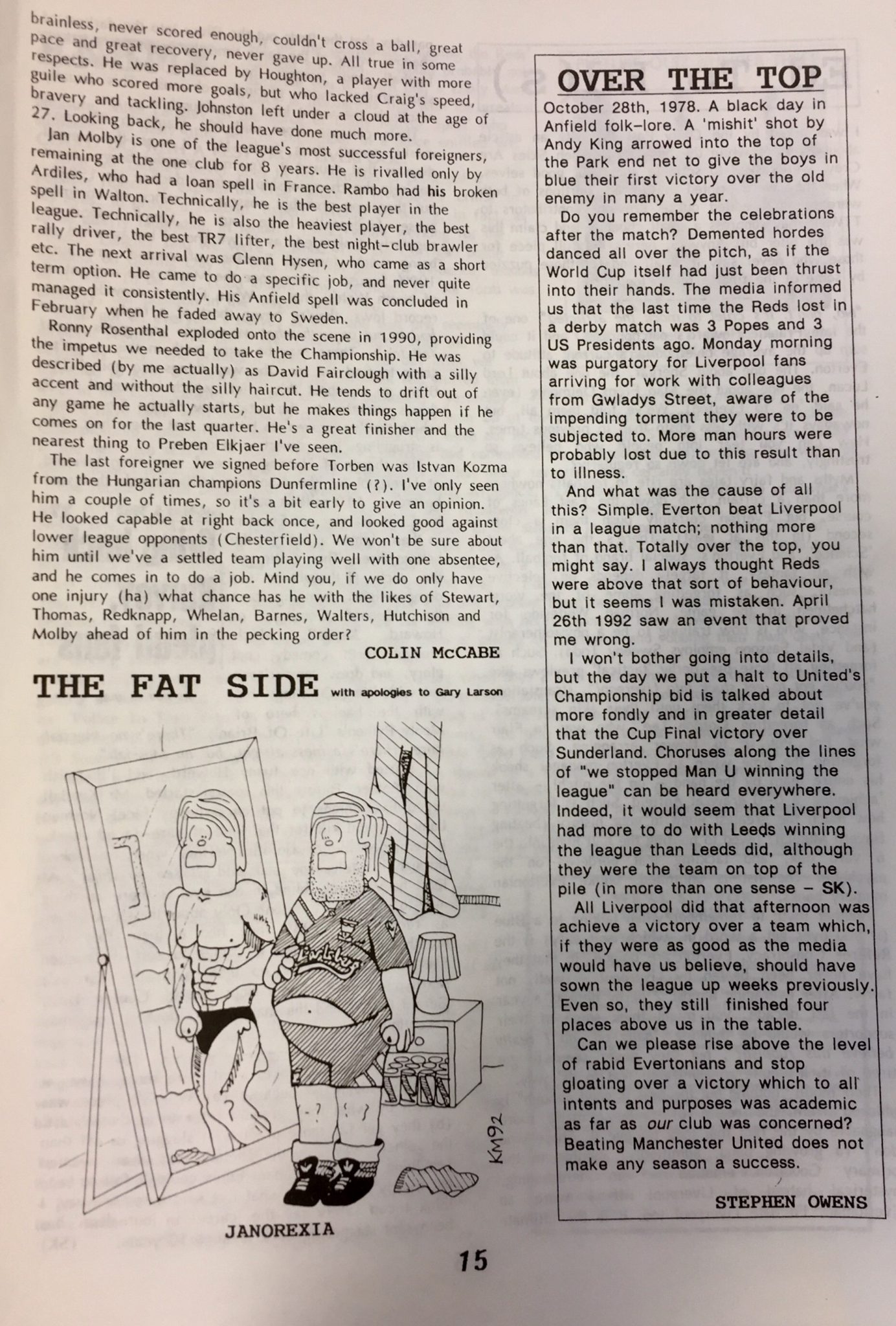 As it turned out, that campaign was the high-water mark of Molby's football career. In 1986-7 Molby racked up a more than respectable 47 appearances and 12 goals but Liverpool ended the campaign potless after Dalglish's second season in charge, finishing as runners-up in the league to Everton, crashing out of the FA Cup to Luton and losing the League Cup final to Arsenal.
While Liverpool bounced back the following season to win the title – and will forever rue the missed opportunity the 1988 FA Cup final presented – Molby had problems closer to home. After breaking his leg in a pre-season challenge with John Wark, Molby admitted in Jan The Man: "I had a lot of spare time on my hands. It meant I could have a pint on a Thursday or Friday night, which I couldn't when I was fit…"
In hindsight, it wasn't the best plan. After a few shaves with Merseyside Police, it seems his card was marked by the boys in blue. And on another night out in February 1988 he pushed his luck too far.
He explains in his book: "On that night, I was acting as a chauffeur for some friends and we'd gone to a nightclub in the centre of Liverpool. I'd only had a couple of pints because I was driving and, as I walked out, I saw some policemen use their walkie-talkies. They were standing alongside a couple of police cars parked nearby and as soon as I drove off, on came the flashing lights.
"I realised I was on the drink driving borderline as I started the 20-mile drive home to Chester, so I just put my foot down. That car [BMW M3] could really move. There was no way the police were going to be able to keep up with me."
Unfortunately for Jan, while he outmanoeuvred the coppers in the car, the police did later catch up with him. He was convicted for reckless driving and spent 45 days in jail, moving between Walton, Kirkham and Preston nicks for what he describes as "the worst six weeks of my life".
Being well liked by Scousers served Molby well in clink – as a Manchester-born inmate lacking in five-a-side skills found to his detriment – but how the club would react to his imprisonment remained a mystery to Jan while he was slopping out as all lines of communication with Liverpool were lost.
On his release, reading between the lines, it appears Kenny Dalglish unequivocally backed his man and the Liverpool board followed suit and Molby was back in the side within a month of his release, coming on as a sub at Old Trafford on New Year's Day 1989.
Injury cut his season short though and the stats from those campaigns speak for themselves: In 87/88 Molby started just one game and made seven substitute appearances in all competitions. The following season it was 18 starts and one substitute appearance.
The early 90s marked a Molby renaissance of sorts as he became a regular starter again in 1990-91 under Dalglish and kept his place when Graeme Souness took the reins following Kenny's resignation.
By this time, I was a regular Anfield attendee and among my personal, and less widely-heralded Molby highlights, are a derby goal at Anfield that David Speedie thought about claiming but thought better of and a third-minute belter against Norwich in November 1991 (Molby's 50th goal for the club), when seemingly from somewhere near the halfway line (probably 30 yards or so in reality) he took aim and unleashed an unerringly powerful shot that absolutely flew into the top corner. Had it not been for the net, it would still be travelling now. It was one of them.
Souness later said: "I think the match was worth coming to see for that goal alone." He wasn't wrong.
Molby lifted a second FA Cup in a red shirt in 1992 but injuries and fitness problems continued to dog the pass master, restricting him to just 42 games in his last four seasons for Liverpool. After loan spells at Barnsley and Norwich, he eventually moved to Swansea City in 1996.
Twelve years after signing for the Reds, the Dane with the Scouse accent (a legacy of spending so much time with Sammy Lee, it is said) had gone but not before a final farewell from the lads at Through the Wind & Rain. A 1995 edition of the fanzine pictures the now even bigger Molby eyeing a huge pint with the caption "Testimonial proceeds 'have already been spent', admits Danish star."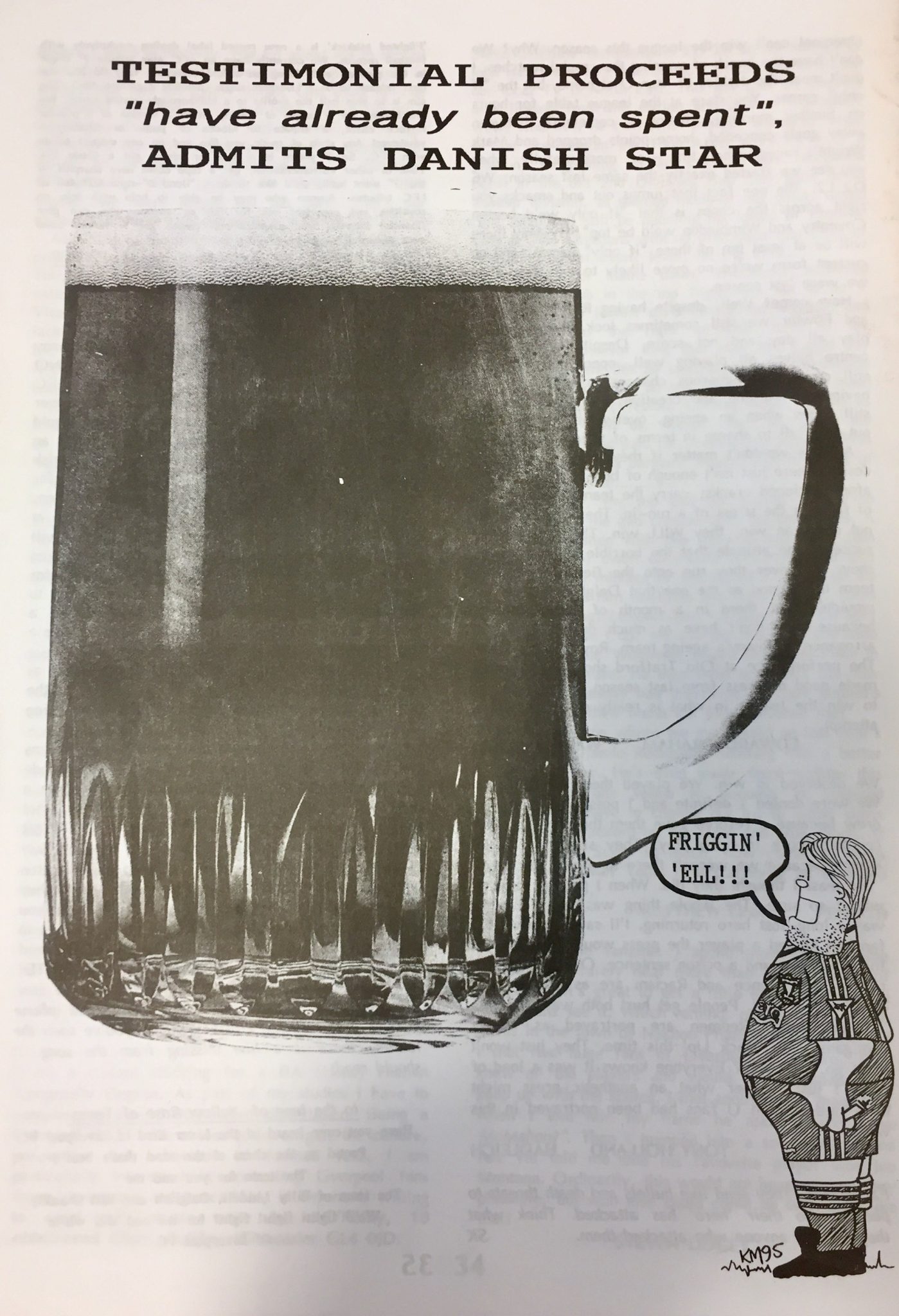 Perhaps more tellingly, a future edition of the fanzine included glowing tributes to Molby and the revelation that on his leaving he was confronted by numerous fans clutching TTW&R's pint cartoon and asking him to sign it. He did so willingly, and with a smile.
It's all too easy to say Jan Molby could have done this and could have done that. Maybe he could have drunk less, eaten more healthily, ran further or kept his nose clean with the law.
He could have. But he didn't. And, to be honest, if he had, he wouldn't be Jan Molby.
I'll drink to that.
First published in The Anfield Wrap Magazine
Pics: PA