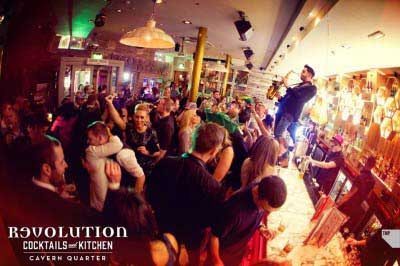 I'VE got good memories of club nights at Revolution, starting in the late 90s going out in my school trousers and shoes and trying to impress girls with sophisticated chat-up lines such as: "Fancy a flavoured vodka, girl?"
I'd like to think I've come a reasonable way since then: I go out in my work clothes now instead. But Revolution's commitment to dance music remains.
This Saturday (March 8) their Cavern Quarter location starts a new club night "Liam Hincks Presents" fronted by the Juice FM DJ, who last year reached the final of Radio 1's "Ibiza Superstar DJ" competition.
Liam says he wants to give an opportunity to emerging DJs to feature as part of the night, so if you fancy yourself on the decks you might be in with a shot of being on a future bill. Dan Mitchell and Nathan Fowell are also down to appear over the next few weeks. Oh and it's free too. Which is nice.
Away from that there is a brilliant-looking night at Leaf on Thursday (March 6) featuring Lapsley, Nadine Carina, our mates The Mono LPs and Cavalry. Tickets are £6 in advance, although there seems to be various social media-related ways of getting a pound off.
The Alan McGee-curated 359 night continues at District on Friday (7th), with Alias Kid, The Beat Movement, ace Wrexham band The Maydays and Texas Bob Juarez all playing for a fiver. There is an article about this club night, with an interview with Alan, in March's TAW magazine.
Or if you fancy a more relaxed pace, Silent Sleep, Voo and German act Jawknee all play acoustically at the lovely new surroundings of Home on School Lane. You can decide how much it has been worth (a pound, a tenner, a used bus ticket) when a hat is passed round at the end.
Or, you know, stay in. I'm not the boss of you.