"A prophet is not without honor except in his own town and in his own home." – Matthew 13:57
TAKE captain and club figurehead Steven Gerrard for instance. In what other city, in what other country, would a player so beautifully gifted and driven to perform with staggering consistency be the subject of whispering campaigns by fans eager to be the first to say, 'He's finished, he can't play there, we play better without him, he's not a leader'? It is genuinely baffling.  
Gerrard is practically the only player Liverpool have who can't have a (relatively) bad game without it being considered by some sages as an early sign of the impending end of his career, or proof that he isn't as good as some had made out.
And, quite frankly, the sages can fuck right off.
Steven Gerrard is the greatest all-round footballer Liverpool Football Club has ever had. Period. In his career he has played full-back, left-mid, right-mid, centre-mid, deep-lying centre-mid (we'll come back to this one) and the number 10 role. All at the highest level for Liverpool. And he hasn't just slotted in: he's been the best we have in each of those positions.
Consider that for a moment.
Name one other player who has done that; one other player who has shown that ability to adapt, not just for Liverpool but for ANY team. Now consider that he has been the club captain for most of that time, carrying teams way below his ability at times, carrying the pressure, as Craig Bellamy described, that in order for Liverpool to get any kind of a result on a given day, the whole team knew that it would be on Gerrard's shoulders, regardless of his form or fitness.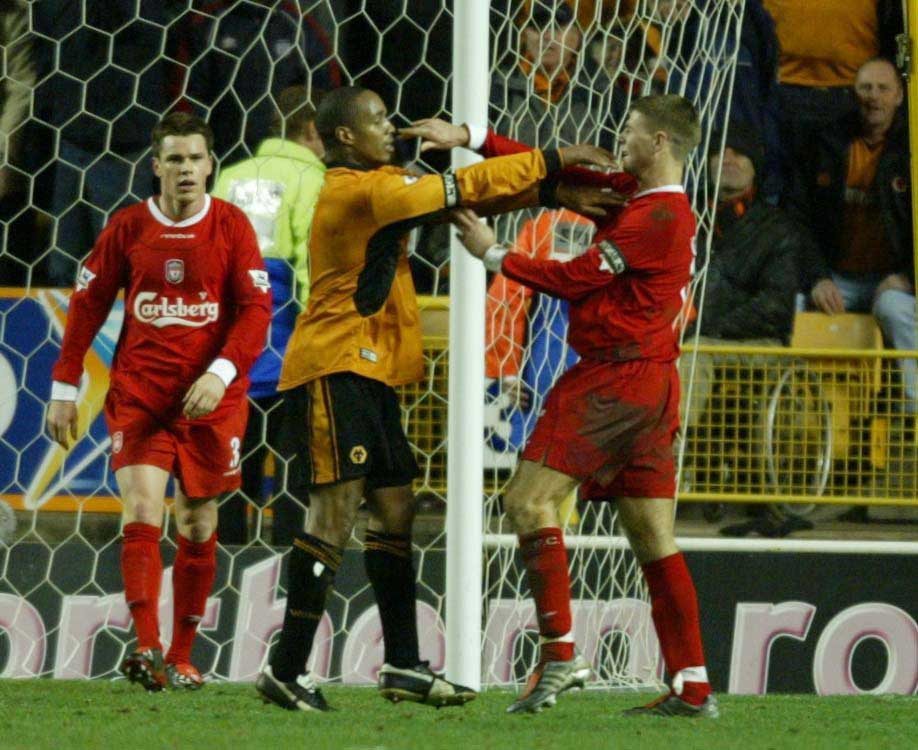 The rest of the team would look to him, this red talisman, and he's been doing that since he was 23 years old. Twenty three! He was captain of this club at 23 with all that pressure and stuff cramping his ability to just play without responsibility. Without expectation. Without pressure.
This is a footballer in a million, so don't ever catch yourself joining in with the agenda-driven ramblings of Ferguson, or those not with Liverpool at heart. Gerrard's also grown and matured as a man underneath that microscope.
He's always been very guarded in his communications with the media, very reserved and now very statesmanlike.  But he's clearly a clever lad, something which has manifested itself in his ability to play different positions, to know what's required…and who didn't love his recent, "All the best" quip? Funny, too.
I don't like this notion that Gerrard isn't a thinker and he's more a 'hurricane' as Ken Early in The Guardian recently described him. As Gerrard moves into the final third of his career, and naturally moves further back to his current defensive midfield role, there are many saying, again, that he lacks the discipline, that he hasn't got the legs, that he gets exposed and so on.
Let's be clear, the way our midfield has been set up at times this year, Beckenbauer, Makelele, Pirlo or Lord Lucas Leiva himself would struggle to contain the marauding opposition that have outnumbered us in midfield.
Gerrard has never been the issue here, he can play this position in his sleep (he literally does for Hodgson) yet a section of the support expects him to get everything right when no player does that and it's often not his fault.
Still, the weight of expectation on him to perform week in, week out, at 33, is massive. And yet, most times, he will – at the very least – put a good shift in. And when he doesn't – Villa or Swansea this season for example – he's been gutted himself, and will hold his hands up and say so. But…the reality is Henderson and Coutinho were miles away from him in these games and the real problem was elsewhere on the pitch, and in the manager's technical area. Physically, Gerrard still puts the shift in…he's hardly coasting through his final years, is he?
So don't be rushing to say he hasn't got the legs, he should be used sparingly or he should be dropped for the odd game. Don't be fooled, just look at the stats: In 23 league games this year he has eight goals and nine assists. Fourteen of those appearances were from central midfield and nine from the 'new' defensive midfield position.
Our next best midfielders in terms of significant contribution are Sterling and Coutinho who have six goals and three assists and three goals and four assists respectively. And, importantly, both from attacking midfield positions. So Gerrard, who is 14 years older than Sterling and is playing as a defensive midfielder, not only clearly DOES have the legs, he is also streets ahead in terms of adding to the goals scored column.
7 – Steven Gerrard has created the most assists from set piece situations in the Premier League so far this season. Key.

— Kop Data (@KopData) February 23, 2014
Don't ever start from the premise that Gerrard can't play defensive mid because he is too much of a free spirit. It's lazy, it's clichéd and it puts too much stock in the mythical libero role which is considered somewhere between footballer and manager in terms of tactical awareness.
To quote the Blues, these players are "born not manufactured" (stop laughing at the back now) and, like everything to do with the Blues, it doesn't stand up to scrutiny. Let's remember that none other than John Barnes moved to this position from 1994 to 97 and for all Roy Evans's team's faults, this was the period when Liverpool came closest to challenging for the league, along with 2002 and 09.
Tellingly, Barnes was bombed out for Paul Ince after the same calls for fresh legs, aggression and to get in a career defensive midfielder. In the following year we didn't challenge.
It's a midfield position on the pitch like any other, and Gerrard will adapt. Steve Heighway remarked that as a kid, Gerrard had the most natural game intelligence of any player he's ever seen. He's been playing this position for a very short space of time and he's already one of the best in the league at the defensive bit. But there's no-one in the league who comes close to him in terms of his ability to still shape a game from that position.
His passing ability is still game-changing and absolutely unique in its range and his set pieces have become the most feared in the entire division. There isn't another club in Europe who wouldn't still snap him up if they had half a chance.
We have been blessed to see Gerrard start and finish his career at Anfield. Much has been written about the local boy living out the dream his prodigious talents allowed, and we don't need to cover that here. I'm more interested in the player on the pitch, his net contribution, and that he is still a TOP TOP one and still a great leader.
Captain of club and country, he commands huge respect from the players and the manager and seemingly the rest of football – but, oddly, not all Reds? I find it perverse. To link this back to the quote at the start of this article, is it simply that the arl-arse local support can't accept one of their own doing well?
Is he that good that he is no longer one of you? Was it those flirtations with Chelsea?
I've always maintained that the fact he had the chance to go but decided not to was the most important take away from that episode. Is it just that Liverpool people are naturally harder on their own? Is it because he isn't flawed, like a Fowler?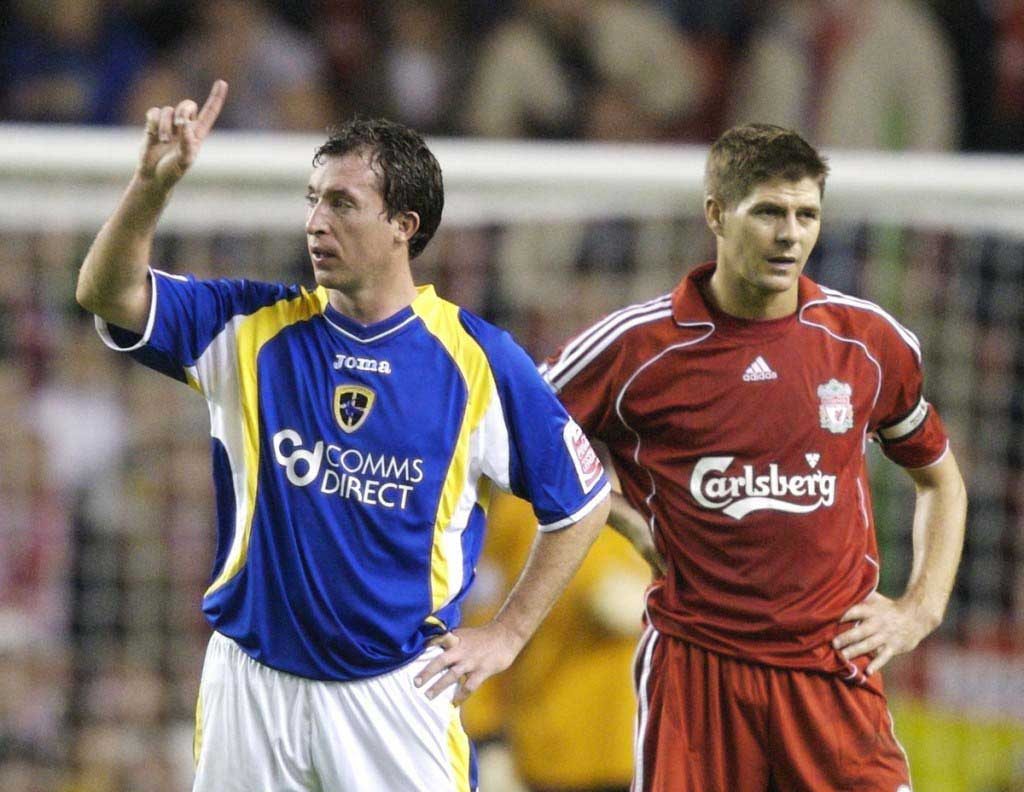 Personally, I think it's a family thing. You know that sibling thing were you can be a right horrible bastard to your brother or sister in a way you couldn't to anyone else, but it doesn't really matter…you still love them?
The "Stevie Me" crew would do well to think about Jamie Carragher and the rush to see him retired. It's no coincidence that we are less organised at the back since he hung his boots up, I'd argue a season too early.
Give Stevie half a season to truly get to grips with where Rodgers wants to him to play and he'll be one of the best DMs in Europe, and he'll stay there for a good few years. I guarantee it.
Enjoy watching him while you can, you're privileged to see this talisman in the flesh, and we will sorely miss him when his time is truly up, which, barring unforeseen circumstance, is some way off yet.
After all, he's made a career out of proving people wrong.
Pics: Dave Rawcliffe-Propaganda