by DAVE MARTINEZ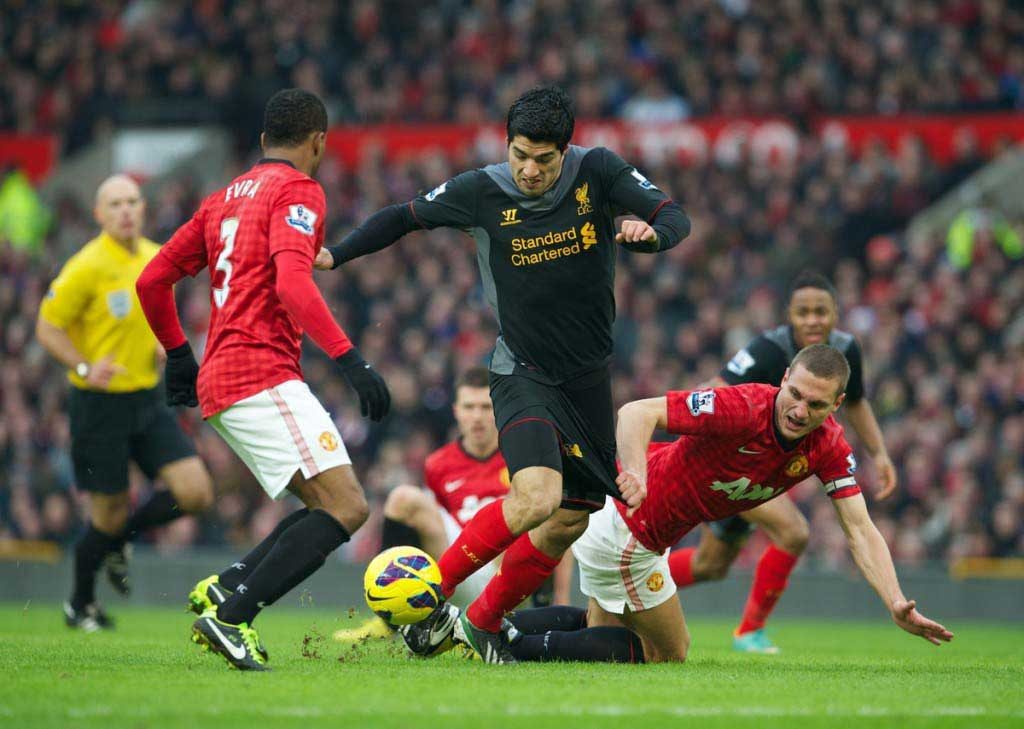 13th January 2013
'Der der der der der der der RACIST BASTARD!'
I AM sat in the South Stand at Old Trafford awaiting kick-off as Luis Suarez predictably receives an earful from the Stretford End while he warms up. I have been afforded the dubious honour of sitting in the with the United fans by my girlfriend's Father who has very kindly given me his season ticket for this match. I couldn't refuse his generous, well-meaning gesture and, against my better judgement, here I am, surrounded by the enemy and having to bite my tongue.
This is the One by The Stone Roses blasts out on the speaker system as the players ready themselves in the tunnel. Despite the United connection that this song has, I love it but not even the sound of Reni's genius drumming and John Squire's guitar can lift my spirits. Any genuine hope I had of Liverpool winning this game has pretty much dissipated already. The Reds' starting 11 looks weak. Youngsters Wisdom and Sterling start and so does Stewart Downing. There is no Jordan Henderson. An out-of-form Joe Allen plays instead. Another defeat at the hands of the old enemy is on the way.
'Ohh Robin van Persie!'
Twenty minutes in and United lead 1-0 through van Persie. It is a chastening experience being in among the gloating Mancunian masses. I am watching Liverpool being completely outplayed by a United team strolling their way to their 20th league title. I am freezing and I forgot my gloves. I'm wondering why I'm here.
'Giggsy twelve, Gerrard nil'
Mercifully, half time has arrived and the scoreline has somehow remained 1-0. Liverpool have barely crossed the halfway line with the ball. United haven't looked that special – they rarely did last season despite being crowned champions – but they are far more assured than the away side. Joe Allen and little Raheem Sterling have looked like boys drafted in for a senior match. Stewart Downing has disappeared from view. United have toyed with Liverpool and Brendan Rodgers' side have had no answer.
'You Scouse Bastards'
The game is over. It ends 2-1 to United. Liverpool played better in the second half and Daniel Sturridge had provided some hope for his team with his first goal on his début – a sign of things to come – but in truth it was too little too late and United had retreated after they doubled their lead through Vidic. They were clearly the better, more accomplished team. It's not been a great day. The worst thing though, is that this is no surprise. A defeat was expected. Despite an improvement after the break, Liverpool have limped their way to a loss at Old Trafford. Again. Snow falls as I exit the ground in among the throng of delighted home supporters and Liverpool's prospects look as bleak as the weather right now. We're miles behind United on and off the pitch and the Champions League is a distant speck on the horizon. A memory. A glorious memory, but a memory nonetheless.

March 2014
Fourteen months on and here I am having to drag up memories of that disappointing experience that I've tried my best to forget. This weekend Liverpool go back to Old Trafford in the league and since that horrible day in Salford not too much has gone wrong for the Reds (that was *only* the League Cup….). They have been on an upward curve since that day and have amazingly long since passed a descending Manchester United as their own remarkable slide down the Premier League table has taken place.
Liverpool are now a better team than the reigning champions. Who saw that coming when Nemanja Vidic made in 2-0 back last January? United are floundering under the tutelage of 'The Chosen One' while Brendan's Tricky Reds lie second in the table. What a difference 14 months makes, eh?
Liverpool are 11 points clear of United in the league. They beat them in the reverse fixture at Anfield 1-0 early on this season. United look devoid of confidence and rhythm while Rodgers' team are the form side in the country with a front line that is the envy of Europe. So why are plenty of Liverpool supporters not exactly brimming with confidence ahead of this weekend's clash?
In short, because it's them. And it's there. Liverpool are almost uniformly awful when they play in Salford. One win in 10 years. Ten defeats in the last 11 visits. Even when the Reds have played well and deserved a victory at United's stadium they have somehow managed to blow it. Be it Djibril Cisse missing an open goal or Rio Ferdinand snatching an undeserved injury-time winner, Liverpool always seem to find a way to lose at Old Trafford.
Despite lying sixth in the league table and being on a rotten run of form that has lasted for months now, United are a shorter price for a win on Sunday than Liverpool. History seems to count for a lot in this fixture.
Even when Liverpool were dominating English football for two decades, United away was always a game where the potential for defeat loomed large. Old Trafford isn't a lucky ground for Liverpool to put it mildly. It never has been. Supporters' expectations are usually low and rarely are they proven wrong. It is high time that Liverpool reversed the pattern. If they require an example of how to approach this upcoming game then their captain should be able to provide an answer.
This Sunday it will be almost exactly five years to the day since Liverpool last recorded a win at Old Trafford. Five years since that glorious 1-4 mauling. The spirit and approach of that victory must reappear on Sunday.
The Reds had to win that day to maintain any type of title challenge and win they did. They were assertive. They played to a clear game plan. They were bold. They battered an excellent Manchester United team. They sent a message out that they were still in the hunt for the title and they almost snatched the trophy from United in the remaining games as a result. It was the last time that Liverpool held any hope of a league title as spring approached. Until now.
At this moment, Liverpool aren't in a battle for a top four finish. They are gunning for the title at the business end of the season. This Sunday they need to play like as though the title itself is on the line. A draw away to United – even this Moyes (un)inspired United – would be a decent result for a side aiming for fourth place, but for Liverpool it would be of little use.
The margin for error in the next 10 games for Brendan Rodgers and his players is zero. They are walking a tightrope with no safety net. Chelsea will likely be 10 points clear of the Reds when kick-off arrives on Sunday afternoon (having played two games more) and nothing but a win at Old Trafford will suffice.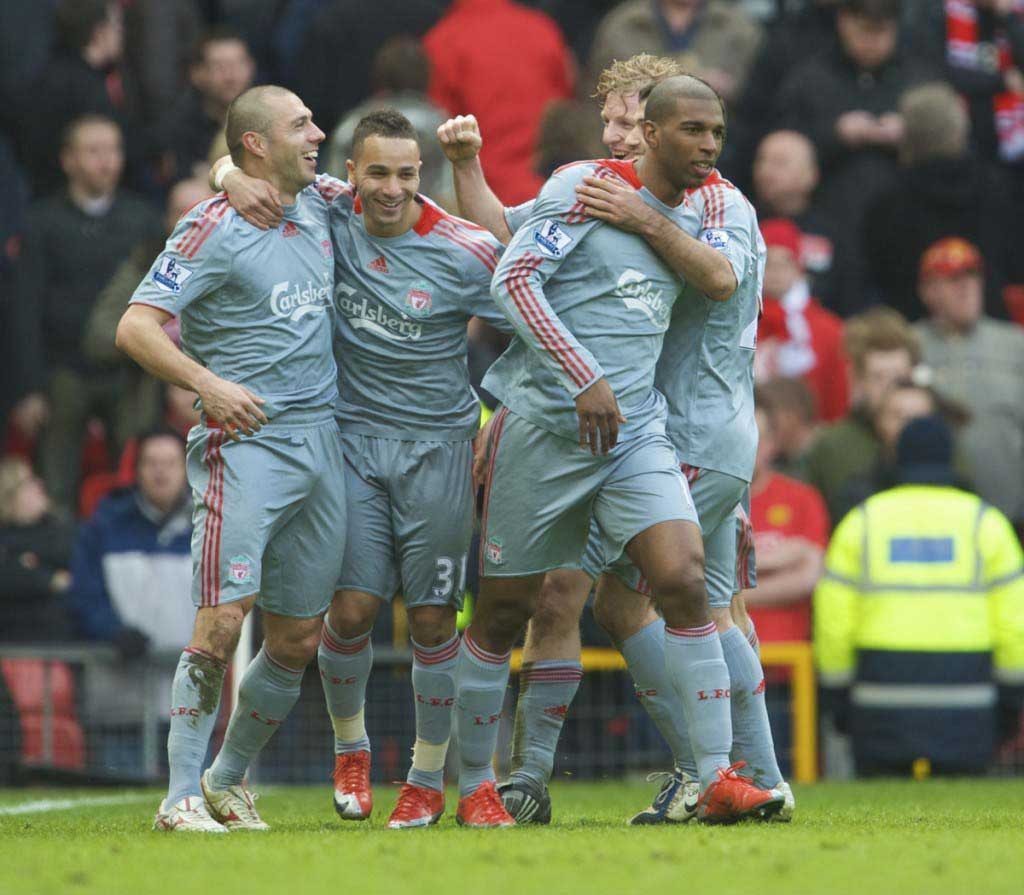 The spirit of Andrea Dossena's lob, Fab Aurelio's pinpoint free kick and Gerrard's camera kiss has lay dormant for too long. Too often Liverpool have exposed their fans to the kind of demoralising day that I described earlier in this piece when visiting Old Trafford. It can't happen again.
It's time for Liverpool to cement their superiority over Moyes' team.
It's time to banish the painful memories of the last decade.
It's time to be bold and go for the throat.
It's time to end the Old Trafford inferiority complex.
It's time to win the fucking league again.
Pics: Dave Rawcliffe/Propaganda