by DAVE MARTINEZ
BRENDAN Rodgers took on the daunting task of replacing Kenny Dalglish as the manager of Liverpool Football Club 21 months ago.
He inherited a squad that had finished eighth in the Premier League after chalking up just 52 points in the 2011/12 season. Right now, Liverpool lie second in the Premier League on 62 points, with 27 more to play for. Scratch that. They lie second in the Premier League with 62 points and 27 more to be won.
They nnow have an excellent chance of securing a 19th league title. It's an astounding turnaround in such a short space of time. I thought this might be an appropriate juncture at which to have a little glance back at six of Brendan Rodgers' most significant games as Liverpool manager to date.
26.8.2012: Liverpool 2-2 Manchester City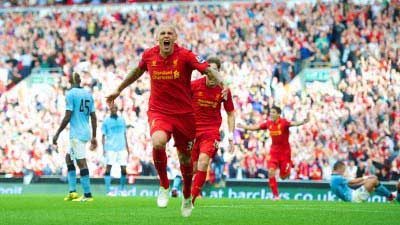 Rodgers' first league game at Anfield did not end in victory. It did, however, set a precedent. Right from the start against City, one thing was crystal clear: The new-look Liverpool would be cast in their manager's image. They would be progressive and they would endeavour to entertain. At all costs.
A Martin Skrtel header on 34 minutes deservedly put Liverpool one up before a messy second-half equaliser from Yaya Toure – who would describe this game as 'the hardest match I have played in since coming to England' – levelled things up.
Luis Suarez scored a wonderful free kick to restore the Reds' lead. With the match winding down in the late summer haze, Liverpool looked a side refreshed and one capable of playing neat, tidy, enterprising football. A massive win looked to be in the bag, but with the finish line in sight, Skrtel went from hero to villain and left Anfield deflated courtesy of an errant back pass.
Despite the obvious disappointment, this was the day that the first building blocks of the Rodgers era were laid down for all to see.
What is particularly interesting about this game when you look back at it, is that it acutely brings into focus the pragmatism and adaptability that Rodgers has showcased during his tenure at Anfield. Liverpool played in the much-publicised 4-3-3 Swansea 'tiki-taka' style. Possession was of paramount importance. On this day, Liverpool players passed. Then they passed again. Then they passed some more.
At the time, it was widely assumed that this would be Liverpool's approach evermore under Rodgers. For a while, it was. The football was easy on the eye and it drew compliments aplenty, yet for all the admiration and praise, victories for were few and far between early on (just three in Rodgers' first 14 league fixtures).
As a result, Rodgers implemented significant changes to his team's style, and the Reds gradually became the far more direct side who enthrall today.
Liverpool have since become more flexible systemically, deviating regularly from the once set in stone 4-3-3. This game was emblematic of early life at Anfield under Rodgers. Plenty of promise with little in the way of tangible reward. This match provided a foundation, but what has been built on top of that base probably wasn't what Brendan Rodgers had envisaged back in August 2012.
27.4.2013 Newcastle 0-6 Liverpool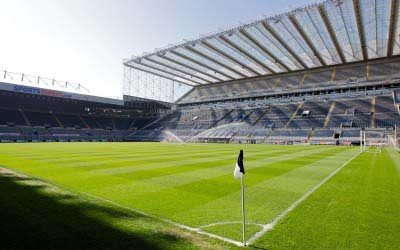 At the beginning of last season Philippe Coutinho and Daniel Sturridge could often be found kicking their heels on the substitute benches at the San Siro and Stamford Bridge respectively. At the same time Jordan Henderson was kicking his at Anfield of course, but only because he had refused to join Fulham as a makeweight in a proposed deal for Clint Dempsey (Yes, you read that correctly).
By April these three men were proving to be instrumental in ushering in the second phase of Brendan Rodgers' Liverpool team. On this day, at the ground formerly known as the Sports Direct Arena, Coutinho, Sturridge and Henderson were offering Liverpool supporters a tantalising glimpse of what was to come.
This game came hot on the heels of the whole Luis Suarez biting shitstorm. In the absence of the Uruguayan, Henderson and Sturridge each bagged a brace while Coutinho repeatedly bamboozled Newcastle with his dribbling and vision. Luis Suarez aside, it is this trio of players who have best symbolised and indeed, manifested Liverpool's evolution under Rodgers.
Those players deserve a lot of credit for that of course, but so too does the manager. He has worked with Sturridge and his previously unfulfilled potential and turned him into England's finest centre forward in under 18 months. He has transformed Jordan Henderson from a timid little boy lost into a midfield monster. Philippe Coutinho has everything that Rodgers wants and demands from his players – technique, intelligence and skill, but the manager has also instilled an incredible work ethic into the little maestro. These three young players have helped to take Liverpool up a level and this game was an early indication of how influential they would be.
Laugh as we might at the Geordies (and to be fair, we often do), teams simply don't demolish them 6-0 at St James' Park unless they have something a little bit special in their locker. This game was a precursor for what was to come this season and crystalised the shift in Rodgers' methods from his embryonic 'tiki-taka' days as Liverpool manager. His team weren't at St James' Park to keep the ball and pass Newcastle into submission – they had tried and failed with that approach against the Geordies at Anfield earlier in the season – they were now set up to go straight for the throat.
To pilfer a lovely analogy from Jurgen Klopp; Liverpool weren't attempting to play classical music anymore, they were on their way to becoming a heavy metal band with their amplifiers turned up to 11.
15.12.2013 Spurs 0-5 Liverpool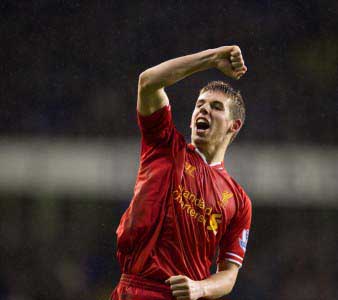 No Steven Gerrard. No Daniel Sturridge. No wins at the Lane in six attempts. No matter. Liverpool romped home to a resounding victory against Tottenham – who, remarkably, would have drawn level on points with the Reds in the table had they won this match – in the most accomplished manner imaginable. This was the single most impressive performance under Brendan Rodgers to date and it remains Liverpool's best away performance for many a year.
Luis Suarez captained the Reds and scored two delightful goals in between providing assists for Jon Flanagan, Jordan Henderson and Raheem Sterling. This game saw the tenure of Spurs boss Andre Villas-Boas come to an end. There was no way back for the Portuguese after this comprehensive mauling.
Joe Allen, Lucas and Jordan Henderson showed everyone what a Liverpool midfield without Steven Gerrard might look like, and boy was it a damn sight better than most had thought possible. The captain has rightly regained his place in the side since, but it was comforting to see the less-heralded midfielders play with such purpose and clarity of thought.
The measure of control from Rodgers' side was particularly impressive. Tottenham were a team chasing the Champions League. They were hot on Liverpool's heels in the table. They were at home. They barely created a chance in 90 minutes of football.
Liverpool's pressing was relentless. Their passing was intelligent and direct. They exploited Spurs' high defensive line ruthlessly, punishing them time and again with runs in behind. They made Michael Dawson look like a cat chasing its own tail. They chewed Tottenham up and spat them out.
28.1.2014 Liverpool 4-0 Everton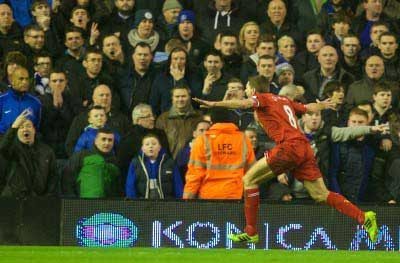 Rarely can Evertonians have been more confident as they made the journey across Stanley Park. The Blues were just a point behind Liverpool before kick off and were justifiably hopeful of beating their rivals to a top four finish. Their team had long since cast off the shackles of David Moyes and were now playing a vibrant, adventurous brand of football. This was supposed to be their night.
Liverpool went into this game with the same starting 11 that had performed fairly wretchedly against Aston Villa just 10 days earlier (with the exception of Jon Flanagan, who replaced the injured Glen Johnson at full back). Fortunately, Brendan Rodgers didn't apply the same tactical system. Once again he demonstrated that his own mistakes had been identified and swiftly rectified.
The theory upon seeing the two team sheets prior to kick off was that Everton would play through Liverpool's midfield with their impressive triumvirate of James McCarthy, Gareth Barry and the returning Ross Barkley. The practise was different. Very different. Where Gerrard had been isolated and exposed against Aston Villa, here he was guarded closely by the perpetual motion of Henderson and a deeper, tenacious Philippe Coutinho.
It was the skipper himself who opened the scoring right in front of the coin throwing away fans and not long after they had finished venting their anger at him, Daniel Sturridge had all but put the game to bed. His two goals in two minutes silenced the previously optimistic Blues and put Liverpool 3-0 up before half time. There was no coming back for Everton. Their fans were being shown the way to go home before they had even settled into their seats.
Rodgers' surprise shift to a tighter, more compact midfield three and his positioning of Sturridge on the left wing – thus isolating and exposing the inexperienced John Stones – left Roberto Martinez and his Everton side flummoxed. Luis Suarez would make it 4-0 after the break as Anfield saluted yet another win over their neighbours. This was supposed to be the night that Everton rid themselves of their Anfield inferiority complex and closed the gap on Liverpool. Instead, by the end, the void across Stanley Park had rarely looked so vast.
8.2.2014 Liverpool 5-1 Arsenal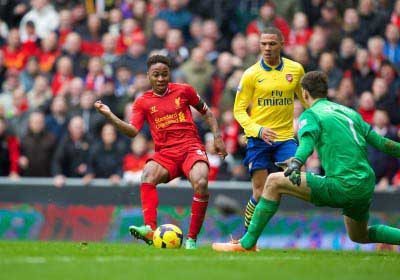 The best opening 20 minutes of football Anfield has witnessed in decades. If Juventus in 2005 took the breath away then this was almost heart-stopping stuff. Arsenal were the league leaders when they arrived in L4. They were the best English football had to offer.
A Martin Skrtel brace inside 10 minutes set the tone. Raheem Sterling and Daniel Sturridge had Liverpool four goals to the good after 19 minutes. It could have been more. It should have been more. Luis Suarez smashed a post with a 25-yard volley that would have been one of the greatest goals ever to grace Anfield. That the ball rebelliously bounced away from goal rather than into the net remains one of this season's greatest regrets.
Daniel Sturridge missed a one-on-one opportunity that he would usually have dispatched with ease. The Gunners had absolutely no answer. They couldn't stem the red tide. Wave after wave of attack engulfed and devoured them.
Jordan Henderson hounded the £42m Mesut Ozil so effectively that by half time the German international resembled a kid in a playground who had had his lunch money taken from him by a bigger boy. Philippe Coutinho pulled strings in midfield as masterfully as Hendrix did at Woodstock.
Liverpool were imperious and even after they were able to take their foot off the throttle with 70 – yes seventy – minutes remaining, they still bossed Arsenal around with unapologetic arrogance. Sterling would add a fifth in the second half before Mikel Arteta notched Arsenal's least significant goal of the season from the penalty spot.
This wasn't the precise, methodical, sedate 'death by football' that Rodgers had proclaimed he was aiming for when he arrived from Swansea. This was a slaughter. A bludgeoning. An evisceration. An awesome display of pace, power and tenacity against the hitherto best side in England – 'Thanks lads. We'll take that moniker from here on in'.
16.3.2014 Manchester United 0-3 Liverpool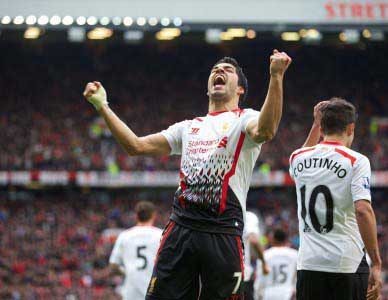 This game hasn't been selected because it was one of Liverpool's best six performances under Brendan Rodgers. In truth, this routine, professional win wouldn't even rank as one of Liverpool's top six performances this season. And that's what makes it so special.
Sure, this was United under Moyes – bound by those same shackles that Everton have escaped from – and sure, they are pretty ordinary these days, but Liverpool's record at Old Trafford is too. It was 10 defeats in 11 games in the last decade before Sunday, if you require the numbers. The Reds had even somehow conspired to lose to this Moyes incarnation of United earlier in the season in the Capital One Cup.
United's defensive record at home wasn't bad going into this game – they had conceded just 12 league goals all season at Old Trafford. That Liverpool's attacking play was often wasteful in this match merely serves to highlight just how good they are now. Consider this if you will: Suarez and Sturridge were largely off colour and plenty of promising counter attacks broke down for Rodgers' team, yet they still ran out 3-0 winners and could conceivably have scored six or seven times. Six or seven! Away at United. Away. At. United.
Gerrard missed a penalty, Sturridge and Suarez were denied further legitimate claims for spot kicks and David De Gea made one of the most astonishing saves you will ever see. While many predicted an emphatic Liverpool win in the run up to this fixture, no one could have imagined that happening with Liverpool being somewhat below par. That Brendan's Tricky Reds managed to do just that underlines how far Rodgers has taken this team.
And how far they can still go.
There is a title to be won.
Pics: Dave Rawcliffe-Propaganda