By Sam Drury
THE day the fixtures for the new season are announced in June is an important one in the football calendar. After weeks without club football, for many fans it is the day the countdown to the new season begins in earnest.

It is a new start. Everything that has gone before can be forgotten. A new season brings with it renewed hope and the belief that anything is possible.
The reality is it's just a long list of dates and the names of football clubs. There are no actual games; it really isn't *that* exciting.
Supporters across the country scan through page after page of fixtures in search of the stand-out matches, the ones that make or break their seasons.
For me, after a quick glance at who we were playing on the opening day, there were only two matches I was looking for.
Manchester United. Home and away.
Liverpool fans debate among themselves who the club's greatest rivals are between United and Everton, but as far as I'm concerned there is no contest.
The reason being? I grew up, and still live, in a suburb of Manchester. As a result, for years I have had to put up with the gloating and goading that is to be expected being a Liverpool fan in this neck of the woods. In truth, and in contrast to being reminded of the Reds' rivalry with United on a daily basis, Everton barely registered on my radar.
The Merseyside Derby is a game of added importance, of course, but nothing compared to the encounters with Alex Ferguson's side. It was only in the 2004/05 campaign, as we battled with David Moyes' Blues, and as strange as it seems now, Sam Allardyce's Bolton, for a Champions League place that I fully appreciated the scale of the rivalry.
Even then it paled in significance to how I viewed the mutual enmity between Liverpool and Manchester United fans.
So, when the fixtures were revealed my eyes skimmed past that tricky away game on the opening day, ignored the sides who had the potential to ruin Boxing Day and New Year's Day and barely reached the final day of the season.
Liverpool v Manchester United and Manchester United v Liverpool, that's what I was after.
From then I would have these dates memorised and look ahead to them with a mixture of dread and excitement. As the date drew nearer the excitement would slowly dissipate as the dread grew and grew until it reached unbearable levels in the minutes before kick-off.
Like any Liverpool fan, every Liverpool game has the ability to 'make or break' my weekend. A bad result ensured I was never short of people to talk to on a Monday morning….for all the wrong reasons. The United games though, were different.
It is a fallacy that all Manchester United fans live down south or that everyone in Manchester supports City. United fans were very much the dominant – and most vocal – group in my school days. The fact that City's big league derbies were more often against Stockport County than at Old Trafford in those days probably had a lot to do with it.
Needless to say then, I knew if we were to lose to United I wouldn't hear the end of it. Even if we won, the response would be quick and sadly all too valid – "Look at the table."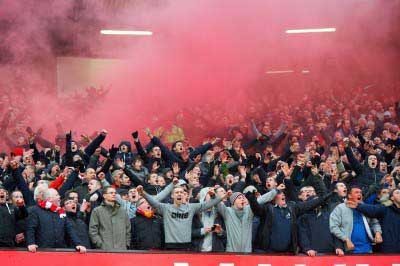 That's not to say I didn't enjoy those Danny Murphy goals or John Arne Riise's thunderbolt, they were moments to savour, but there was no arguing with that remark. Invariably United were looking smugly down on Liverpool as they have continued to do until this season. Indeed, in my lifetime Liverpool have finished above United only twice and the first time I was less than a year old. We had been well and truly knocked off our perch and I was born too late to have seen us on it!
Year after year there was an inevitability about Ferguson's team. Fortunately, I'm too young to fully remember the aftermath to them winning the treble in 1999 but in the years that followed United fans weren't short of chances to celebrate.
We may dislike them – I certainly do – but there was no denying that for 20 years Manchester United have been the top side in England. Giggs, Cantona, Keane, Scholes, Van Nistelrooy, Ronaldo – it was no disgrace losing to teams boasting those players, although when matchwinners included Silvestre, Forlan and O'Shea  it was that bit harder to swallow.
And that was the problem: Even when they appeared to have a decidedly average squad on paper; on the pitch they found a way to get the results – often thanks to their infuriating penchant for late goals – and, ultimately, the silverware.
The last-gasp goals were never quite as soul-destroying as during the 2008/09 season – a season that still ranks as my favourite despite it ending trophyless.
You can argue 2004/05 was better for obvious reasons, and the European nights throughout that campaign were incredible. I doubt anything that I experience as a Liverpool fan will ever match Istanbul but in terms of seasons as a whole, 08/09 topped it for me.
Right from the start it was enthralling with late winners at Sunderland and at home to Middlesbrough. We ended Chelsea's long unbeaten run at Stamford Bridge, then Torres scored twice in the last minute to beat them at Anfield. Newcastle were blown away at St James' Park, there was a dramatic comeback at Man City, not to mention beating Real Madrid home and away.
Then there were the United games.
The first was brilliant, coming from behind to win. Giggs' attempting to shepherd the ball out for a goal-kick was foiled by the tenacity of Javier Mascherano and Dirk Kuyt before the latter teed up Ryan Babel to score the winner in front of the Kop.
The reverse fixture, well, that was something else.
The Reds headed into the match knowing their title hopes were all but over and that anything less than a win would confirm as much. Halfway through the first half it seemed the most likely scenario. Reina brought down Park, Ronaldo penalty, 1-0.
However, a bounce of the ball was all it took to turn the game on its head.
Martin Skrtel's long ball up field should have been easily headed clear by Nemanja Vidic. He instead opted to let the ball drop and in a flash Fernando Torres was past him, slotting the ball past Edwin van der Sar. 1-1 and from there it was a different game.
Liverpool took the lead thanks to a penalty of their own. Evra brought down Gerrard, the Reds skipper beat Van Der Sar. 2-1. Cue camera-kissing celebration.
It got better. Gerrard was hauled down by Vidic. The Serbian's nightmare day was cut short and Fabio Aurelio whipped a sumptuous free-kick over the wall to make it 3-1.
Andrea Dossena's last-minute lob was merely the icing on the cake. Manchester United 1-4 Liverpool. Elation.
The next weekend saw United slip up again, this time at Fulham. Liverpool played the following day. Aston Villa barely knew what had hit them as the Reds scored five and reduced the gap on their title rivals once more.
Two weeks later though, following an international break, there was another ultimately decisive shift in the battle for the Premier League crown.
Yossi Benayoun had struck a stoppage-time winner for Liverpool at Fulham to see the Reds go top of the league on the Saturday evening. "Now you're gonna believe us" was the cry of the travelling Kop and with 15 minutes to go of United's home game with Aston Villa on the Sunday there was likely a growing number of people who did.
Villa led 2-1 and Ferguson's men were on course for a third straight defeat. Cristiano Ronaldo soon equalised but as the game headed into added time it still looked like being another two points dropped. Step forward Federico Macheda, now on loan at Birmingham. You know what happened next and United won 3-2.
That was it. From that moment on they never looked like slipping up. A goalless draw with Arsenal on the penultimate weekend of the season sealed their 18th league title, equalling Liverpool's long-standing record.
With that as the finale I can understand why some will struggle to comprehend that I rate this my favourite season. A year that could have brought so much ended with nothing. But the hope, optimism and belief that took over, especially in the latter months of the season, were things I had never experienced before.
That we were going toe-to-toe with the old enemy only added to the exhilaration.
That may not be the case this time around, but this season is threatening to inspire those same feelings once again.
When Brendan Rodgers' side walk out at Old Trafford on Sunday it will be five years to the weekend since that 4-1 hammering. I've never known United fans to be so quiet. A first win at Old Trafford since then would undoubtedly render many of them mute again.
After all these years though, I remain wary. "Look at the table" is no longer a retort they can use but should they win I'm certain my numerous United-supporting mates will have plenty to say.
It wouldn't be enjoyable, but the fact that the only meaningful thing a win for them would do them is dent our ambitions – well, it's quite the role reversal.
They may not be the force they once were but a win at Old Trafford is always significant. As much as the 5-1 thrashing of Arsenal did, it would send out a message that Liverpool are on the up. That they are right in this title race. That anything is possible this season.
And who knows, after years of suffering, maybe being a Liverpool fan in Manchester won't be so bad next week.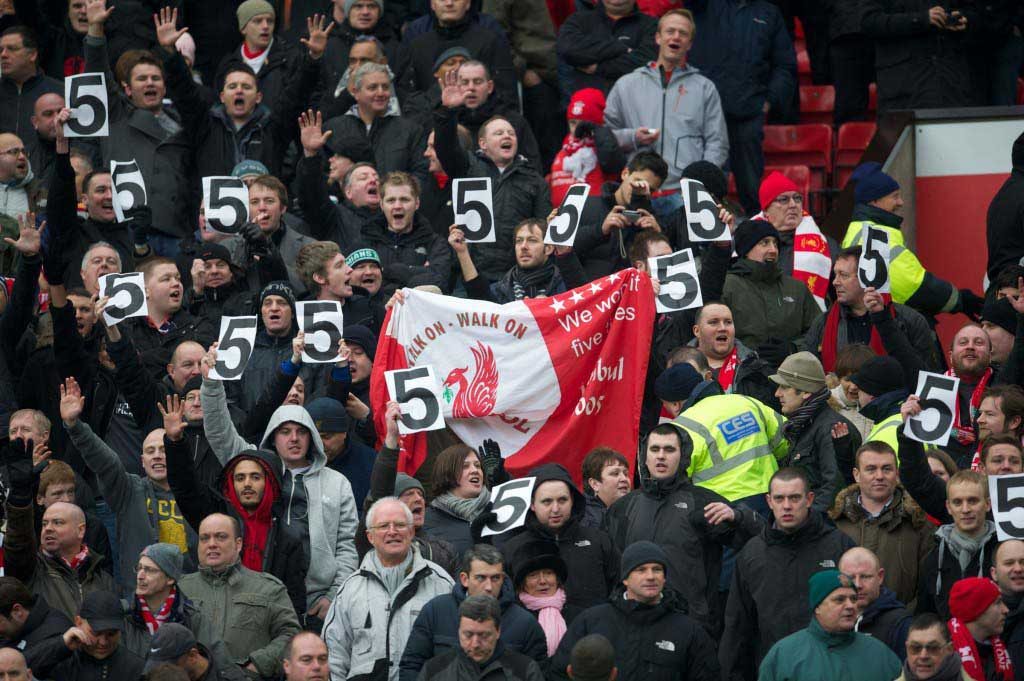 Pics: Dave Rawcliffe-Propaganda