ISSUE SEVEN of The Anfield Wrap's Digital magazine is out now and leads with our exclusive interview with Liverpool striker Daniel Sturridge, with plenty more stuff inside to read, listen to and watch.
The only place you can read and hear the full interview with Daniel Sturridge is in the magazine, which is out every month, free of charge. The magazine is digital so you get to choose whether you listen to what he had to say, read what he had to say or do a bit of both.
We're determined to take advantage of the fact our magazine is created for electronic devices, it's not a mag designed for print and converted to on-line as an afterthought, our mag is designed to be interactive. So, you've heard our podcasts, now you can watch our magcasts. This month's includes a segment on ticketing and a bit of fun looking back at the 4-0 derby win for The Reds.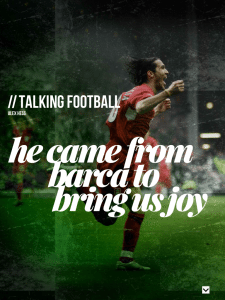 Another feature in this issue is by Alex Hess on Luis Garcia, the Sangria-loving piece of football heaven we all took to our hearts during those heady days of Champions League and FA Cup glory. He retired last month, a sad day for football but a good time to look back at why he brought us joy. Have a read, have a look at the photos, have a listen to some of his goals, courtesy of some less than impartial Radio City commentary. Jose Mourinho might want to take his headphones out for that bit.
We tried to put a feature in about all LFC's new signings in that last transfer window but we were let down at the last minute by a complete lack of them. Not to worry though, we've got the latest column from The Sunday Times's Jonathan Northcroft who explains a little bit about exactly how transfer stories, some more solid than others, tend to make their way into the papers.
Also this month:
Simon Hughes on "the Scouse samba boy", a lad who left these shores to start a new life in Brazil and became something of a legend out there.
Mike Nevin on the way the Merseyside derby has gone from friendly to less so down the years, even before that 4-0 hammering last week (did we mention that?).
Sachin Nakrani of The Guardian has a look back at the work of the manager who won a treble, five trophies in one calendar year in fact, our French former boss Gerard Houllier.
Steve Graves tells the story of a football club that broke FFP rules long before they'd been thought of, but still didn't last the course, New Brighton Tower FC.
There's an extract from a book about the life of a Liverpool hopeful, Mike Yates, who found himself playing football in the famous Red shirt alongside the likes of Steven Gerrard and Michael Owen before being told by Steve Heighway he wasn't quite up to the standards Liverpool wanted.
Reds of a certain age will never forget Liverpool 7 (SEVEN) Spurs 0. Karl Coppack remembers it very well, as he explains this month.
Neil Scott has a look back at a man who was quite some player, even if he's not your favourite pundit, former Reds defender Mark Lawrenson.
John Gibbons interviewed Dave Williams, graphic artist and creator of some amazing LFC postcards you'll have seen doing the rounds recently.
Gibbo's also done his bit on the music side for us, as always, and this month he's got interviews with Triphazard and Esco Williams for you to read, listen to and watch.
You can get a bit of a feel for what's in this month's by having a glance at the gallery below and clicking for a larger version of the pic. It won't be the same as seeing it in situ so just get it downloaded!
Have a read, a look, a watch, a listen and join in the conversation on Twitter using the hashtag #TAWMAG.
The February edition of The Anfield Wrap magazine is available free of charge now from iTunes for your iPad or iPhone and is now also available for Android, Windows and other devices from app.theanfieldwrap.com. GET ON IT!