By DAVID SEGAR
THAT was the January transfer window that wasn't.
At the end of 2013, every Reds fan seemed to be in agreement that Liverpool needed more players. However, that didn't appear to be the opinion of Brendan Rodgers, or the transfer committee, or Ian Ayre, or Garuda Indonesia, or whoever you want to believe decides who comes into the club these days. (One Guardian Said "Just ****ing sign someone!")
Those 31 days came and went and all of us clamouring for that top-four-securing superstar were left quivering in the foetal position after the club missed out on two attacking wide players. However, it seemed that our chief concerns as fans lay a lot more centrally than where Konopl… Konop… Konopl… Mohamed Salah would have played. We wanted a centre mid and we wanted one yesterday.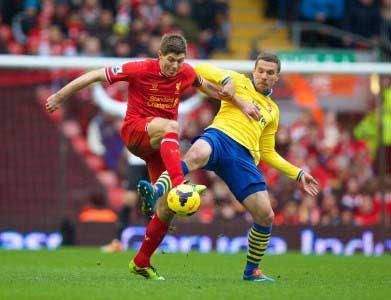 At the start of the window, in terms of proper orthodox central midfielders, Brendan Rodgers had four legitimate options at his disposal, Steven Gerrard, Lucas Leiva, Joe Allen and Jordan Henderson. We knew Big Phil Coutinho could play centrally in a purely attacking role, and we still haven't fully determined what is to become of Luis Alberto, but in terms of midfielders first and foremost, this quartet was the lot.
The captain is not the Stevie G of old (as I'm sure I've heard at one time or another), but he still has many uses that most sides would kill for. Set-piece delivery, penalties and not least simply being Steven Gerrard, which still tends to frighten some opposition and especially referees, as any Everton fan will no doubt tell you… incessantly.
According to those geniuses at Opta, Gerrard has some pretty impressive stats from his deeper role this season, with six goals (four pens), eight assists, 47 key passes, 120 crosses (more than twice any other Liverpool player, but then he does take set pieces), and a pass completion percentage of close to 86 per cent. Not too shabby for someone who apparently plays too many 'Hollywood' balls.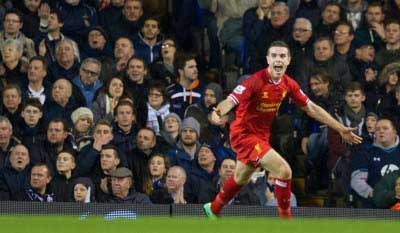 Jordan Henderson's statistics are even more fascinating. He has taken the mantle as Liverpool's new Dirk Kuyt, the Duracell bunny who will run himself into the ground for 90 minutes, no matter what whisky-sodden Scottish retirees will tell you. Always associated with a hard work ethic, Henderson perhaps doesn't get the credit he deserves for his ability with the ball as his stats show that he has six assists, has produced the same number of key passes as Gerrard, tops Liverpool's table in total passes with a whopping 1,314 and has a pass completion rate of over 86 per cent. (All stats taken from before the Fulham game).
However, injuries to our two legitimate holding midfielders in Lucas and Allen meant that Gerrard and Henderson had to play together as a two and, in spite of their qualities, it just didn't feel right. We were no longer dominating the ball, were being opened up through the middle with far too much regularity and Henderson was starting to look like a season of playing near enough every game was taking its toll. Gerrard was being asked to play the role of destroyer and deep-lying playmaker but, after the Aston Villa game, the urge to stop Gerrard from doing those things raised immensely.
So with the obvious limitations of a midfield without Lucas or Allen, why did we not bring in a defensive midfielder in January? Especially given the importance (and opportunity) of securing a top-four finish this season.
When you look at the midfield setup Rodgers had at Swansea, it perhaps provides a window into what he hopes to eventually achieve at Anfield in terms of shape. He utilized a three-man midfield as part of a Barcelona-esque 4-3-3 formation, with Leon Britton as Sergio Busquets, Allen as Xavi, with Mark Gower, and later Gylfi Sigurdsson, as Cesc Fabregas.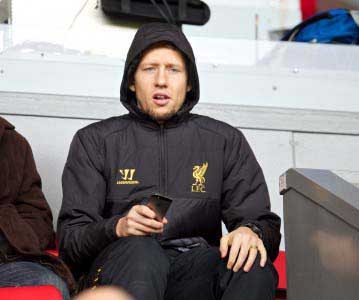 However, when you compare that to his Liverpool midfield, it doesn't seem to quite add up. Lucas can be the Britton, Allen can be the… Allen, Gerrard could be the Gower, though he simply doesn't play that high anymore, and Henderson should be the Sigurdsson, but he doesn't provide anywhere near the same goal threat, and in recent games has played much deeper. Are we to believe then, judging by the last two transfer windows, that the manager is perfectly happy with the four he has at his disposal? The very fact he tried to bring in Henrikh Mkhitaryan last summer suggests not.
Simply put, if his time at Swansea is anything to go by, Rodgers likes a midfield with a destroyer, of which we have one who has had a lot of time out injured in the last 18 months; a metronome who will pass the ball all day long, of which we have Allen, who has also spent a lot of time out injured; and a runner, which is clearly Jordan Henderson, and he does it very well, but the lack of goals would be a massive problem were it not for those two fellas ahead of him who are a bit good at that sort of thing.
You may have noticed that this leaves no role for Steven Gerrard. That could explain why, and this is merely opinion, Liverpool's midfield looked so much more fluid and, well, Rodgers-like in the games at Tottenham and Man City when we were 'sans Captain Fantastic'. This is not the start of yet another Gerrard-bashing, but there is a very valid argument to be made that if Rodgers were to be forced to piece together his ideal midfield using his ingrained football beliefs, the skipper could well find himself on the bench. There are obvious reasons why this isn't the case, but that's for another article.
All of this makes the apparent complete dismissal of the need for a central midfielder in the January transfer window all the more puzzling. If Rodgers wanted Mkhitaryan in the summer, why did we then not pursue anyone else who can play that role? The attempts to go for Diego Costa and Willian appeared to suggest that it was a big name Liverpool were after, rather than wishing to strengthen particular roles to fulfil the manager's vision of a perfect football team.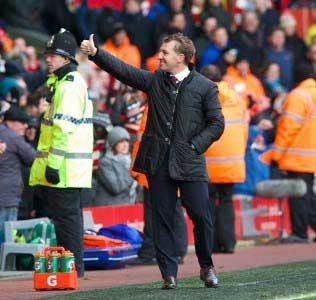 The failure or refusal to bring in another 'destroyer' was also curious to say the least, with Lucas being our only current option and having had some bad injuries in the recent past, plus he was injured through most of January, with the club knowing he would miss a big chunk of February as well. There were rumours of Fernando Reges, Yann M'vila, Nigel De Jong and many more, but no-one arrived.
What on earth was the club thinking not bringing in a midfielder? It was short-sighted, it was irresponsible, it was bordering on lunacy, it was… what's that? We beat Everton and Arsenal with an aggregate score of 9-1 with Gerrard and Henderson in the middle? What the….?
We will never know whether Rodgers himself actually wanted a central midfielder brought in this winter, but what we do know is that he saw a rather big problem in terms of personnel, and addressed it brilliantly utilising the tools at his disposal by moving Coutinho, who had been underperforming for a while at wide left, into a central position to become the spearhead of a midfield three; a 'less goals, more creation' version of Sigurdsson.
All of a sudden, Gerrard and Henderson looked immense as a two, with Coutinho doing vital attacking and defensive work ahead of them and allowing both to not have to worry about anything other than their own jobs. It was brilliant, it was magical, and it helped us to give a thorough knobbing to Everton and Arsenal. My knees went weak after Big Phil's assist for the fourth against the Gunners. It was definitely a moment.
A stereotypical Rodgers midfield is set up to dominate the ball and pass a team to exhaustion; the so-called 'death by football' technique. But such is the increasingly apparent intelligence of the man from Northern Ireland, he realised he didn't have the men to pull this off with both Lucas and Allen out and so managed to create a midfield and attack that specialised in precisely the opposite. "We don't mind you having the ball because once we get it, we are going to score past you. Then we shall dance!"
Liverpool's midfield had changed almost overnight. We went from having 60-70 per cent of the ball in games to having 35-45 per cent, and somehow still battering teams – good teams. Against Everton we had 39 per cent of the ball, against Arsenal it was 43 per cent, and I'll say it again, we beat the two of them 9-1!
That's not to say that we don't need Lucas back as soon as possible because at the very least a player of his ilk is needed for most away games. In spite of our irrepressible awesomeness at Anfield, we did seem to miss the Brazilian's presence at West Brom. The return of Allen could also be important between now and the end of the season. I have the feeling he might just surprise some people Henderson-style in the next year.
However, for a squad that is supposedly thin on the ground, with a midfield that needs at least one if not two additions, we appear to now have two different types of midfields who play two entirely different ways, both of which usually lead to us thumping someone. As far as problem areas go, it's not the worst is it?
Wait, is it 'stuck in the middle with whom'?