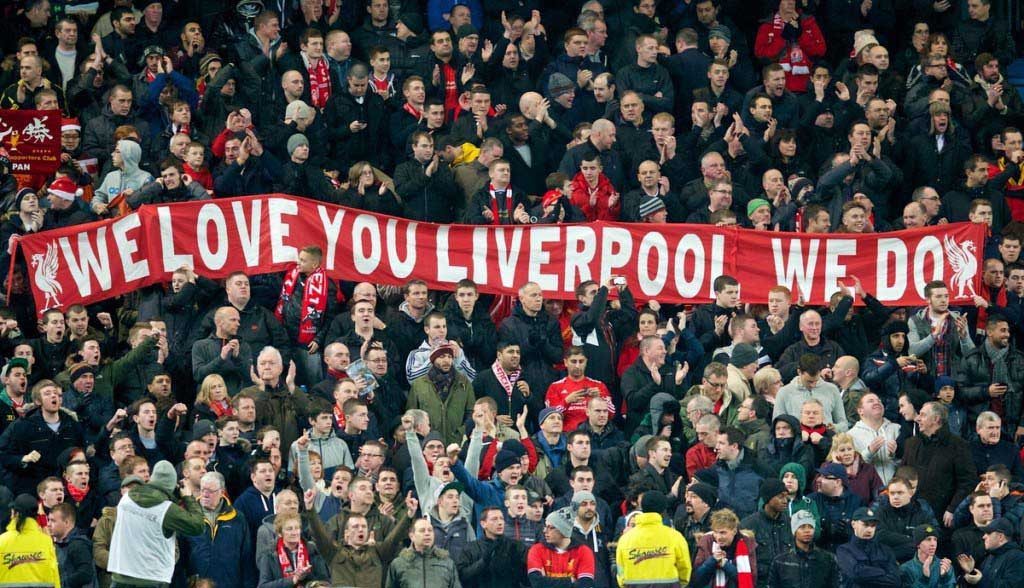 by SIMON FURNIVALL
BATSHIT mental.
Let's face it, Liverpool's 4-3 win over Swansea was batshit mental. It's a good phrase to describe the whole of the season, to be honest. The side have scored 70 goals in 27 games, they've netted four or more in a game nine times already – more times than they've kept clean sheets. Liverpool have established themselves as one of the most threatening attacking sides in Europe.
Yet they've also thrown in performances against the likes of Hull, Aston Villa and West Brom, which looked typical of a side set for an entirely nondescript 10th place finish, such was the lack of energy and inspiration that was on show. Performances which one might attribute to the mid-table anonymity of Alan Pardew's Newcastle, not those of a title-challenging side who have been trained to entertain.
And that's not to mention the tendency to descend into blind panic any time that a cross comes anywhere near the penalty area; when defenders with the experience of Kolo Toure and Martin Skrtel treat the ball like an unexploded bomb which, if you have to go near it at all, must be heaved as far away from danger as quickly as possible. But more of that later.
There are, of course, many reasons why Liverpool are rightly considered to be in the title race. They're four points off the top of the table with 11 games to play. Both Chelsea and Manchester City have yet to visit Anfield, where the Reds have lost only once so far this season. They have a strike partnership who have scored 41 goals between them so far in the league this season and they're a point better off and three points closer to the top than the title-challenging 2008/09 squad were at the same point in the campaign. Plus, there's the fact that in a season as ridiculous as this one has been, surely the most mental team in the league deserves to come out on top. Liverpool are, undoubtedly, right in the fight.
Yet, despite all this, I can't quite join those who (tongue firmly lodged in cheek) refer to Liverpool as the 'champions elect' and those who truly do believe that this will be the season that they finally claim that 19th title. I want to believe, I want to be among those who are already picturing the celebratory party come May 11th, and I'm having a load of fun watching a side who are easily the most entertaining in the league. But Sunday's win over Garry Monk's side encapsulated every reason why I'm not quite there…. yet.
Part of the batshit mental identity that Brendan Rodgers' team has assumed this season includes a defence that induces heart attacks in its fans any time the ball is within 20 yards of their goal. They've kept just seven clean sheets in 27 games so far, and three of those came in the opening three games of the season. Since then they've prevented the opposition from scoring in just 16.6 per cent of our Premier League games. Compare that with the three sides ahead of us (Chelsea 44 per cent, Arsenal 44 per cent, Manchester City 38 per cent) and it begins to hint at the problems.
Furthermore, while they've taken a staggering 37 points from a possible 42 at Anfield so far this season, only 19 from 38 have been garnered on the road – a record worse than each of our title rivals and even that lot from Old Trafford. Of the remaining 11 games, five come on home ground while six are away, but it is the fact that, following the postponement of Sunderland's visit until March 26, each of Liverpool's next three fixtures sees them packing the bags and hitting the road that prevents me from buying that inflatable Premier League trophy just yet.
Should Liverpool stay in line with our current points-per-game average from the away trips this season and take just two or three from the encounters with Southampton, Manchester United and Cardiff, then it's likely that those title dreams will have to be packed away until August, though as fans we'll almost certainly have the significant bonus of a return to Champions League football to sustain us through those long, lean summer months when all that's on the telly is Roy Hodgson providing the nation with yet more underwhelming failure.
Given the defending that has been on show in the last three Premier League away trips – Stoke, West Brom and Fulham – defending so lacking in basic skill that it would make those used to watching the Scottish Premiership roll their eyes, and the fact that on Sunday it seemed to be seeping into Anfield life as well, there is a sinking feeling in my stomach that come full time at Old Trafford at the end of this month, we'll all be staring at our feet and wondering where our optimism went as we look at City and Chelsea disappearing down the road.
On the other hand, of course, should they come through those fixtures in possession of seven or even nine shiny points to add to the total they already have on the board, then with five of the final eight games coming at home, the name of Liverpool Football Club may as well be etched on to that big, ugly trophy long before the inevitable happens against Newcastle in May.
Maybe, just maybe, this whole season is mad enough to be the one remembered for Aly Cissokho winning a Premier League title, and if it does I'll party as hard as anyone and bow to those who called it from the moment the campaign opened up with three 1-0 victories.
I just can't bring myself to believe it… yet.
Pic: Dave Rawcliffe/Propaganda