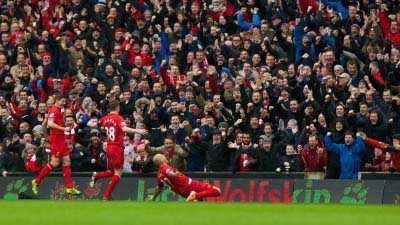 by STEVEN SCRAGG
IT WAS around 23 minutes into proceedings at Anfield. I took a glance to my left and puffed out my cheeks, eyes wide and in all likelihood pupils dilated as it washed over me just what I'd witnessed unfold in a remarkable opening 20 minutes against the league leaders and self-styled pretenders to the throne of Champions of England.
The fella two seats to my left made eye contact while I was mid-cheek puff and, with a strange almost contagious yawn-esque effect, he too puffed out his cheeks in the very same incredulous manner. The bloke in front of him who'd turned around to take a look at the pulsating mass of red humanity behind him caught sight of this and he too indulged in the next cheek puff, which was then transmitted to a woman three rows back. Exactly how far the chain of cheek puffing travelled is impossible to say, but I'd be surprised if it didn't eventually reach the cheeks of the shell-shocked Arsene Wenger.
Much has been made of how well Arsenal have been playing so far this season, of how they could, finally, after a near decade-long title drought, at long last be the real deal. I've not bought it. I tipped a Manchester City–Chelsea title battle at the start of the season and nothing I saw of Arsenal changed my mind about a serious challenge emanating from the Emirates. The red team from Anfield however might yet provide those that dwell at Eastlands and Stamford Bridge with something very real to think about over the course of the next 13 weeks.
In many ways we've spent parts of this season being humoured – even borderline patronised – by the press and the experts. Could our plucky little campaign really see us gatecrash a Champions League spot? Well, we seem to be aiming our sights a little bit higher as, with a high degree of gravity-defying élan, we find ourselves looking ahead for which teams we can catch as much as we're casting an eye over our shoulder at who's trying to overhaul us.
It must be a worrying turn of events for Everton, Manchester United and Tottenham Hotspur who are all on the outside of the top four looking for a way in. Yet, we must also be a worry for Arsenal, Chelsea and Manchester City up ahead of us. The concepts of no European football this season and an ability to field our strongest available 11 league game in, league game out are looking to be some of our most potent plus points.
And let's not make any bones about it, we are playing a brand of free flowing football which at times is as comparable to the glorious football we played in that vintage 1987/88 season. We are certainly attacking in an unshackled manner that I don't think we've displayed since Robbie Fowler and Stan Collymore were scoring goals and traumatising opposing defences in the mid 1990s. It is at times beautiful to watch and you can see the base enjoyment the players take from the style of football they're being encouraged to play.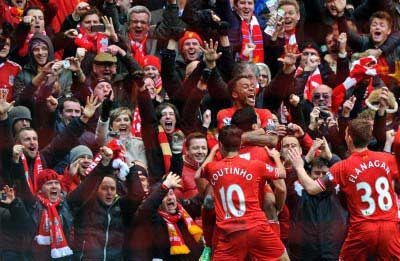 Luis Suarez, Daniel Sturridge, Raheem Sterling, Martin Skrtel and Jordan Henderson are all having the season of their lives. Jon Flanagan, who's more or less had a cameo roll up to now has appeared a player reborn after he was so emphatically written off in some quarters. Every time we go forward we look like we will score. Sturridge himself has claimed he's playing like he did when he was a kid.
We have players at varying stages of their careers, but there is an exuberance of youth about the aura that surrounds this particular Liverpool FC which seems to envelope both ends of our age spectrum. That could be its secret ingredient. How else can you explain a season when Skrtel, in mid February, has weighed in with as many league goals for Liverpool as Fernando Torres has plundered for Chelsea?
Skrtel was once a man who looked awkward and ill at ease with entering the opposing 18-yard box. Now he can't get enough of it. When he scored his second in this game the memory of Gary Gillespie's hat trick against Birmingham City in 1986 flashed through my mind.
Henderson, who Brendan Rodgers tried to offload to Fulham, has completely turned his Liverpool career around and his transfer fee is rarely mentioned these days. As a part of the minority of fans who during his dark days with us maintained we 'could see something about him', I can self righteously claim to have been in on the ground floor for Henderson.
Sterling has been a revelation since returning from a near full calendar year out of the picture. His second coming has arrived with a new direction, confidence and sense of purpose, while his excellent form has made the possible omission of Phillipe Coutinho, who has only shown his best football in fits and starts this season, not as unthinkable as it once was.
In the lead up to Saturday I voiced concern that Coutinho in a deeper roll wouldn't offer us enough protection in midfield and that I'd be happier if Joe Allen came into the side, which in turn would leave a difficult decision of selecting either Coutinho or Sterling rather than both playing. On form it would have had to have been Coutinho dropping out. As it turned out, what the hell do I know? Coutinho had his best game of the season.
The resurrection of the Liverpool careers of Henderson, Sterling, Flanagan and to an extent Skrtel gives rise to hope that other players who are currently on the outside looking in can return to prominence too, players like Allen for instance. In an era of tighter transfer budgets the renewal from misfit to hit of almost half the players we currently field is invaluable. It's been a joy to watch Liverpool this season, the surreal sight of the undeniably suspect Aly Cissokho playing an exquisite arched pass up the line with the outside of his foot against Arsenal being confirmation that we've entered some kind of strange and beautiful 'anything is possible' parallel universe. The feel-good factor of watching this Liverpool side when they are firing on all cylinders is infectious.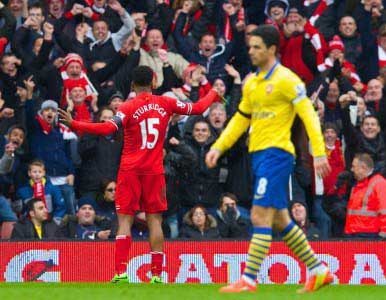 This all makes it sound unfair to our rivals. Reality however points to gravity being defied. A transfer budget that is wildly dwarfed by most of our other top-four-hunting counterparts, the lack of Champions League riches, still no sign of the near 60,000 capacity ground Anfield is earmarked to be and the fact that we aren't a club that's within the ownership of people that operate an open chequebook philosophy means we need to be clever in the transfer market. We aren't always doing that but in the main we are working exceptionally well with what we already have at our disposal.
We do have a paper thin squad and reinforcements in the January transfer window would have been great, but we can potentially get away with that this season, in a manner that we won't be able to next season if Champions League football is to return to Anfield. The summer window needs to be a very good one.
Thirteen weeks to go, 13 league games to go. How it ends is anyone's guess. If we can launch ourselves at the likes of Fulham, Norwich City, Crystal Palace and Sunderland with the same near-violent intent we did against Arsenal, a violent intent we can probably summon up for the games against Tottenham Hotspur, Manchester City and Chelsea, we might just find we get a very happy ending.