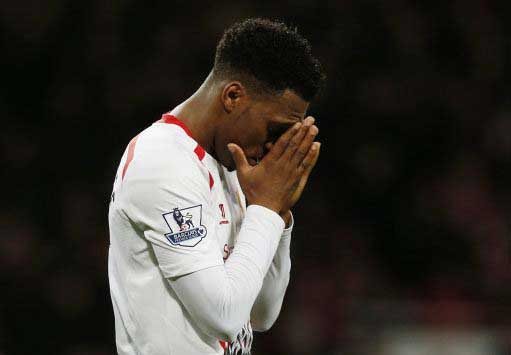 IT'S one of my all-time favourite football clichés; classic manager-speak to polish the turd of cup failure. But, for once, the phrase 'concentrate on the league' really does mean something for Liverpool.
Today's FA Cup defeat means there are 12 games – six home, six away – to go, each with a week or so resting time between them. There are no midweek games scheduled – although there is a Monday night one to be rearranged and maybe others to change – no trips abroad and no excuses for not getting in the faces of the billionaire-doped sides that most still expect to prevail in the title race.
Liverpool's squad is undoubtedly thin – thinner when you consider the players that Brendan Rodgers has made abundantly clear through his selections that he doesn't fancy to do a job.
But what the performance at Arsenal today proved – if not the Howard Webb-influenced result – is that this Liverpool side is backing itself. The collective mentality has changed, and changed for the better. Liverpool play like they believe they can win now and only the lacking clinical edge to the finishing – and Webb – prevented that from being the case in London just eight days after the 5-1 Anfield demolition of Arsene Wenger's side.
When Liverpool lost 2-0 at The Emirates in November it was a different story altogether. It was a nervous, edgy, error-strewn performance that saw the midfield totally overrun and the backline stretched. We knew the players were capable of more. What wasn't so clear was whether the players thought the same; it was worryingly easy for Arsenal that day and Liverpool let it be so.
Not so today though. Fabianski was the busier goalkeeper and the Reds had the Gunners on the rack for long periods, enjoying more of the ball and chalking up more shots on target than the home side. It was an off-day in terms of converting chances into goals, but it was more evidence that Liverpool can give anyone in the Premier League a game now and the most successful strike partnership in the division is a real worry for any opposition. Now is as good a time as any to dare to dream.
Brendan Rodgers will pray for a fair wind when it comes to injuries, fitness and form as all three could quickly derail the improbable challenge. But the manager will also take solace from the fact that Chelsea, Man City and Arsenal all have European football to distract them. All have slipped up in the league, and in all likelihood will do so again.
That applies to Liverpool, too. But while the possibility is there it should be chased as vigorously as Luis Suarez hounds a nervous fullback. Let it slip out and rejoice in the fact: Liverpool can win the league. It could be our year. Instead of already looking to next season, as has so often been the case at this time of year, we're in contention again and plenty of the indicators suggest that could continue to be the case when we take on Swansea, Sunderland, Spurs, Man City, Chelsea and Newcastle at Anfield; and Southampton, Manchester United, Cardiff, West Ham, Norwich and Crystal Palace away from home.
Liverpool:
– Have scored 66 goals in 26 matches
– Have an 85 per cent home win record bettered only by Chelsea and Man City.
– Are the form side in the league over the last six games
– Have scored three or more goals in EIGHT of the 13 home league games so far
– Are 16 points better off when like-for-like fixtures are compared to last season.
Going from seventh to first would be unprecedented in the Premier League, as many have pointed out. But that doesn't make it impossible. And while it's a possibility, I for one will be dreaming. After all, how many sides have finished fifth and won the European Cup? And done so with players of the calibre of Djimi Traore and Igor Biscan?
Then – in 2005 – Liverpool defied the odds, and the collective ability of the squad – with a steely determination, a never say die attitude and a belief in the manager's methods. It wasn't always pretty but it was effective, and there was just enough quality on the pitch to drag the side over the line again and again.
Under Rodgers Liverpool have at times been very pretty but not always effective. More and more now, they are both. Brendan Rodgers is growing as a managerial force and the dissenting voices are becoming ever quieter.
After Premier League finishes of seventh, sixth, eighth and seventh since the last realistic title challenge in 2009, now is a time to be cheerful. To embrace it. Whatever happens in the next 13 weeks, Liverpool have progressed. The team has improved, players have improved and for Anfield match-goers, it will be a campaign that – already – will live long in the memory.
Sensibility may say the realistic aim is fourth and a return to the Champions League, and Liverpool certainly look on course for that, albeit with the over-the-shoulder pest that is Spurs. But if supporting a football club doesn't allow you to dream for more, or to hope for the best, what's the point? Sensibility is for other times in life.
Detractors will say Liverpool fans always say "it's our year". Personally, I don't see the problem with that – isn't that part of supporting a club? It beats "we're shite". In reality, I can remember far less bullish statements spilling from many a Red mouth in recent years, including my own. It doesn't seem that long that since "I'd settle for being in with a shout of something at the end of January" was a common shout; one met with a wistful nod, a sip of a pint and a glance into the distance.
A "realistic challenge" for a Champions League place, was another high bar. And yet here we are, in year two of Brendan Rodgers' three-year target to achieve top four talking about the title. And it's great. Not long ago, we were glued to reports from the High Court, nervously wondering about the very future of this club.
Now we're poring over fixture lists, examining the league table and wondering just how good our front two really are. We're talking about football and we're talking about winning. I prefer this. And for that reason, I'll happily concentrate on the league. Hopefully we're still concentrating come May.