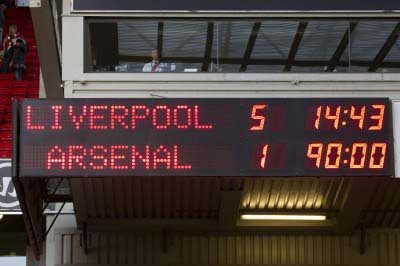 WOKE up. Got out of bed. Realised it was 0515. Fucking hell I am a bag of nerves. Checked my phone. Text from Gibbo received late last night. He was in a bar. It was badly wool. Name redacted to protect the innocent.
Drank some water. Pondered this. Champions elect or 4th dogfight. Fucking Arsenal. The rock where too much has appeared to have foundered. Bag of nerves.
Back to bed. Liverpool still going on outside my window. Shouted conversations. This city never sleeps. It has murder instead.
Don"t really sleep for half an hour. Contemplate again how amazing professional footballers are. These lads are getting their head down. They have a job to do. I"d never sleep if I was a player. When very young I ran cross country to a decent standard. Used to keep me up nights the anxiety of it all.
0900 – Wake. Decide to make a full breakfast for me and Brockle. Go the Tesco in my pyjamas. Loads of red on the streets. Gangs of lads, gangs of girls, gangs of families. A coach. We don"t talk enough about the energy matchday brings to this city. It vibrates.
I"m only buying sausages.
Get 200 quid out. Need to pay for my Derby tickets as well. Don"t begrudge that but it"s a shocker. I"ll hand 150 pounds over today. I can afford it, just. I"m lucky, I know that. I just wish it was a little less.
1000 – Brilliant breakfast being prepared. Served up with a ton of plate discipline. Plate discipline is important. If I want to mix it up, fine, but you should never have your breakfast decisions made for you.
Dave Sutton wants to meet. He"s with Phil Blundell. I want to meet them but want to spend time with Brockle. Doing film and TAW stuff I let the side down sometimes. A 1245 further pressures the weekend. She"ll meet us post game for a ludicrous pub crawl she"s devised with Steve Graves but it"s good to sit and be.
I"m thinking of the knife edge. Games on the knife edge been far too rare since 2009 but this is one. The knife edge is where you find out about your football team. Your club. What can we do.
1045 – Realise am dead late now. No shower. Sorry world. Teeth brushed though. Instead I prioritise getting some port into a hipflask. My hipflask debut. Today this feels like an extra holding midfielder. Another line of defence. The port is great but being an amateur I spill a fair amount. I might be shaky.
This is online casino it, in my head. Do or die.
1115 – Head out to meet Marjo who is getting the ticket money. Dave and Phil gone. Head to Dr Duncans where we will meet Steve Graves and Kate. Then Mike Girling. Sanguine about selection. Me and Steve have two speedy pints. Girling arrives. Get a taxi.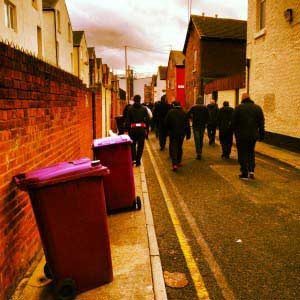 1245 – 1430
You"ve seen the game. Some observations quick:
– "4-0 and you still don"t sing".
No. But at 1-0, at 2-0, at 3-0 and at 4-0 we roared. Roared and roared.
Singing is overrated. It really is. An enormous god-rattling scream of fuck off you, just fuck off, fuck off with your battle for fourth, we"ll do this instead. We"ll not conform to our nightmares. We"ll claw upwards. It"s the noise that gets them, not the clever verses. The bone-jarring noise.
And that argument with pre-informed destiny, with the narrative of what this season should be, of that"s enough now Liverpool. You don"t sing that, you scream it. You rage it. The atmosphere at 4-0 went from the sublime to ridiculous. You have fucked off. We have imposed our will. What do you do now?
Sit there. Mildly shocked.
– Skrtel"s second. Hyypia-esque.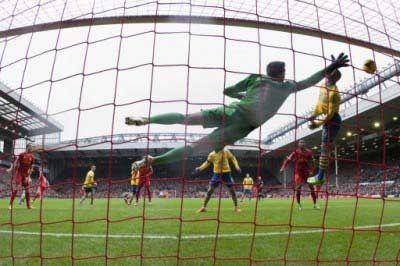 – Aly Cissokho is clearly a great lad. He"s a Houllier left back. Wins his battles. And now gets in opponent"s faces.
– Jack Wilshire plays football like an Evertonian.
– Gerrard"s pen. The foul of a man who has been tackling everything, sees that and thinks "Yep. I"ll have this as well." Tra-la-la-la.

– Henderson goosed on 80 making one more shuttle. One more. Then another. Then another. But it isn"t just the running. The quality and intelligence was magnificent.

– Second half in front of us it looked like Flanagan was calling the line.

– Coutinho sending everyone the wrong way; Arteta, who bestrode the Emirates, being put on the deck by Suarez; Sterling desperate for a hat-trick.

– This Liverpool team, the maddest I"ve seen, the maddest in the country. Germanic, explosive, overwhelming. It is lightning football. The opposition get a free kick I wonder about how we will break. Concede first against Liverpool at your peril.

– At the time of writing Arsenal are top of the league having shipped 11 at Man City and Liverpool. Look me in the eye and say this Liverpool team can"t win the league. Look me in the eye and say they can"t. The league is bananas. We should win it as the most bananas. It is only right.

1530 – The Post Office on London Road.

Mad team.
Mad day.
Mad pub crawl.

It.

Was.

A.

Joy.

To.

Be.

Alive.

That.

Day.

My.

Friends.

Football can get a lot wrong. But it can also do this.