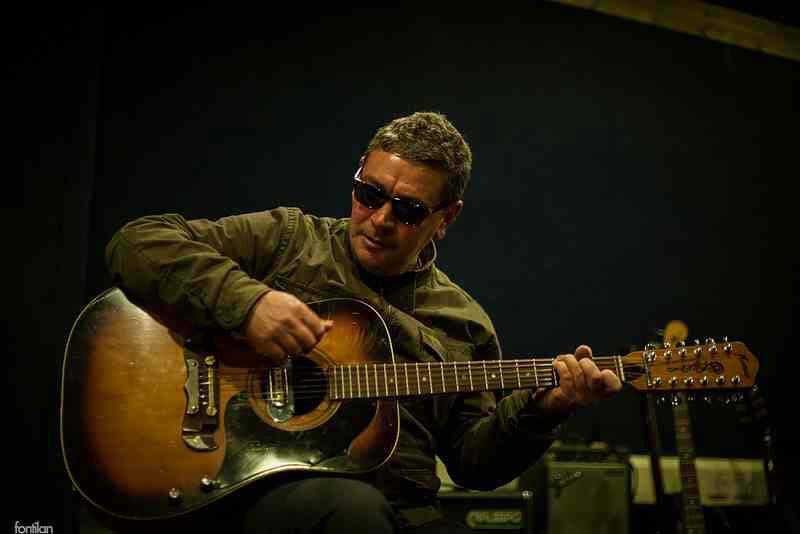 THIRTY one years after The Pale Fountains released their debut single Something On My Mind – and seven since the last Shack album, The Corner of Miles and Gil – Mick Head is back: gigging, releasing an EP and planning an album with The Red Elastic Band.
Telling the tale of Mick has become fable-like: The Pale Fountains' £150,000 deal with Virgin Records after just one single; a struggle to move beyond cult status; heroin; Shack; the sole remaining recording of LP Waterpistol going missing after a studio fire and turning up and being released by a German label; The Magical World of The Strands;becoming Arthur Lee's backing band; being proclaimed by the NME as 'our greatest songwriter'; a deal with Noel Gallagher's record label…
To fans of his work, these stories and more like them have been heard as many times as their listen of choice from the Michael Head back catalogue. The fear for those fans was that catalogue would never grow, and those stories would never be added to.
Yet a new chapter – an improbable but so far lifting chapter – is now being written. And, according to Mick, it's only just beginning.
After the personal problems, a record-buying public that in relative terms continued to collectively shrug its shoulders at his output, and the fact Mick has recently celebrated his 52nd birthday, few would have blamed him if he called time on his music career.
Yet, as Mick himself sings on Lucinda Byre from the new Atorious Revisted EP: "You're gonna need better wood, to crucify me." Indeed.
Gareth Roberts: It's been seven years since the last Shack record – it seemed from the outside that maybe that was it for you and music, so how did the latest record come about?
Mick Head: I'd had some ideas; obviously with Shack we went our separate ways doing different things, which was a positive. A few people said, 'Why did Shack split up?' but Shack will never split up. When we get back together, even if it's been six months or whatever, it's like we've just been for a coffee break – we can get straight back into it. Shack's never going to go away.
For me personally I just started sorting a few things out, writing different things and then Matt [Lockett] from Shacknet contacted me and I got on really well with him – even with him being a City supporter, like. He's a good lad. He said: 'What are your plans?'
And I said I'd love to do an EP, because I've got a couple of new songs. A flurry of songs happened in the space of a week and I was really excited about them. So he said 'So you want to do an EP?' and I was like, yeah. And he said 'alright' – and that was it! [Laughs] Then he just went about his business and I went to myself: 'Shit!'.[Laughs]. I'll have to finish the lyrics!
GR: Matt didn't have any experience of putting out records or anything like that, did he?
MH: No. And he's played a blinder, really. Everyone – within the band, and who's been involved, separately and collectively, has said, you know, he's fucking played a blinder.
First of all, I think he said, I know there's going to be a few bumps, it'll be rocky, and that was dead refreshing for somebody to just take that on board.
I phoned him the other day and he said I've got all these CDs and I'm licking envelopes and I said, you should have divvied it up. And he said, no, to tell you the truth, I've got the missus next to me and the children and we're all sitting there in front of a roaring fire watching the telly. He sounded happy doing it.
It's literally all been about the music and we get excited about the same thing at the same time and that's how it evolved.
GR: Why The Red Elastic Band, Mick? Where did that idea come from, and that name?
MH: Well, I was living in Orlando Street [in Bootle] years ago and I just started noticing these red elastic bands on the floor and I just couldn't get my head around it. And I thought: that's definitely a new dealer thing: where they go like that, bang, there's your thing and drop the lazzy band on the floor; definitely drug orientated. And my mate PJ turned round and went, 'It's the postman!' [Laughs] and I went, 'Oh! Ok.'
I was fascinated by them, I started collecting them, and in the end I thought it was so evocative, the name, I just thought, wow, it's got loads of facets to the name and I loved it straight away.
GR: The latest stuff has gone down really well with everyone who has bought the EP, how do you personally rate this stuff compared to your back catalogue?
MH: I would never do that because it's a different concept. I will admit there has been times when I've thought to myself, fucking hell I'm just going through the fucking motions here. But I think that happens to everybody – sometimes when you're working on an album, it gets tricky, know what I mean?
But I fucking love this stuff, it's honest, I think. I've always had a thing all through my life, since the Paleys, that if a song scares me – personally, lyrically or musically it freaks me out – then it's either shit or fucking absolutely brilliant. And for me that's like a yardstick.
This stuff, it's been a joy, everybody's been involved in it. Even when we were rehearsing for the gig at The Kazimier we were all looking at each other in the eyes and we were all on the same page and we had a bit of plan, you know? And it's subconsciously evolved because there's no big fuck off Billy in there; everybody wants to do it, it's really refreshing.
GR: I think that's come across in the gigs at the Night & Day in Manchester and at The Kazimier, that you've really enjoyed it; it was written all over your face.
MH: That's beautiful, man, because it was good. In the past, gigs, getting up on stage; it didn't really bother me. But as you say it was seven years since the last record – I didn't know that by the way – but it was really enjoyable. The first one, at Leaf, I was really shitting myself. But as soon as I got on stage…it wasn't autopilot but it was just emotion, you know? It was beautiful. And what we've done in a way is, the ethos of The Red Elastic Band, is that we work around each other – and it works. We had the cellist Vicky, she couldn't do the Manchester gig, so we changed the date. You know, most of us have got kids. It's a beautiful way of working; everyone's on the same page; it's good, it's enjoyable.
GR: And that's not the way it would work, I'd guess, if you were more in the pockets of the traditional music industry?
MH: It takes something out of it – and no disrespect to record companies or managers or people who've got to do their job, we all need money. I'm not going to go down the path of saying it's not about the money, because it is, as well. But it's about doing something ourselves that we want to do. Sometimes when I was in a band – it was great the dough and this and that – but sometimes something gets taken out of it that you need, like beauty, like passion. When that starts waning it takes something from it.
There were a few labels on the table for what we wanted to do but Matt just made a lot of fucking sense. I don't want to jinx it now, to tell you the truth. After the last gig I got texts from the band the next day saying 'we want more' – you can't ask for more than that.
GR: So what is the plan now, Mick?
MH: One of the initial ideas was an album. But the idea was we'd do another EP, and another EP…but then we thought to ourselves, why don't we just do an album? And when I said that to Matt, I think he thought to himself 'I'm not licking all those fucking envelopes!'.
He paused for a bit, but then he went 'Let's fucking have it!'. I had a bit of a plan, I thought, because of the way we worked last time when we were doing the EP, because they are so proficient, the people who are playing in The Reds, I said what we'll do is we'll go in the rehearsal rooms for a week or whatever 10 days, hammer the album, go and do a gig or two, because there's nothing better than being in a band doing a couple of gigs or a tour, then you come straight back and start recording. Sometimes that can be counter-productive but nine times out of ten, you're on it, know what I mean? Then when we do the album it won't be a six-week thing and everything is going after two weeks 'urrrgh' – just do it in 10 days and nail it. That could work. So that's the idea.
GR: We've been treated to quite a few new things at the gigs – material that hasn't seen the light of day on record yet. How did you decide what tracks went on the new EP?
MH: I'll talk candidly here. I don't smoke tobacco, but I used to smoke a lot of pot and bush and then I didn't do any for about five years. And then I met an old friend, and got this Thai bush, went home and I hadn't wrote any songs for ages. I felt like my guitar was saying to me sometimes 'are you going to pick me fucking up?!'. And then, over a couple of nights, four songs just came out. There is actually an album recorded that's kind of on the shelf and I didn't want to use any of them songs. These just kind of flew out and I thought, these all belong together, the cluster of them, and I thought, don't separate them – they belong together, they were written at the same time in the same frame of mind, so that's why it was them songs. Cadiz was there, and then the others were just…bang.
GR: What is your songwriting process, Mick – how do you come up with the scenarios you talk about in your songs? Is there a certain method or does it just come to you; do you wake up in the middle of the night… what happens?
MH: For me personally, when I started saying I wanted to be a songwriter it took me years; I didn't think about it, I just went through the motions. But I actually get all my ideas in my dreams. What I utilise – and I don't mean to go down the hippy path – but you know when you walk the shop, I love walking, or going on my bike. I don't know about you, but with my dreams, when I first wake up it's there but it starts evaporating and you try to grab it and grab it. And sometimes you can't get back in it but you try to remember the details because it's hit you and you think that's good that, fucking hell.
It's like a Polaroid that's there but starts evaporating in front of my eyes and it pisses me off. I think our John can just go, yeah, I'll just get straight back into my dream.
It's not even a process for me, I just utilise time and my own imagination – I love dreaming.
GR: Just going back to the success of the new record and the recent gigs, and how that owes so much to a very dedicated fan rather than the music industry, is that something that suits you at this stage of your life and your career?
MH: Yeah. It was refreshing. Matt's made it, and everyone has said this, Alice my daughter, everyone who is involved in it; it's people who want to do it. He's made it not a big deal.
I've had about 10 different record labels but in the 80s and 90s you didn't think twice about it, it was the way the world went. When we were on, say Virgin or Warner Brothers, there'd be a video department, an artwork department, a promotion department; everyone had these jobs. So you basically had 10 different people telling you how they thought you should go – that was the worse-case scenario.
But when Matt and me started talking he said to me there's a lad in France called Pascal; he's really respected in France, he loves the music, I thought, there you go then, let's do that. It wasn't, here's Pascal, he's never heard your music, let's do your sleeve – it was for the love of it.
And when it started becoming a reality, it was beautiful reality. The best thing about it was we set the pace; there was no deadline, no 'you've got to do this, you've got to do that', 'you're not going to get them lyrics on the radio' – none of that, you know what I mean? It was just what we wanted to do. Me and Matt said early doors, the less said the better, no big concept of thought, thinking things out, just let's do this, shall we do this gig? Yes. It's just been beautiful.
GR: How do you feel now, Mick, about the music industry? There's obviously been a big change with how people consume music with the internet – what would be your advice to bands trying to make it now?
MH: Well for a while I didn't care and during that time a lot changed and I wasn't really taking it all in. Even today, I don't do any of the social networking or anything like that; I can't understand it to tell you the truth. But if I was a young band and I had some people around me with ideas, who thought they could achieve a goal…because that's all we've done, as you said earlier Matt's never done this before in his life. People say to me, Violette Records, how long have you had that? And I'm like, we only created it over the phone a couple of fucking months ago!
But I would say to bands after this, it's a good way to go. You can do it on your own. Get a group of people around you, and do it yourself. If it goes down like a bomb, you go with it. If it's good, you're with it.
GR: What do you think of the music coming out of Liverpool now?
MH: I love The Tea Street Band, and I used to love The Maybes. And I didn't know The Tea Street Band did Disco Lights. I was listening to Monksy [The Dave Monks show on Radio Merseyside] one night and I was like, 'Fucking hell!' – it took me back to being in The Quad [The Quadrant Park nightclub] in about 1990, I was like, 'Fucking hell, I'm in Bootle in 1990! And then it came to the end of the song and it said The Tea Street Band and it blew me away. I just went, 'You fuckers!' I thought it was either Monksy playing a retro thing or some young bucks have got right on it! [Laughs]. I love them.
GR: What happens to Shack now? Will we see the band live again, and recording do you think?
MH: You know, there's been offers of tours and money but it's kind of testament to the lads that no-one's knocking on each other's doors saying we've been offered X amount to do this. But personally, I definitely think there will be another Shack album. I never ever thought there'd be another Pale Fountains gig, but someone sold me it and I thought it was a good idea.
I'm not saying no. We're going to try to keep up some momentum with the Red Elastics. But it is uncanny sometimes when me Pete, John and Ian get in a room; it literally is like someone's just gone for a piss, know what I mean? And then it's two… three… four… and it's in, and that's it. We can just pick it up, that's the beauty of it – they are some of the best musicians I have ever played with.
GR: Going back to the Red Elastics, the gigs in Manchester and Liverpool recently were very different, the Night & Day one was very stripped down, it ended with just you with the acoustic; the one in The Kazimier was more a full-on band – which do you prefer, and what are you more inclined to want to do in the future?
MH: The original idea was that the Red Elastic Band is whoever is available at the time. So if it's me on my own, if Andy and Vicky are available – laughing. But with the Kazimier gig we knew Vicky had commitments so we got Dan in on guitar – we just adapted to the situation. But if it's Manchester, 700 people, let's get two trumpets, the cello, the full band – work to the environment.
When we did it the three of us, a fella said to me in one of the shops I go in 'cello and trumpet?' and I was like, yeah. And he goes 'how's that going to work?'. And I said you'd be surprised, come down, have a listen – and it worked.
We did 250 in Leaf, then 300 in Night & Day, or vice versa, then 500 in Kazimier, 700 in Gorilla… I think then we'll take stock. But whatever the format, we're all into it.
GR: The other thing that stood out for me was these gigs seemed very different to your ordinary gig, and I don't just mean in terms of what you were doing on the stage, I mean in terms of the audience. The Kazimier, it was almost silent at times; everyone just stood there with smiles on their faces enjoying it. Normally, people are talking, getting the ale in… Were you conscious of that?
MH: Yeah. I was more nervous at the Leaf gig but as somebody said to me, I think we were all nervous, the audience included. To be honest, I don't mind if it goes touch and go; it gives me adrenaline. It was like a big intake of 'Is fucking right' all as one; the audience, and me, and the people playing in the band; everyone was on the same side and we felt that on stage; we talked about it afterwards after the first Liverpool gig, and it carried on into Manchester and with the Kazimier you could have been playing in someone's living room with everyone sitting on the couch; it was fucking beautiful, it absolutely blew me away.
GR: Finally, as this is the Anfield Wrap, and we know you're a big Red, how do you think we are going to get on this season?
MH: We're doing good and I think it's open at the moment. I don't think Arsenal will carry on the way they are going and hopefully Man U will keep stumbling. I think City will get their shit together, Chelsea will be up there, I don't think Spurs will be; I think the bubble has burst. I think Liverpool could be third or fourth… but even second.
Artorious Revisited is available at www.michaelhead.net
For all things Pale Fountains, Shack and Mick Head, visit: www.shacknet.co.uk
First published in Anfield Wrap Magazine #6