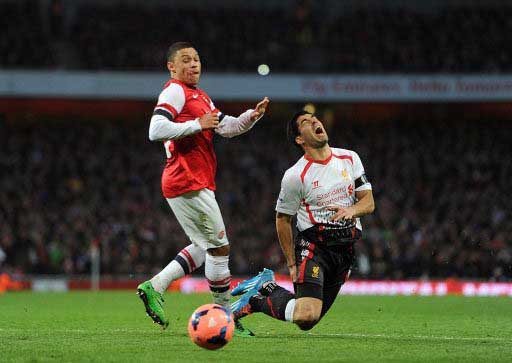 WOULD you swap a win here for three in the league? Would you rest Suarez and Sturridge? It's only the FA Cup…
I want Liverpool to win everything. Every game. Every cup; from The Liverpool Senior Cup to The Champions League. I want silverware tied up in red and white, I want laughing Scousers proudly displaying banners, I want the rest of the country groaning, and saying: "Not them again."
And the FA Cup? Forget the FA Cup? I spent too many years recreating Ian Rush's knock-the-camera-over-goal in 1986 to forget it, even if the bastard son of the once great competition is looking increasingly sick.
So prioritising? Resting? Taking it easy? Pretending it doesn't matter? Leave that to the other clubs. Let's be ambitious. Let's win it. Let's BATTER them. Let's win the fucking double!
On the other hand, we haven't won a London cup tie in 19 years. And Arsenal at home will be different.
First thoughts on the teamsheet? Brad Jones. Shit.
Daniel Agger seems to have an army of people that don't like him. I'm not one of them. I'd have him over Kolo all day, especially given recent events.
We're going to miss Jordan Henderson's energy in midfield – there's no-one else who can replicate it. If he's fit enough to be on the bench following his wrist op and able to come on, why not start him and take him off later?
Howard Webb. Say no more. I wonder if Xabi Alonso's chest still has Nigel de Jong's stud marks in it?
15:37: The FA Cup draw is taking place. Before the game. Fuck off, FA.
Everton. Knew it. Thought it this morning. But anyway, chickens before they've hatched and all that.
15:57: That kit. It's still shite. Like a decent kit with a 70s car interior sewn into it.
16:04: Started alright here. Sturridge has got a shot off early from another cracking Gerrard ball. Given his form, he might look at that as one he should score from.
Early to say, perhaps, but mentally we look a different team now to the one that came here in November and was overrun in midfield in a 2-0 defeat. Then the team didn't back itself. Now they do. And perhaps Arsenal are the opposite after the 5-1.
16:07: Sturridge again…. Missed again! It's on his weaker foot, but nevertheless. Suarez this time playing him in. Arsenal can't cope with the movement. Should be up here. This is assured. This is confident. This is boss.
16:12: Decent punch from Jones. Never in doubt…
16:14: Arsenal having a bit of a go. Hopefully Sturridge's uncharacteristic finishes don't bite us on the arse.
16:17: Jones could have caught that, couldn't he? Or let it go. Flanagan in the book. Foul on Monreal. Looked fairly needless.
16:18: Oxlade-Chamberlain. 1-0. All stemmed from the free kick Flanagan conceded. Skrtel headed fresh air, Gerrard did his best. Gifted them this.
16:22: Coutinho in the book. Took one for the team as Chamberlain broke away. Another decent punch from Jones. Sturridge almost picks them off on the break.
16:27: Boss Suarez nark. He's beat his man, whipped a great ball in from the right and no-one's on the end of it. The lips quivering, the head's shaking… Bet he's like this over a game of cards.
16:29: Conor Coady has scored for Sheffield United against Nottingham Forest. Which is nice.
16:32: Nice catch by Jones. Dominant. Commanding. Oh. The kick.
16:35: Podolski allowed to hack down Flanagan. Not a yellow, no Howard? Tit. Brilliant run by Sterling but doesn't find a man in the box. Final product is the only thing you can really pull him on recently. The lad's been brilliant.
16:37: Flamini in the book for a late one on Gerrard. Gives it the big one, mouthing off. Unconvincingly.
Turned into a strange game. Suarez quiet. Coutinho not finding his range. Arsenal not particular great either.
16:43: More Suarez headshaking after Webb denied him a corner. A rousing "Where's your European Cup?"
16:44: Gerrard takes out the Ox. Booked. Another 'take one for the team' moment.
16:45: Suarez finally gets a shot off. Saved. Moments later tries a chip. A bad one.
16:48: Sterling put his hand on Webb after not being awarded an obvious free kick. Webb loves it. Chest goes out, the police uniform appears… Shocker: for once, Webb doesn't leap at the chance to kick us up the arse and Raheem stays on the pitch. Stupid, but sums up the frustration of the first half. Nicely set up for a Webb red card for one of ours second half.
17:05: Second half. Started well. Suarez testing the keeper. Wasted the corner.
17:06: Jesus Christ, Liverpool. Agger loses out physically and for pace to The Ox, who tees up Podolski. 2-0. Long way back. Never have liked the place.
17:13: A Suarez rasper just over. His mini-drought continues, as do the frowns.
17:14: Decent save from Jones, a strong hand to an Ozil effort.
17:15: Sterling cross to the far post and Suarez lashes it over. Decent response from the Reds, this.
17:16: Brad!! Right off his line, possibly out the box to punch clear. *changes undies*
17:18: Penalty! Podoloski on Suarez. Nailed on. Gerrard. YES. 2-1. He's getting good at them… Arsenal heads might go here.
17:21: Henderson on for Cissoko. Flanagan to left back, Sterling to right back. Another good save denies Sturridge after a Coutinho thread.
17:23: Arteta takes out Flanagan edge of the box. Free kick into the wall. Then the biggest fucking most nailed-on, stone wall penalty you've ever seen. Chamberlain nowhere near the ball takes out Suarez. You knew it. I knew it. Howard fucking Webb. Go on holiday in the summer, lad. The World Cup doesn't need you. There is no reason not to give it. No reason. You've already given us one? You're on the telly? Why? It's RIGHT in front of him and the dickhead is there waving his finger!
17:27: Suarez effort from distance straight at the keeper. Moments earlier, he was in Joe Cole-esque hands-on-knees pose. And not for the first time recently. He's played some football this season. But yeah FSG, the squad's FINE. Says it all that no one expected Aspas to start this.
17:34: Already booked Gerrard slides in stupidly. Arsenal will be fuming he hasn't walked. Benefits us, but Webb is shite. Again.
We've battered these here. We've played well. We deserve something from it. Coutinho and Suarez put the ball too close to Fabianski, who to be fair has played well. Eleven to go. Sterling doing well at right back.
17:45: Five to go. Gerrard plays one of those un-defendable free kicks and Agger should score. The keeper's flapping, the goal is gaping…and he misses. Has a 'not our day' feel to it now.
 17:49: Another opportunity for *that* free kick. But not this time. A rare lapse from Gerrard in that situation.
That's it. We're out. No FA Cup meeting with Everton. And just the 12 Premier League games to concentrate on. We'll have to settle for the title….
The Reds played well there though. Not quite the performance of eight days ago, but not a West Brom, not a Hull. Instead, we've more than competed with one of the Premier League's best sides at their place. And we've been Webbed.
Again.
Pat Nevin actually said in a preview, talking about the Anfield annihilation: "It was one result and they could even make the argument that from 20 minutes onward they drew 1-1."
They could make that argument. But it would be shit. We can make much stronger ones here without reaching for the straw.