by NEIL POOLE
TWENTY minutes of vigorous Arse-slapping at Anfield followed by 70 minutes of teasing left The Gunners red cheeked and Liverpool with a huge victory few had predicted. Now – all being well at 3pm today of course – Liverpool travel to Craven Cottage tomorrow hoping to keep things equally strange.
Fulham Football Club is a quirky but not unlikeable oddity in the English game. Founded in 1879, it's simultaneously traditional while bucking the trend of the conservative norms of our Victorian game. For starters, Craven Cottage houses the only 'neutral' stand in the vitriolic tribal word of our beloved game.
Further, where the approach to most old stadia is via tightly-packed terraced streets and the lead up to the hastily erected new flat-pack ones is across an expanse of soulless concrete, the walk up  to the Cottage is uncharacteristically aesthetic; through a park on the banks of the River Thames.
It's also a team whose previous owner is convinced that the British Establishment murdered his son, and who surprised everyone by putting up a statue of Michael Jackson, their most famous player that nobody even knew had played for them. Hindsight has taught us that Michael had to cut short his footballing career to sing and dance and wear hats and stuff.
To top it all, Fulham even made Roy Hodgson look good. Well almost. Yep, strange things happen down in that part of West London.
However, this peculiarity is a world away from the often very ordinary away performances churned out by Liverpool under Brendan Rodgers in the wake of big Anfield wins.
We've rocked up at various Lord Mayor's shows over the last 18 months. Last season we attended the long-awaited victory of a team above us, beating Spurs 3-2. We also saw the now seemingly regular twatting of Norwich 5-0; the scoreline awarded it grandeur even if the opposition didn't.
Only a couple of weeks ago we mauled Everton 4-0 in a game, whereas beforehand many had feared the worst. On each of these occasions we got a bit giddy with excitement, moved on to the aftershow party and fell flat on our faces in less salubrious surroundings such as Southampton, Oldham, West Bromwich and Yates Wine Lodge, respectively.
Let's make no bones about it. In workplaces, in schools, in shops; the sheen of the Arsenal victory, while still present at the forefront of smiling Kopites' minds, is now beginning to be replaced with the small smear of restraint and caution.
If I had a pound for every time I'd heard someone say, "It wouldn't surprise me if we go and get beat/draw on Wednesday," – I'd have about four quid. That might not a sound a lot but I only have five mates. As a percentage that's 80 per cent of the global Liverpool support who have a niggling concern about the game at Craven Cottage. And not just about whether it will even take place.
If Liverpool fail to beat Fulham on Wednesday you may see frustrated or angry faces, but you won't see anyone looking confused or perplexed. It's been four long years. It's hard to let go of the misery when it's been such a loyal friend.
However, if Liverpool can follow the majesty and splendour of battering Arsenal – and avoid reverting to bad habits – then onlookers will be casting curious glances at the Travelling Kop and smirking at a different eccentricity manifesting itself at Craven Cottage. "Look," they will say, "The Scousers think they're going to win the league!" Too right! You won't want to admit it but it's hard to keep that burning red fire at bay.
It won't be the first time the dangerous concoction of hope and belief has created a heady mix at Craven Cottage. In April 2009, Yossi Benayoun scored in the 92nd minute of a game that had look destined to finish a deflating draw in a rare title-chasing season. With that goal, Liverpool went top and the fans in the Putney Road end had their first opportunity in two generations to sing "We're going to win the league" without being sectioned.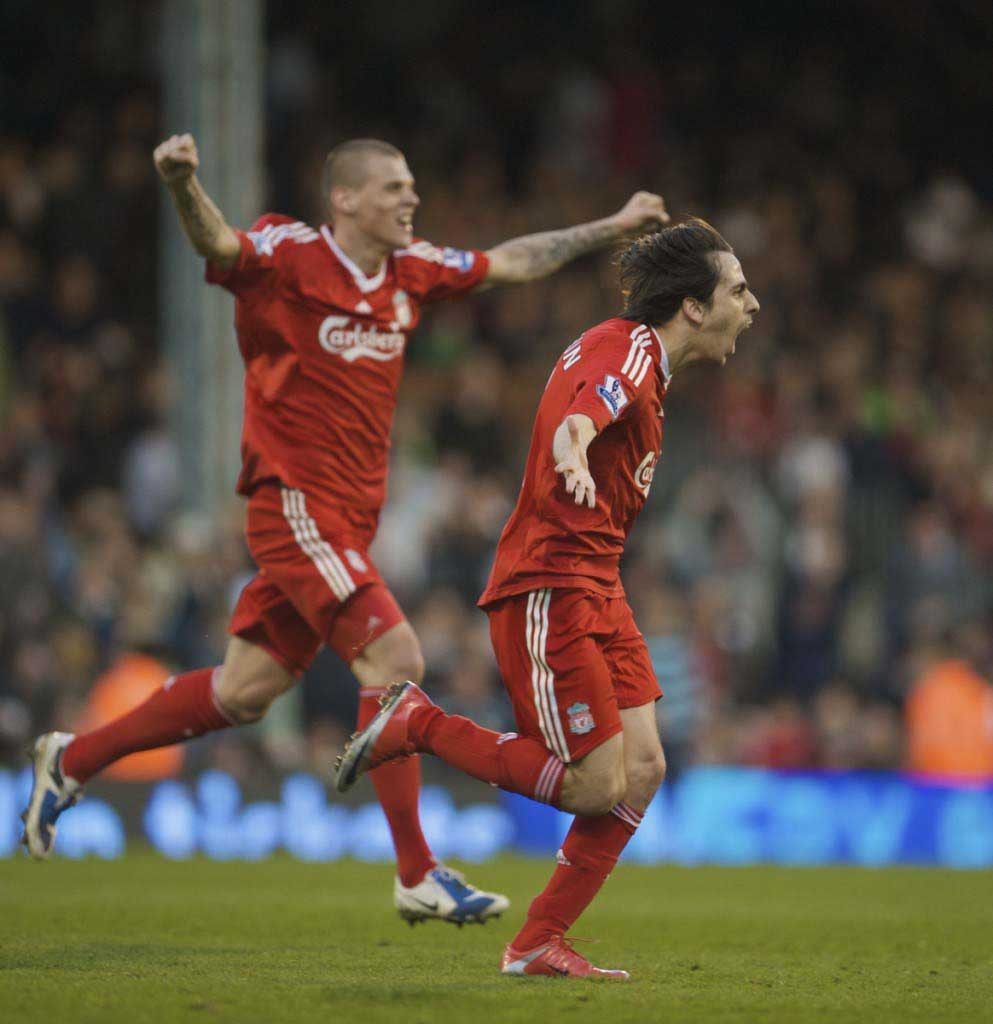 The standout game for many that season is understandably the 4-1 victory over Manchester United. That of a sublime Torres, a camera-kissing Gerrard and Dossena scoring a goal. See, we never had full back problems in the old days…
But at the time Rafa recognised the importance of the Fulham game, daring to say: "That will be the most important goal of the season if we can win the title."
While the Man United game lingers fondly in the memory because of the opposition, the Fulham game is largely forgotten now because we didn't win the league. In the end, the joy was shortlived. Manchester United had two games in hand and took full advantage of them. We blew it, finished second and Carra grabbed Arbeloa by the throat on the last game of the season because it was all his fault. Or maybe not.
So in the end Yossi's wasn't the most important goal of the season, it was just one goal among others in a season when we won nothing.
A victory against Fulham tomorrow will not mean we will win the league. But it will keep the hope alive. And isn't that why we stick with it? I deny anyone who was present at the recent Everton or Arsenal game to tell me that there isn't something in the air at the moment. In 2009 we were still riding the coat-tails of cup wins in 2005 and 2006 and Johnny Cash's Ring of Fire was still the soundtrack that defined that special time.
Fast-forward five years and the slow boil of the We are Liverpool/Poetry in Motion song on the terraces at the moment feels like it wants to be something special, too. A song just for Rodgers' Liverpool that the fans are daring to be the soundtrack to a new era of success.
In the cold light of the day, hordes of Reds singing to the tune of Brown Girl in the Ring – a song that was supposedly a substandard b-side that rallied late on and became a hit – is a curiosity. Read into that what you will.
So if you hear a strange song at a strange stadium at the end of Liverpool's game against a strange club this week you can be sure that nothing ordinary has occurred. People will be musing over titles and finding it difficult to stem the tide of this glorious thought:
"Stranger things have happened."