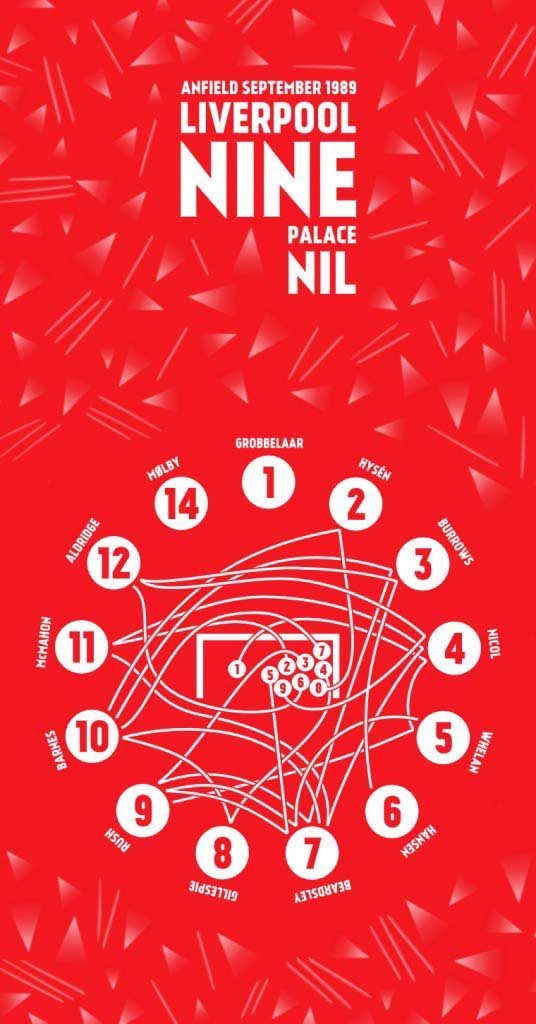 IT'S shortly before 10am on Wednesday and I'm parked up on a motorway bridge in Skelmersdale waiting for a man I've never met to turn up in a Vectra; I'm yet to work as a drug dealer but it felt like I was doing a deal. How did it come to this?
It should have been straightforward. Revisit one of the biggest league wins in my lifetime and see how it stands the test of time. How good were Liverpool? How bad were Crystal Palace? How does the standard of footie bear up? These questions were easily answered by getting a copy of the game and watching it in its entirety. So it began.
I bought the 9-0 video off eBay. It arrived safe and well, in good condition, so a couple of weeks later I dug out the video player, found the leads and got ready to set it up…
No tape.
I don't know whether this happens to anyone else, but in my house things go missing with alarming regularity and no-one ever knows anything about it: no-one's touched it, no-one's moved it, no-one's seen it. It's just magically disappeared.
By this time, the excellent graphic you can see above by Liam Ferry had been commissioned. A video chat about the game had been planned. I had to do this. I needed the tape. Fast. Twitter – someone will have it on Twitter. And someone did. Ian Tyrer, a taxi driver in Skelmersdale, to be exact.
And so it was that I was on a motorway bridge checking for a Vectra in my rear view mirror and worrying whether a passing policeman may find the video tape tale a tad suspicious.
Ian was sound, an old school Red, but he didn't help the mood feel any less like an episode of Breaking Bad when he turned back as I was about to get back in my car.
"By the way, there's more where that came from….I've got Liverpool 5 Nottingham Forest 0 in the house."
I'll have to give it a go. Gives you a real lift by all accounts.
So here I was again. The house to myself; the video player set up and tape in hand. In it went, press play….the screen turned black, the tape stopped and it ejected itself. Hmm.
Try another tape. A scrunching noise follows. We won't be watching Robbie the Reindeer again in our house. And the tape's stuck. Has Mark Bright got a voodoo doll of me?
A mess about with a screwdriver later, and a test with a crap video – Sliding Doors if you're asking (the missus) – and it's all go.
I don't mind admitting that when it finally worked I did a bit of a celebration in the kitchen. Think Craig Johnston in the 1986 FA Cup final.
Have that Mark Bright…
LIVERPOOL 9 CRYSTAL PALACE 0
September 12, 1989
WATCHING a match back 24 years later is weird. Before the dated graphics had faded from the screen I was already being distracted by things that had little to do with the actual game: the Candy kit, the Adidas Tango ball, the ridiculously short shorts (obscenely so, in John Barnes' case) and adverts for long-gone businesses (Ian 'at the end of the M62' Skelly and Phil Thompson's Pine DIY).
On the pitch, a plethora of names that will always feature prominently in the Reds' history prepared to do battle: Grobbelaar, Hansen, Nicol, Barnes, Whelan, Beardsley, McMahon and Rush. On the bench sat Molby and Aldridge, whose big moment would come later, while presiding in the dug-out was Kenny Dalglish.
For newly-promoted Crystal Palace it was Ian Wright – then a rumoured £2million target for Liverpool, Mark Bright, Alan Pardew, Geoff Thomas and Eddie McGoldrick. Managing The Eagles in 1989 was Steve Coppell.
It's fair to say Liverpool were expected to win, but no-one could have predicted what came next.
But first, back to being distracted: no sooner had the game kicked off and the ball was being played to Grobbelaar, who….picked it up. It's easy to forget that very act was outlawed in 1992 – a reaction from rulemakers to the often yawn-inducing football that had plagued Italia 90. Brucie was among the best at making use of the way it was – running down the clock should Liverpool be on top, or quickly using the opportunity to pick the ball up to kick to the flanks to launch attacks.
It was the latter that helped Barnes – still at this time boasting a turn of pace to match his indisputable skill – win an incorrectly-awarded corner kick after just 46 seconds to set the tone for the evening as Liverpool started with all guns blazing.
It was a gung-ho start, but Wright briefly looked like threatening on the break after a Beardsley corner aimed towards McMahon on the edge of the box went astray. Hansen stepped in for what looked a blatant foul to leave the striker floored yet play carried on – this was certainly a time when Liverpool benefitted from the rub of the green decisions wise at Anfield.
Seven minutes in, and Liverpool's all-action start to the match – no resting with the ball to be seen – paid off. Another marauding Barnes run ended with the winger's goal-bound effort blocked by Hopkins, but the ball dropped for Whelan who touched it on for Nicol and the full-back with the flourish for a finish placed his shot from the edge of the box to make it 1-0. The rout had begun.
Liverpool's passing was crisp, quick and they showed a hunger and tenacity to chase down the ball that the modern day side would be proud of. Nicol in particular shone throughout, continually looking to threaten and get in behind with his lung-busting runs. His energy never wavered.
The workrate of Rush was also on display and his willingness to drop deep and muck in to win the ball allowed the striker to release McMahon, but after the midfielder advanced beyond the centre halves he lashed the ball wide.
Palace's only hope looked to be to release Wright and Bright on the break with long balls and exploit Liverpool's high line. And with the score still respectable they could have been right back in it when Geoff Thomas – him of infamous England miss fame – cracked an 18-yard shot against the post with Grobbelaar beaten after Pardew had touched on a free kick.
It was a let off for Liverpool and the Reds took advantage when Nicol's pass found McMahon's run and he chipped the ball over Suckling from 20 yards to make it 2-0 with 15 minutes gone.
Soon after it appeared Liverpool's luck with the officials had ran out when Barnes was clearly fouled by Pemberton in the area but the referee wrongly awarded a corner from which Hysen headed wide.
The pressure on Palace was relentless at this point with Whelan driving into the box and firing across a powerful centre that was just lacking a killer touch before Nicol volleyed over from 18 yards after he was teed up from another corner.
Palace's only response of note was a – and this is being kind – speculative effort from distance by McGoldrick. While that was wayward, Nicol came close with another curled effort before Rush finished clinically from close range to make it 3-0 just before half time. It was an easy finish after Burrows and Barnes had combined to set up Beardsley. He was eased off the ball as he dallied in the box but it fell to Rush eight yards out and there was only ever one conclusion from that distance.
As half-time was signalled The Kop could clearly be heard singing 'Shit on the Cockneys tonight'. Some things never change.
With Liverpool attacking The Kop in the second half, it was clear that some Palace fans were fearing the worst, evidenced by the camera zooming in on one supporter who felt the best way to help his team was to throw the ball as far back in the Anfield Road end rather than return it to Grobbelaar.
It wasn't just their fans keeping the ball. Palace enjoyed a lot more possession early in the second half but lacked a final ball or a flash of inspiration once they encountered Liverpool's back four. The dodgy decision count also continued to rise, with Palace fans asking 'Who's the Scouser in the black?' after Kieran Barrett's failure to award them a clear corner.
At the other end a corner was awarded, and from Beardsley's kick, Barnes flicked on and Gillespie dived to head past Suckling at his near post and make it 4-0.
'We want five,' bellowed The Kop and it wasn't just the fans that were hungry for more. McMahon launched into a trademark tackle to win the ball from Pardew, Hysen made a timely penalty area intervention on Wright and Rush was continuing to fight for the ball in the middle at every opportunity.
And it was that trait that brought Liverpool's fifth of the night when the Welshman was fouled near the halfway line. The free kick was taken quickly and Rush and Beardsley exchanged passes before the number seven burst into the box and fired high into the net on 60 minutes.
Aldridge, who was soon to be heading to Real Sociedad, was warming up on the touchline by this stage to a backdrop of 'One Johnny Aldridge' from The Kop.
And after Rush was denied by a last-ditch O'Reilly tackle which led to some half-hearted penalty appeals, the stage was set for Aldo when Whelan was tackled (possibly outside the box, to be fair) by Hopkins and the referee pointed to the spot in the 67th minute.
Aldridge famously replaced Beardsley and with a pat on the arse and a smile from Barnes, coolly stepped up to send Suckling the wrong way from the spot with his first touch. It was his 50th league goal for the club, and 63rd in all – leaving him with a ratio of better than one in two for Liverpool.
Palace's best chance of the night came soon after, and again it was from the penalty spot. Hysen blatantly fouled Pardew in the area – despite Burrows' puzzling protestations – and Palace skipper Thomas stepped up to take the penalty, which he promptly blazed well over the bar with his left foot. 'What the fucking hell was that?' cackled The Kop. It was a fair question.
The game was becoming increasingly scrappy as it wore on with tired legs contributing to a plague of misplaced passes. Yet still the chances arrived for Liverpool: Barnes released Whelan for a shot saved, Nicol had an effort blocked and Gillespie's header from a Burrows cross drew a fine save from Suckling.
Suckling was booked for hauling down Rush just outside the area with 11 minutes to go and Barnes stepped up to brilliantly curl the free kick into the top corner – Liverpool's seventh goal from a seventh different scorer – as the keeper's fingers desperately clutched at thin air.
Barnes was involved in the eighth, too, delivering the corner kick that Hysen powerfully headed home for his first goal in the First Division.
'We want TEN,' was the shout from The Kop but, with Palace fans impressively still cheering their side on, it was The Eagles who came to close to a consolation before the scoresheet was inked again. First Bright blazed over from eight yards before Pemberton shot straight at Grobbelaar. Then Gray was released and he beat last man Hysen but with the goal in his sights Brucie psyched him out, staying on his feet to block his effort and keep his clean sheet intact.
So it was left to Nicol to round off the rout as he started it, this time tapping in from close range at the far post after Burrows' centre had evaded everyone else in the box.
As the whistle blew it was all eyes on Aldo; top off, boots off, blowing kisses to The Kop and sparking a ten-way tug of war on the front rows for his gear. As a way to sign off your Liverpool career, it wasn't bad. And thanks to the avalanche of goals, Aldridge won't be the only Scouser with fond memories of that September night in 1989.
LIVERPOOL: B Grobbelaar; G Hysen, D Burrows, S Nicol, R Whelan, A Hansen, P Beardsley (sub: J Aldridge 66), G Gillespie, I Rush, J Barnes, S McMahon (sub: J Molby 79).
CRYSTAL PALACE: P Suckling; J Pemberton, D Burke, A Gray, J Hopkins, G O'Reilly, E McGoldrick, G Thomas, M Bright, I Wright, A Pardew.
Referee: K B Barrett.
Attendance: 35,779
LIVERPOOL'S BIGGEST WINS
September 17, 1974: Liverpool 11 Stromsgodset 0
European Cup Winners Cup 1st Round, 1st leg
September 16, 1969: Liverpool 10 Dundalk 0
Fairs Cup 1st round, 1st leg
September 23, 1986: Liverpool 10 Fulham 0
League Cup 2nd Round, 1st leg
February 18, 1896: Liverpool 10 Rotherham Town 1
2nd Division
October 1, 1980: Liverpool 10 Oulu Palloseura 1
European Cup 1st Round, 2nd leg
This feature originally appeared in The Anfield Wrap's free digital magazine. Click the yellow banner below to find out more.