By DAVID COOK
"The one that got away!  My first true love!!" 
"Why did you leave her then, mate?"
"I got a job in another city.  I had to go."
I AM behind enemy lines.
I had to leave Liverpool for work.  I was 25 years old when I got a job in Manchester city centre. I thought nothing of it and assumed that I could commute. In fact, it didn't work out like that and I now own a house, am married and have a baby; all based in a Greater Manchester suburb. I am locked in.
But this has given me a fairly unique view of the city of Liverpool. A view from afar. Scousers take our city for granted. You're spoiled, you lot! But, it is the same with anything. It is said that familiarity breeds contempt.  "Contempt" might be too strong, but you get the idea.
I regularly return home – about once a fortnight or so – and have both family and professional commitments in Liverpool. I also have the football club.  The bond is there for life.
Walking out of Lime Street Station or leaving the M62 at the junction of The Rocket fills me with pride. This is home.
The part that always amazes me is the architecture. When I lived there, I must have walked around with my eyes shut. Having travelled to the major cities of the UK with work, I can say with some certainty that, aside from London with its vastly different expenditure on such things, Liverpool is far and away the most magnificent city in the country for the standard of its buildings. Walking through our business district is stunning.  The Victoria Monument outside of the law courts is the starting point of my notional guided tour.
The walk down Castle Street is pleasant – note the Grade I listed Bank of England building and the Grade II listed Norwich Union building, Trials Hotel and the Adelphi Bank (each of which were built by the turn of the twentieth century) – and ends with a town hall that is criminally underrated.
The foundation stone for our town hall was laid in 1749. Let that sink in – 17-bloody-49!  Behind the town hall is the impressive Exchange Flags Square, which was a place at which merchants gathered to do business in the nineteenth century.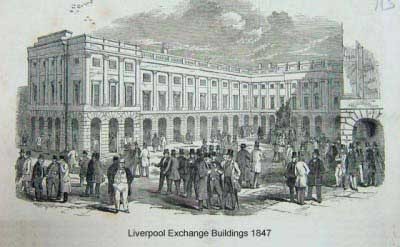 That short walk described above beats anything that Manchester can offer. But that's not even scratching the surface. What is thought to be the oldest surviving structure in Liverpool?  There is a property in Aigburth called Stanlawe Grange, of which sections date back to 1291. There isn't much Medieval architecture in the United Kingdom and the majority are religious buildings, so this is quite unique.
Next comes Speke Hall and Croxteth Hall; both from the late 1500s.  Stunning, really.
I bet most readers simply don't appreciate all of this.  I know I wasn't bothered before I left this fine city.  It's only when I look from the outside that I can recognise the beauty within.
It is only when I am behind enemy lines.