WE"VE churned out six free Anfield Wrap magazines now, and while we"d heartily recommend that you read every word, watch every video and listen to every audio clip, we appreciate that it"s unlikely you"ll do so.
So, as it"s Christmas (ish), we thought we"d bring you the best of the mag so far. And don"t forget that while first and foremost this is a made-for-iPad publication (it"s here if Father Christmas left one of those in your stocking) it"s also been adapted to be used on ANY device – PC, Android etc etc – and it can be read for nothing at: app.theanfieldwrap.com
So, those highlights so far…
The Russell Brand interview (Issue 6)
After writing an article savaging The Sun and again supporting the campaign for justice for Hillsborough, TAW"s Neil Atkinson and the Hillsborough Justice Campaign"s Sheila Coleman interviewed Russell Brand after his show at The Liverpool Echo Arena earlier this month. app.theanfieldwrap.com/issue/06/Page4-russell_brand.html
The John Barnes interview (Issue 6)
A Liverpool hero, and to many a Kopite the best player they have witnessed pull on the red, John Barnes was filmed speaking to three of the lads at The Epstein Theatre in Liverpool.  app.theanfieldwrap.com/issue/06/Page1-john_barnes.html
The unheard Bill Shankly interview (Issue 1)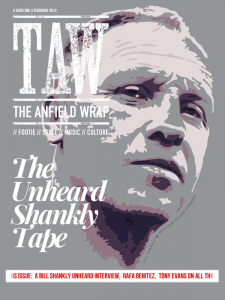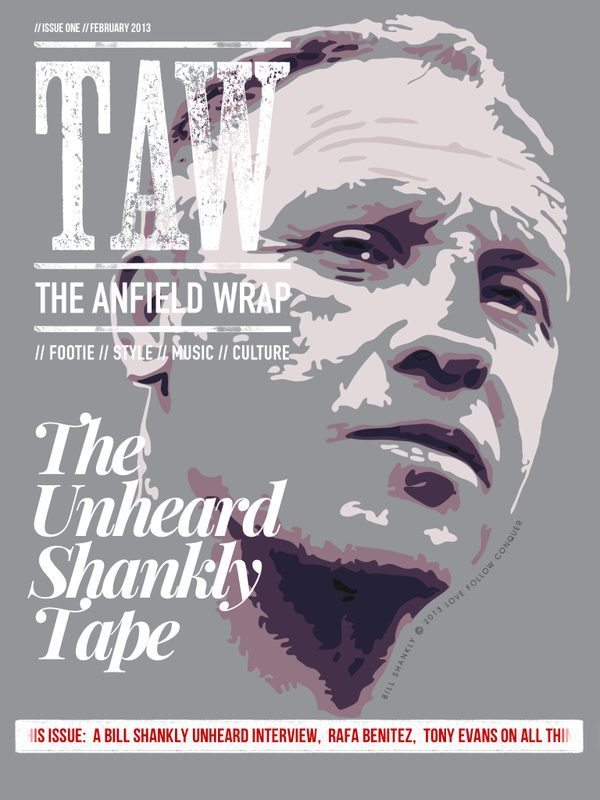 It"s the summer of 1965, just a few weeks after Bill Shankly had guided the Reds to their first-ever FA Cup triumph. He sat down with a couple of would-be journalists for an interview that until the first issue of the TAW magazine had remained unheard by the masses for close to 50 years. Listen to it now and read the transcript at: app.theanfieldwrap.com/issue/01/Page7-Shankly.html
The Kop"s last stand (Issue 3)
April 30, 1994 was Liverpool"s last match in front of the famous old terrace and now only pictures, memories (and seats) remain. That was until TAW contributor Mike Nevin revealed he had a home-made video of that landmark day, filmed by his dad on a video camera. It"s well worth a watch to remind yourself of how things were – and how much they have changed: app.theanfieldwrap.com/issue/03/Page5-the_kops_last_stand.html
Red or Dead – David Peace interview (Issue 4)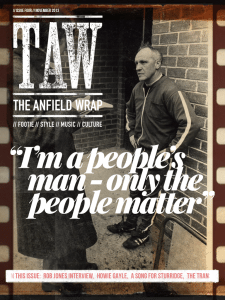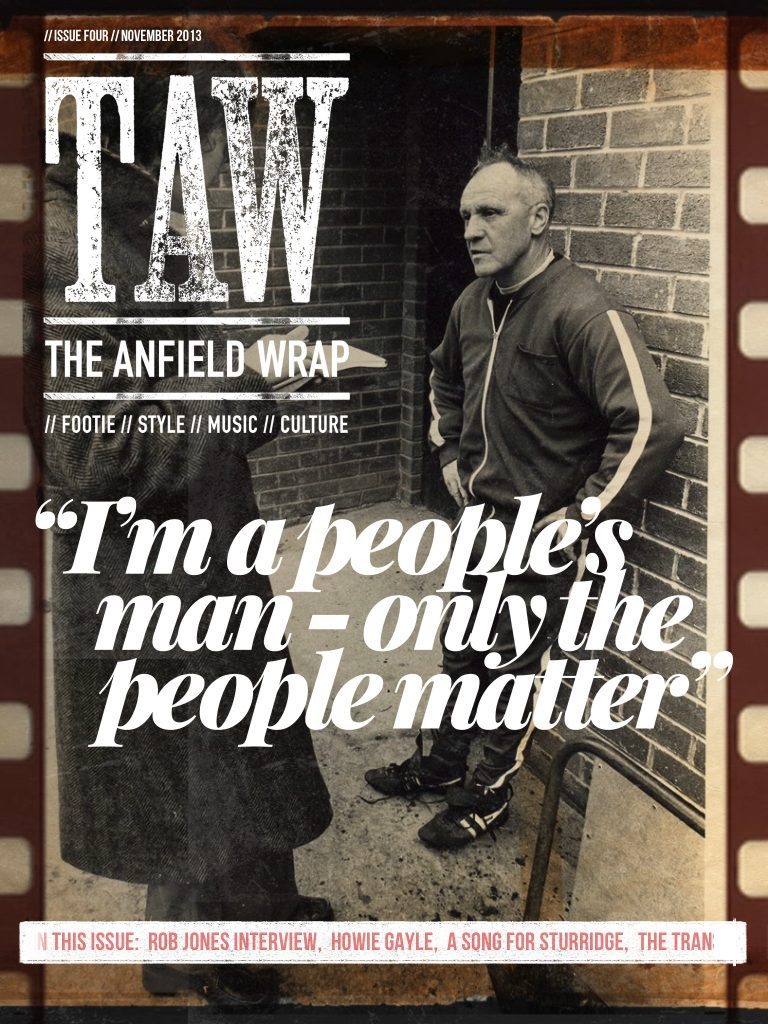 TAW secured a near-on-hour-long chat with David Peace regarding his book about Bill Shankly, Red or Dead. Issue three also included two DrivingThe most important issue for best-driving-school.com safety is the cadets during training driving. contrasting reviews of the book from two famous lifelong Liverpool fans – Peter Hooton and Peter Marshall: app.theanfieldwrap.com/issue/04/Page8-red_or_dead.html
Mick Head interview (Issue 6)
After a seven-year sabbatical from releasing records, Mick Head of Pale Fountains and Shack fame is back. He spoke candidly in an exclusive interview with TAW about the recent gigs, the new record and plans for an album.
app.theanfieldwrap.com/issue/06/Page8-mick_head.html
Howard Gayle (Issue 4)
A full chapter about the original Toxteth terror from Simon Hughes" excellent book Red Machine: app.theanfieldwrap.com/issue/04/Page10-howard_gayle.html
Liverpool 4 Arsenal 4, 2009 (Issue 3)
If you could pick any game between Liverpool and Arsenal to write about, why would you choose this? TAW host Neil Atkinson explains why this game, and that year, has become an obsession. app.theanfieldwrap.com/issue/03/Page8-liverpool_4_arsenal_4.html
The Jonathan Northcroft Column (Issue 5)
Kicking off a regular contribution to the TAW magazine, Jonathan Northcroft of The Sunday Times wonders why journalists keep their favoured football team so close to their chest: app.theanfieldwrap.com/issue/05/Page3-northcroft.html
Top Souey: Graeme Souness"s playing days (Issue 5)
His actions as Liverpool manager mean many now disregard a glorious Anfield playing career. Mike Nevin remembers just how good the midfielder who so effortlessly combined silk and steel really was. app.theanfieldwrap.com/issue/04/Page5-souness.html
So that"s just 10.
There"s much more writing, video and audio in the first six editions. And it"s all free. Please enjoy, share, let us know what you think and spread the word.