PAUL COPE said to me: "Listened to your Melbourne podcast. And I just thought, yeah. We should enjoy it. It should be great. It used to be. We get to go and do this and all we do is act like it ruins our day whereas people'd kill to do this every week. Well let's start fucking enjoying it. I'm going to have a great season."
I'm still buzzing off Saturday.
Rob Gutmann said to me: "I'll take the scrappiest 1-0 from Stoke. The scrappiest." I said to him: "I think we need a statement of intent display. A performance. Houllier or Benitez seasons can start scrappy but this Liverpool side did its best stuff in style last season."
We got scrappy. We got a statement of intent. We got both.
Liverpool were terrific at times. Fluid and intelligent. Lucas and Gerrard held court in centre mid. Coutinho shining like a national guitar. Aspas lithe. Sturridge splendid then brave. Kolo Toure became a man we'd follow to the very jaws of hell. Then they tired without the second they deserved. They had to fight. The side was painfully let down by the vice captain before Mignolet got us all out of jail.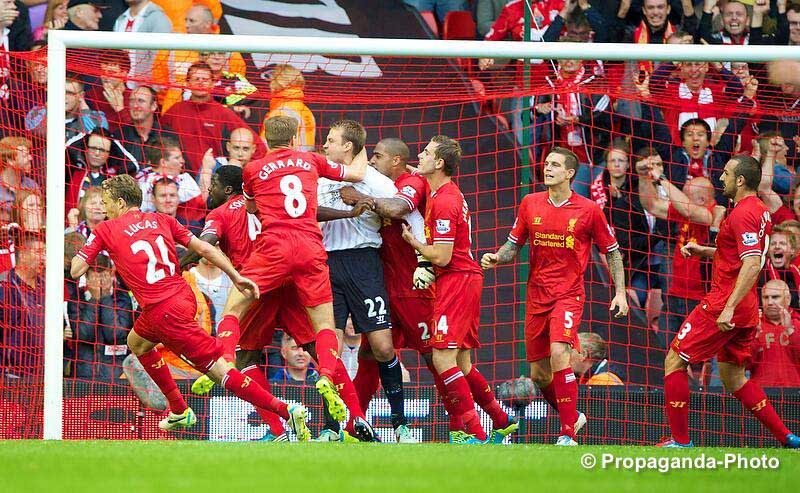 John Cross channelling Emmylou Harris on Twitter described the collective as "The city of forgiveness where everyone bar the unfaithful lover is to blame." John, you need to get up here. We aren't anywhere near as romantic as that these days. We spend our time fighting the darkness that hacks at our heels every year and being tainted by that fight. But at our best these days there's a noisy, gnarled defiance that I love. Nothing says Liverpool like a communal "fuck off you." Loud while through gritted teeth. Watch the last twenty minutes of Chelsea at home in 2005 again. Spurs home 2010. City in the league cup semi. Just fuck off you.
The sheer fuckoffedness in the aftermath of Mignolet's penalty save was glorious. Liverpool's day was saved. Our day was saved. It was the sound of forty thousand days saved. The sound of forty thousand days saved times nineteen. Times thirty eight. The darkness that Martin Skrtel against City, combined with the Dempsey cock up and the Arsenal debacle, let in last season wasn't being let through the door on Saturday. The darkness that was Hodgson Hodgson endless Hodgson, that was Skrtel and Carragher breaking each other's face, that was Charlie Adam running round in centre mid shattered and apologetic after sixty wasn't darkening these parts. Just fuck off. Fuck off with that. We don't want that taint. We were roaring because it was kept at bay and because we need to keep it at bay. Liv-er-pool belted out by all quarters because that is who we are for better or worse. Liv-er-pool fuck-off-you.
And so we were all out. We all had a great day. A great Saturday with laughs and shrugs and drinks and jokes. We were buzzing. So let's keep buzzing. Let's see the club do the business in the dying days of the market and let's all come together to build some massive defences against the darkness that dogs us. We aren't good enough to assume it won't grab at us and I include next Saturday in that. But we all have to work at it. We are good enough to keep shaking it off. We owe it to each other around the world not to acquiesce to it.
Saw Cope. He said someone started moaning near him after three minutes. He felt a bit sorry for him. That bloke needs to get with it. Look at them. They suddenly could be a red gang again. Not yet a squad but a gang. I want to be one of Kolo's Heroes. I want Steven's lime green boots. I want Lucas to stick up for me against a million grocks.
Saturday sits on my shoulder. I want it today and tomorrow and Wednesday. I want it thirty seven more times. People'd kill to do this every week.