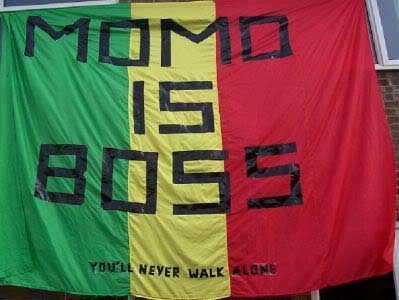 SOMETIMES less is more. It took just three words to sum up the collective thought of thousands: "Momo is boss."
Simple but effective, the playing style of Mohammed Sissoko and the banner that bore his nickname.
It's hard to know what truly warrants the moniker of cult hero because everyone has a different view – that's the beauty of it. For me, it's an underrated player – or a limited one that busts a gut for the cause; a man that leaves everything on the field and nothing in the legs and does the work others shy away from.
Momo was all of the above.
As far as winning the fans over went, he got off to a good start. These days, internet-based misery arses whinge about every incoming player like the club has offered Istvan Kozma a new deal.
And a new signing can quickly feel the ire of the fickle fans among the matchday support if they don't instantly convince – ask Lucas or Jordan Henderson.
But the spindly-legged 6ft 2ins midfielder with an assassin's stare instantly won over Reds simply by turning down a move to Everton to sign on the dotted line at Anfield for £5.6million from Valencia.
Anything that reinforces Everton's rightful place in the pecking order on Merseyside is money in the bank but the truth is the 20-year-old Malanian was always going to choose red over blue in the summer of 2005.
Not only were Liverpool European Champions at the time (like you needed reminding), but Sissoko had previously played for Rafa Benitez, helping to win the La Liga/Uefa Cup double that had put the Spaniard on the Reds' radar as Gerard Houllier's replacement.
"He's a young central midfielder who plays a high-energy game with a high tempo," said Benitez. "He's young, he's not bad on the ball and he will improve the balance of our team."
Well he was definitely young and high energy. Not bad on the ball? We'll put that down to Rafa's PR skills.
According to the not-always-reliable Wikipedia, Momo started his football career as a striker in the youth system at French club Auxerre.
There was little sign of an attacking prowess in a red shirt, his only goal for Liverpool came on August 25, 2007 when Sissoko started in place of the injured Steven Gerrard against Sunderland and scored a first-time effort from 25 yards.
Pretty decent for your only goal for the club.
But no-one was complaining. Momo wasn't there to score goals. He was a one-man shield in front of the defence, a leggy stopper with endless energy who snapped into tackle after tackle and chased the ball like his life depended on it.
Some may say he was limited, but he was there to do a job – win it, give it and return to his position, snarling like a guard dog ready for the next opposition attack.
To many, his approach was mad. He burnt energy like nobody's business, getting through tonnes of work and running around like a toddler overdosed on e-numbers.
Opposition players and fans must have looked at this loon charging around the turf and thought, 'He can't keep that up for 90 minutes'. He could you know – see Cardiff 2006.
Everyone remembers Steven Gerrard's contribution to that FA Cup final with West Ham but Sissoko was at his destructive best that day. Only one of the best goals in the history of the competition denied Momo the plaudits.
One quarter of what the Kop crowned "the best midfield in the world', it was no coincidence that in the 2005/6 season Liverpool clocked up a record Premier League tally of 82 points as Sissoko and Xabi Alonso formed a perfect midfield partnership of graft and guile.
If Alonso was the artist, effortlessly stroking the ball around the pitch like only he could, then Sissoko was the bouncer at the door stopping the scallies coming in and tearing up the canvas.
In his 87 games for the club, Liverpool's win ratio was 63 per cent according to LFC History.com. How the side now could benefit from some of his shin-biting nastiness in the centre of the park.
Sissoko was clearly a fans' favourite. As well as the banner, there was the 93rd place in the Players Who Shook The Kop poll (that took in EVERY player to wear the red shirt remember) and the songs: "Mo mo mo, he's magic, you know – you'll never get past Sissoko" probably being the best, but others – a Banana Splits theme-based ditty and one based on 2Unlimited's No Limit (bit too Tony Cottee from across the park for my liking) were also heard.
Given that many players arguably more deserving and definitely more gifted than Momo now rarely if ever hear their name sang (Glen Johnson springs to mind), it was clear that the Kop looked beyond Sissoko's limited passing and dribbling and often poor first touch and instead drank up his spirit and passion for the game.
He might have been grown up in France, but Momo was Scouse at heart.
Many perhaps harshly suggest the love affair began to unravel in February of 2006 when Sissoko took a boot to the right eye from Benfica's Beto. It left him temporarily blind with damage that continues to affect his vision.
He was initially told he would never play again before later being advised to wear Edgar Davids' style sports glasses to protect his vulnerable eye but after trying them, he decided it wasn't for him.
In a sentence that could easily have tumbled from the tongue of the Scousest of Scousers, he said: "Our doctor spoke to the Spurs doctor about Edgar Davids and his glasses and we've tried ones like his and different types, styles and makes, but I can't manage with them. I can't be doing with them."
Sissoko returned to the side in a 7-0 FA Cup win over Birmingham and went on win the trophy later that season, turning in a performance truly deserving of a medal.
While that will be one to show the grandkids, his pinnacle performance-wise was probably the home leg of the Champions League tie with Barcelona in 2007.
Having missed three months with a shoulder injury, his all-reaching legs were a big part of a 0-1 result which was enough for Liverpool progress after the brilliant win in the Nou Camp.
As well as helping to keep Ronaldinho, Samuel Eto'o and Lionel Messi quiet, Momo was booked and hit the bar in an all-action display that won him the man of the match award and for a short time at least reportedly put him on Barcelona's shopping list.
By 2007/8, with Javier Mascherano impressing as a 'Sissoko plus' – coupled with a dip in form from Momo – the writing was on the wall for the midfielder. A League Cup tie with Chelsea just before Christmas proved to be his last game and in January 2008, he moved to Juventus in a £9m deal, signing a five-year deal.
But, underlining his cult status, Momo signed off with an open letter to fans. "Even in the worst moments you have a strong sense that the fans are with you, supporting you as much as they can, never giving up, those fans make Liverpool even stronger," he said.
"I really want to thank them for helping me to feel and to understand what football means in its purest form.
"I shall fight hard for my new shirt to the end, but when every match is finished, I know what I'll do first – I shall ask about the results of Liverpool FC."
Magic. No wonder we thought he was boss.