As this Sunday approaches, it's time to ponder the return of a bona fide Liverpool legend. The man who gave a Liverpool a 5th European Cup (to keep) is back.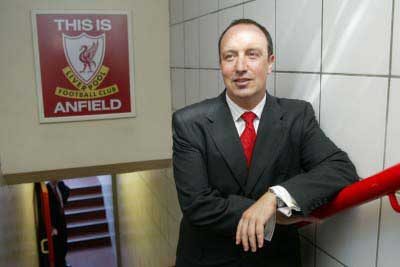 Rafa Benitez returns to Anfield for the first time – at least in a football sense -since his poignant departure from the managers' office in the summer of 2010. The most obvious casualty of a civil war, precipitated and perpetuated by the ownership of Tom Hicks and George Gillett, has been absent nearly three years, yet it feels like we've never stopped talking about him since.
Rafa's recent reappearance as an interim manager, succeeding the jettisoned Champions League winner, Roberto Di Matteo at Chelsea, surprised many but after an ill-advised and unsuccessful Milanese venture at Internazionale and the sabbatical that followed, it was inevitable that he would pop up again somewhere – even if Stamford Bridge was the most unlikely of destinations. Benitez's ageing CV needed a boost, so he was evidently prepared to suffer the wrath of factions within the London club's support to put his name back in the upper echelons of the managerial frame.
However, it is hard to imagine Rafa had any understanding or could have foreseen the level of hostility which would be directed his way from the vast majority of the Chelsea faithful. If Benitez had underestimated the low opinion of him that was ubiquitous in West London, he knew all about it the moment he took his seat in the home dug-out ahead of his debut fixture against Manchester City. The boos, banners and cat-calls were testimony to a managerial repute pummelled by the worst ravages of an insane media witch-hunt while at Liverpool, but counter intuitively, the product of his mastery of the Chelsea icon, Jose Mourinho, in his favoured arena of European football.
Despite some successes; a notable victory over Manchester United in the FA Cup, progress to the semi-finals of the Europa League and, at last, some goals from his former charge, Fernando Torres, the initial disconnect between Benitez and the Chelsea fans has, if anything, widened. Inconsistent league form threatens a place in the top four starting from a favourable league position when he took up the reins. The septic Stamford Bridge atmosphere hasn't helped, and after a cup win at Middlesbrough in March, Benitez waged war on his detractors, attributing a measure of blame to those whose quarrel with the manager takes precedence over support for the home team.
So what sort of reception can Rafa expect from the Kop on Sunday? How will he be received by a crowd that was polarised towards him by the end of his Anfield tenure?
In all likelihood, he will receive warm applause and perhaps a familiar song from the terraces – recognition for Istanbul at the very least. You can almost see it now, as he emerges from the tunnel, having touched the This is Anfield sign, acknowledging supporters close by in the Paddock and Main Stand, and those more distant in the Kop and Centenary Stand with a humble, almost apologetic wave; then a nod, a wink and that recognizable, shy smile.
But the dynamic in Sunday's crowd, which will forge the strongest atmosphere of the season, is far more complex than a generic feeling of affection among the fan base for a former manager. There will be some Liverpool supporters inside Anfield who almost loathe Benitez, and at the other end of the scale there will be many wishing he could swap the away dug-out for the home benches while Brendan Rodgers' back is turned. Whatever the merits of Rafael Benitez's six seasons at Anfield, he divided opinion throughout his time on Merseyside. For every disciple there was a naysayer; for every cherished European triumph you would hear the lament that "this fella will never win us the league".
In the wake of his latest media-depicted "rant" at the caustic Chelsea hordes, Rafa's name rang out loud not from the Chelsea "Shed" but from the Liverpool away end at Wigan the following weekend. Perhaps this isn't so surprising, given that the many of the younger element that forms the core of Liverpool's vocal support on the road, viewed Rafa Benitez as a Shanklyesque figure. A banner draped over the front of Kop Block 109, proclaims against the backdrop of 5 European Cups that the Istanbul triumph was "One for our Generation", so it is only natural that the Reds' younger fans cherish their memory of the man who orchestrated that victory.
Conversely, many of Liverpool's traditional, established match-going supporters never quite came to terms with Benitez's rotational selection policies, which flew in the face of the "pick your best team" mentality that served the club so well throughout the distant days of the 60's, 70's and 80's. And, if the older Kopites and Main Standers had been present on many a joyous European night, not many had heard of "zonal marking" until they were hypnotised by an army of pundits into believing that Rafa's crackpot foreign ideas were responsible for every defensive lapse.
Of course it's not as simple as battle lines being drawn plainly by age; some of the younger brigade turned on Rafa quicker than Fernando Torres used to spin Nemanja Vidic, and plenty of the more experienced fans recognised difficulties Benitez faced working under the financial constraints and petty disputes of the discordant Hicks and Gillett regime. Either way, when the wheels inevitably fell off at the height of internal strife in 2010, Benitez sympathisers were hard pressed to have a quiet pint in Liverpool without being accosted by some loon advocating his sacking. Sadly, similar sentiments were being shared in an Anfield board room dominated by a phalanx of financiers hugely short of football acumen.
So, three years on the Benitez era, which saw Anfield stage Champions League Football in each of six seasons, is firmly in the past, even if it feels just like yesterday. Equally, it is hard to believe that we've also suffered the contrasting misfortunes of Roy Hodgson and Kenny Dalglish in between.
Sunday's Liverpool v Chelsea clash should be feisty. The Reds need a win, with a Derby match on the horizon that could still trigger a league finish above an Everton side that is taking plaudits for being the best Goodison outfit for a generation. Sixth place would be a measure of some kind of progress for Liverpool and Brendan Rodgers. Kopites should be united in badly wanting to defeat Chelsea, though I suspect there will be contrasting motives in the stands.
Undoubtedly, swathes of the Anfield crowd went sour on Benitez's Anfield "Rafalution", if only through the heightened expectations brought by that heartbreaking Premier League near miss of 2009. For many, the blame lay squarely with the manager; a perceived negativity the rationale for the draws that cost us an elusive 19th title. These same supporters will be eager to see a Liverpool win and Benitez sent packing, to ward off any clamour for his return. Vindication of one's opinion is as much part of the modern fan's thinking as a lifelong devotion to the cause, and a strong Liverpool performance might even have some out of their seats to proffer a song.
For those who still pine for Benitez, and there is much sense in nostalgia for days when Champions League finals beckoned, surely we want to remind Rafa of Anfield at its spine-tingling best. There is a precedent for similar emotions; when a revitalised Kenny Dalglish first brought his emergent Blackburn Rovers team to L4 in November 1992, a Liverpool side languishing in 10th place was sufficiently enthused by the urgings of a baying crowd to storm to a 2-1 victory inspired by goals from Mark Walters.
Brendan Rodgers has yet to fully appreciate what a bouncing Kop can do for his players, so an occasion like Sunday is an opportunity to inspire the new incumbent. Rafa's return is not only a chance to salute the most charismatic and successful manager of our recent history, but it offers as well, the prospect of looking forward rather than back.
Brendan Rodgers has endured a difficult first season in charge and his inexperience – haphazard selection and hastiness in his judgement of certain players – has occasionally been all too evident. Conversely, the football has generally been good, some individuals have mode notable progress, and the "group" seem to be behind him and his playing ethos. He deserves our backing; he's the Liverpool manager after all.
On the field, Pepe Reina, Daniel Agger, Glen Johnson, Jamie Carragher and Steven Gerrard might feel a special kind of motivation – perhaps like the supporters, drawing from contrasting emotions – from locking horns with their old boss. An increasingly leggy Liverpool team should find some common ground with an overworked Chelsea outfit that looked pedestrian at Wembley last week, after a trip to Russia in the Europa League. Tactically, an interesting contrast of styles offers Brendan Rodgers the chance to outwit the master of the one-off occasion; a win here would do wonders for the way his fledgling management is perceived among the wider Liverpool fan base.
Perhaps the greatest tribute that can be paid to the returning Rafa Benitez is that we create an occasion that stirs Liverpool in the way his team were inspired by the raucous backing of the Kop on those special nights in 2005 and 2007. He might be in opposition this time, and the significance of the match pale in comparison with those epic Champions League encounters, but the least Benitez, and Brendan Rodgers, deserve when they meet this weekend is an intensity inside the stadium sadly lacking from Anfield since Rafa was last here. And best of all, if Liverpool win, "Agent" Benitez probably won't be arsed.