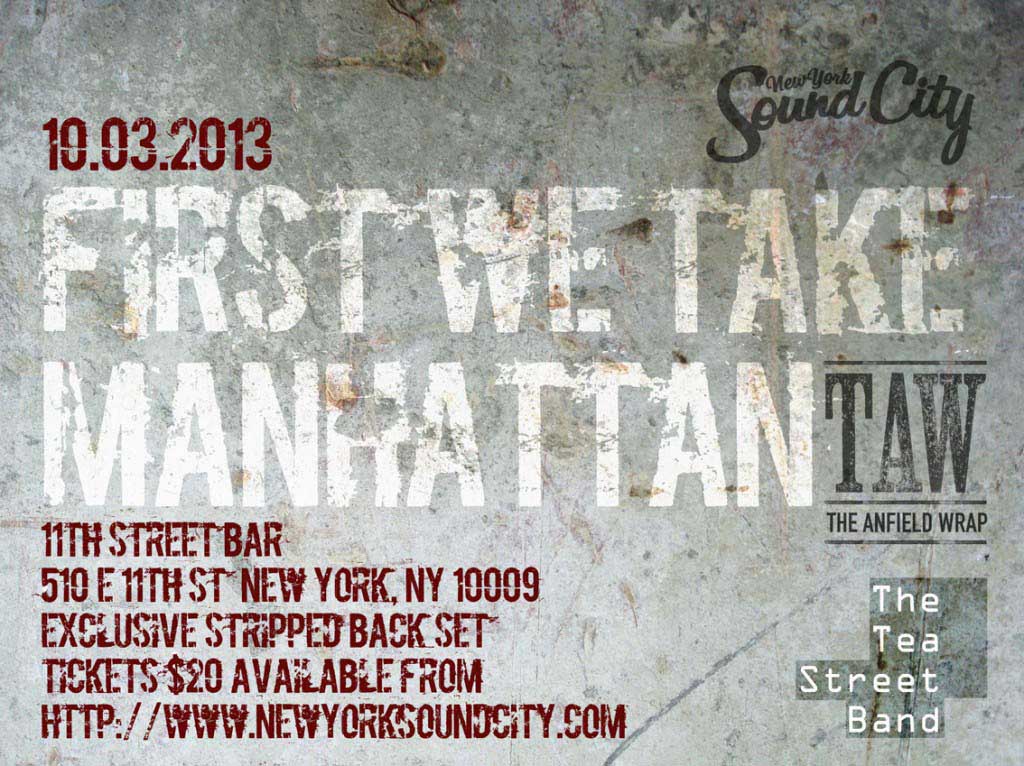 I'm still stunned they asked us. But asked us they have. The Anfield Wrap goes transatlantic later this week as we go over to New York as part of Sound City to showcase Liverpool's cultural life.
Not only that, they've said some nice words about us too, here is Sound City CEO Dave Pichilingi on the NYSC events.
"We are delighted to be working with The Anfield Wrap on our second edition of New York Sound City. It is a match made in heaven. Football and music are intrinsically linked. This partnership allows us to give a massive slice of Liverpool to the US market and give the Americans an insight into the other events we offer around the world that emanate from our home city. This is the first for a number of other events we will be working on together."
So what is the plan?
We land Friday, eat all the food and drink all the drink on Saturday and then Sunday we get out of bed sharpish and go somewhere to watch The Mighty Reds first thing in the morning face Tottenham Hotspur in a 4th place six pointer (hopefully…).
I often notice overseas supporters talking about getting up/staying up to watch football. I always think it is an adventure, certainly first thing. I like watching Liverpool early. Gets it out the way. Your day is your own at that point.
You can either have a big day or get on with your day. You're out the house so the sky is the limit. I wouldn't want it hanging over me, a 10am kick off, grinning menacingly from the dark of the evening; defining the day but not emerging till the embers are glowing in the fire. That's not for me. But a bit of breakfast football? I am most definitely psyched.
That done, we might see the sights for a bit. They have the sights in New York I believe. Whether or not it will match up to Bray's magic is unknown. I've been told there aren't many 2p slot machines in New York so that is one black mark against it.
Then on Sunday evening, 6pm sharp, we will be in the headquarters of the LFC NY Supporters club on 11th Street in Manhattan. Molding it. Making sure it will never be the same again.
We'll take Manhattan for that 6 – 9pm stretch in New York. Us and the Tea Street will blast the roof off the place with our celebration of Liverpool and all the fun around her. Mike Nevin will talk about 85/86, a subject on which he is expert having written this book. Tea Street will get everyone bouncing and we'll head off, into the night, joy unconfined.
Next day we have to be professional. At 5.30pm we will be talking to the amassed Sound City delegates about communities within social media. Telling them our story, The Anfield Wrap step by step, the who, what, where and how all building to the magazine.
It's a shaggy dog tale of accidents, plotted on beer mats by people who didn't know better. But don't tell them that yet. We have to try and impress them and pull some wool over some eyes at least for a minute.
Then, at 6pm, we will record the podcast you all listen to at the Wythe Hotel. At least we hope we will. We are under the impression they will have recording equipment. I mean, they are bound to, aren't they? Aren't they? Surely? I raise this with Heaton, he tells me there are loads of musicians so it will be sound.
As though musicians are carrying studios around with them in knapsacks and holdalls.
Regardless it will be fine. So we'll take the stage – Heaton, Nevin, Maloney, Girling and Gibbons and do the talking in circles thing.
A big walk follows. The Knitting Factory has six bands and is a few blocks away. ("Blocks" – I am going to go down *so* well in New York having already got the vernacular) A mile mooch max and awaiting us are Tea Street, Reverend and the Makers, The Enemy, The Verdict, KOF and Brodka. Brodka! I cannot wait to hear Brodka. Who else is bringing Polish pop? I am beyond excited and am willfully dodging listening to anything recorded by Brodka. I want the unvarnished experience of hearing it for the first time. In my head it sounds like The Knife meets Depeche Mode sung by Nico. I can only be disappointed but imagine if I am not. Imagine.
This night in The Knitting Factory features so highly on my current list of things I'm excited about. Everyone's got something about them that I want in my life and we will formally be off duty. I'm excited by the walk from the Wythe with all our new friends who have just been at the podcast. Can we brown bag it? Is brown bagging a thing? Do we need to brown bag? Can I get guidance? I'm excited by The Knitting Factory and all the dancing.
We want people to come – as many as possible. I've no idea about the status of the tickets. I know it is a Monday but I believe Americans are rock hard. They get about three statutory days off a year but still enjoy themselves. If anyone works in media I think the delegate tickets will be a great way to meet people and also want as many allies as possible. Come! And the parties on Sunday and Monday night really will be terrific. I can almost guarantee it.
We just need a result against Spurs. What can go wrong?
Anyway, the reason for this post, well tickets are nearly sold out and we'd hate for anyone who might be thinking of going to miss out, and John Gibbons, our head of music content, is going to tell you why you should get in now as opposed to chancing it later and missing out on a great few days with us and some boss bands.
"I am told there are not many tickets left for Sunday and Monday so you need to get a move on. I really want you there. You're the reason I'm coming. Sunday is going to be a great party, ask anyone who went to Bray and they will tell you not to miss it.
"Tickets are now available behind the bar at the 11th Street in Manhattan and when they are gone they are gone.
"You are also getting a stripped back set from The Tea Street Band which has never been seen before. This is musical history. You don't want to miss it.
"Monday is GOING OFF. You can be the first people who have ever sat in and watched Anfield Wrap podcast being recorded. How exciting! Then you get to come along with us and watch 7 fantastic bands for a very small price indeed. And most of all you get to see Neil Atkinson dancing.
"Tickets for that are available at http://www.liverpoolsoundcity.co.uk/home/business/nysc-tickets.aspx.
"Come to both. Party with us. Wear something pretty. We can't wait to see you."