THERE'S another international break on right now and that, added to the fact that Liverpool's fixtures either side of it have ended up being awaydays, Anfield is having a little quiet spell. But there's still a very good reason to get yourself down to the home of LFC next week. Liverpool FC stars want you go down and spit at Anfield.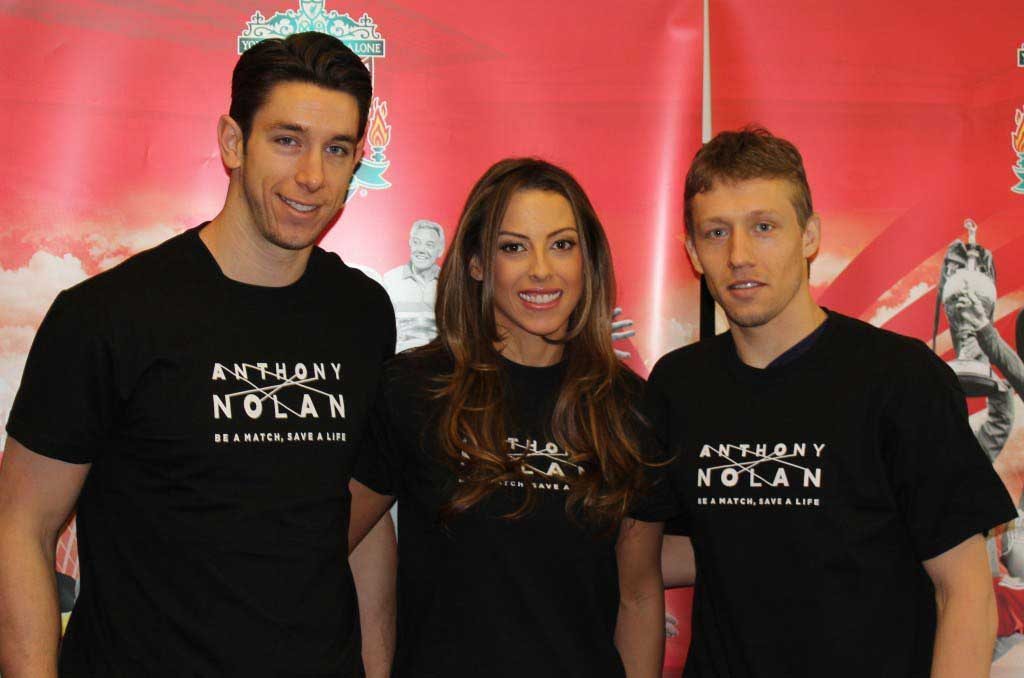 Liverpool FC, in partnership with Anthony Nolan, the UK's leading blood cancer charity, are staging a special event at the stadium on Monday 25th of March, starting at 3pm. The event is being staged with the aim of finding potential donors to help those who are in desperate need of a bone marrow transplant.
Anthony Nolan is a charity that saves lives. Every day they use their register to match volunteers who are willing to donate their blood bone marrow to people who are in desperate need of that bone marrow. Every 20 minutes, in the UK alone, someone is diagnosed with blood cancer.
The charity's focus isn't just on raising funds – as well as the costs of maintaining the register it costs £100 to add a potential new donor to it – but also on raising awareness of the register and to try and get more people to put themselves on it.
Anthony Nolan need more men aged 16-30 to sign up – 80% of bone marrow donations are to those in that group yet only 12% of those on the register are in that group. It's safe to say that a lot of those who read, listen to, interact with or laugh at the dress sense of TAW are in that group hence this call from us for you to please get yourselves on that list.
Even if you aren't in that group, get yourself down there and take some of your mates with you. Maybe you can persuade the boss to let you have an early dart but if not you should still have time – the event runs until 7pm.
The event is being supported by Reds' keeper Brad Jones and his partner Dani Lawrence, who is an Ambassador of the Anthony Nolan Charity. Brad tragically lost his son Luca to Leukaemia over a year ago.
Dani said: "We are delighted that LFC is backing this event to help raise more awareness of blood cancer.
"Luca was a happy and healthy four year-old boy when he got diagnosed with Leukaemia. You never think it will happen to your family but, if it does you, hope that there's enough people who have become potential donors to give your loved one another chance at life.
"We particularly need young men aged 16-30 to sign up as they account for 80 per cent of bone marrow donations, yet make up just 12 per cent of our register," she added.
A host of Liverpool FC's players, including Lucas Leiva, Joe Allen, Martin Kelly, Daniel Agger, Stewart Downing and Luis Suarez are backing the campaign and have added their names to the shout for people to get down. The Liverpool FC Foundation, LFC's official charity, is also behind the drive and will be providing its Youth Ambassadors to be on hand as volunteers on the day.
The Foundation's Head of Operations, Mark Haig, said: "Our Foundation is dedicated to improving people's lives through the power of the LFC badge. Cancer is a major public health issue on Merseyside. Working closely with Liverpool NHS and Cancer Research UK the Liverpool FC Foundation promotes cancer awareness and healthier lifestyles as part of all its programmes.
"In supporting Anthony Nolan it gives our community the chance to help others. We urge as many people to come down to Anfield and take advantage of this opportunity to make a difference in combating cancer."
To take part in the drive – and to save lives – get down to the Anfield on Monday 25th March between 3pm and 7pm. The event will be held in the Reds Lounge in the Centenary Stand.
Once you're in there you'll just need to spit into a tube (maybe you can persuade some blues to come down with you on the basis they get to spit at Anfield) and that saliva sample will be used to get your details on the register so that one day you can be matched up to someone in desperate need of a transplant.
Everyone who registers will be entered into a raffle, with prizes including a signed shirt from the LFC first team and a bike donated by the LFC Foundation.
If you can't make the event itself don't be put off joining the register – you can sign up online at www.anthonynolan.org/spit and they'll send you a kit in the post so you can send your spit to them that way.
At the moment, despite having close to half a million people on the register, Anthony Nolan are still only able to find suitable donors for about half of those who need a transplant. Drives like the one being held on Monday are an important way of helping to close that gap so as well as doing what you can to get down do what you can to spread the word.
Pics: LFC / Anthony Nolan