IN his fascinating new autobiography, Rob Jones relives the highs and lows of his time at Liverpool FC, including what happened to him after being told to hang up his boots at the age of just 27.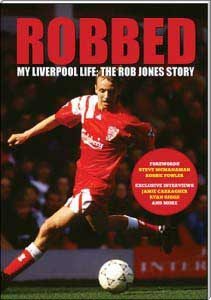 In this exclusive extract for the Anfield Wrap, Jones explains the role Steve McManaman and his Real Madrid teammates played in helping to drag him out of the doldrums.
****
….Little did I know that my first day in the Spanish capital would see me at the heart of a massive celebration dinner amongst the entire Real squad.
When Macca arrived to pick me up he explained that one of the lads had just had his first baby and that the team were going out to celebrate. He had only just joined and barely spoke a word of Spanish but was determined to go along and show he was keen to be a part of the group.
I think that"s why he had such a good relationship with his teammates throughout his time at Real. In those early days he would still turn up and get involved even though his Spanish was limited.
So there am I, stood in Madrid airport being told that I was going to be his guest at this massive celebration. He phoned the France international, Christian Karembeu, who spoke a bit of English to confirm whether it was okay that I attend. It wasn"t a problem.
It was a bit nerve-wracking to be honest. We arrived at a restaurant in town and sat at a long table. I was sandwiched between Fernando Hierro and Ivan Campo. Macca was opposite me. There were mega stars everywhere I looked. It was a bit of a buzz and somewhat daunting at the same time.
I started chuckling to myself when the glasses were chinked and all eyes turned on Macca. It was his first informal get-together with his new teammates and part of the initiation was to stand up and give a speech. Rather him than me, I thought to myself.
There were a couple of new boys there that night so he wasn"t alone. Macca had to do his in Spanish and he managed to say a few words without making a fool of himself.
I thought that would be the end of it but an uneasy feeling began to surface in the pit of my stomach when a rapid exchange in Spanish was followed with Macca nodding and looking at me.
I could sense it coming. I pulled a face and gave Macca a subtle shake of my head. He just smirked. He could just about understand what they were saying.
He leaned towards me.
– Trig mate. You"re going to have to get up and give a speech.
– You"re kidding aren"t you?
– Come on mate, it"s only a bit of fun. You"ll be fine.
– Macca, I can"t speak a word of Spanish. I"m just going to look like an idiot.
– It"s okay. They are happy for you to do it in English. And besides, there are only a couple of people on the entire table who will understand what you are saying. Easy mate.
So there I was, stood like a complete lemming speaking to a table of superstars. Needless to say, I had necked a few beers for Dutch courage a moment or two before my brief cameo in the Madrid spotlight!
I kept it short and sweet. I congratulated the player on the birth of his new baby and thanked them for inviting me. No one seemed to know what on earth I was saying and there were a few seconds of awkward silence before Macca burst out laughing. That gave the others the cue to join in and there were a few slaps on the back for me.
I figured that they all just assumed I was a nobody from England who was big pals with Macca but I later found out some of them knew who I was.
I went to the toilet and Hierro came and stood next to me at the sink when we were washing up.
– You. You were Liverpool. Right-back, no?
I was a bit taken aback but I was made up he was trying to speak to me.
– Yes, that"s right. Not anymore but I used to be at Liverpool.
– Ah, I thought so. I said to Macca that I knew your face.
He walked off wagging his finger at me and smiling.
When I got back to the table word had begun to spread. There were quite a few cheers for me as I sat down and when I caught the eye of the likes of Raul and Roberto Carlos there were a lot of smiles and nods.
It turned out to be a great night and was the perfect pick me up.
I returned to Madrid six months later and when I came through the arrivals gate, Macca started laughing.
-You pick your times mate. The lads are having a night out tonight. It"s the first one since you were here last time! You"re going to have to come again.
They were a good bunch. Macca later told me that they actually thought I was living with him! They assumed that because I kept turning up at the get-togethers I must be based in Madrid.
I"m just glad they didn"t think I was his partner!
I had some amusing adventures visiting El Macca.
If it wasn"t hobnobbing with Galacticos, it was watching him try to convince the Spanish police I wasn"t an intruder after setting off his garage alarm in the early hours one morning!
Macca"s wife, Victoria, had been involved in a minor road accident that had left the side of her car badly scratched………….
Signed copies of Robbed are available to order from Rob Jones"s official website >>  
Alternatively, get the digital version of the book on Amazon for £6.99 >>>