By Andy Gargett
IT has been a turnaround that would have made Lazarus proud. Former Kop boo boy Lucas Leiva is now widely heralded as the saviour for Liverpool's current midfield malaise.
Lucas' second long-term injury within the year has harmed Liverpool's midfield and beyond. It is he who must provide protection against the counter attack, he who must dictate our passing tempo, he who must provide respite for the fatiguing Allen, he who must set the platform to enable Gerrard to get up the pitch, and the list goes on. It has become almost as clichéd as jeering him was a few seasons ago, but Lucas is now widely seen as the necessary tonic to kick start Liverpool's life under Brendan Rodgers (perhaps only rivalled by the mythical attacking players to be signed in January).
It hasn't always been this way. I admit that I took a long while to warm to Lucas. In the heady days of 2008/09 Lucas was the understudy for the midfield pairing of Alonso and Mascherano. Many unreasonably expected the apprentice to perform like the masters. All players make mistakes as they learn their trade. Unfortunately for Lucas, perhaps because he was a Brazilian and appeared to possess more graft than samba, he was afforded less patience than others.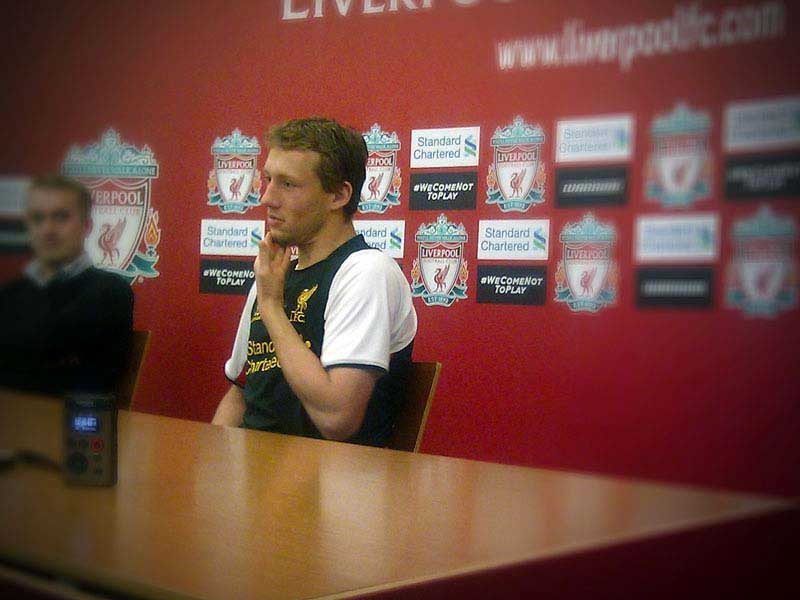 The penalty he gave away (for clipping Jason Koumas) to provide an 83rd minute equaliser for Wigan and his sending off in the Derby in close proximity typified it. The concerns with an apparent predisposition to jumping in were only outweighed by the horizontal nature of his passing. I thought there were justifiable frustrations, but there are for all young developing players. I was wrong. Dead wrong – along with the rest of the doubters. Unlike Rafa, who knew all along and famously foretold that "people just don't know how good Lucas is", we were short-sighted.
When Lucas signed for Liverpool Rafa commented he had the character to do well in England. Like his ability, he has repaid that comment in spades. Lucas' resilience is something that can only be admired. Despite the doubts and the jeers, he stuck at it and he stuck with Liverpool. Peter McDowell from LFCTV recently revealed that Lucas told Brendan Rodgers that he shed tears in the dressing room after games early in his Liverpool career. The abuse he suffered from our own fans is crazy. Sadly history seems to repeat itself with the likes of Jordan Henderson, who by the way has played a significant part in securing Liverpool's latest two victories.
The revival of Lucas didn't happen overnight. With Alonso leaving our midfield and team struggled in 2009/10. However the Alonso-shaped gap provided Lucas more and more game time. By then, not helped by poor team performances, many failed to notice the incremental improvements that were being made to his game. Illogical dislike was blinding them to the fact that a real player was emerging. Lucas' progression can be juxtaposed to Liverpool's further regression made under Roy Hodgson. And his form continued to improve under King Kenny. Deservedly Lucas was voted Liverpool Fans Player for the 2010-11 season – evidence in proof that he'd begun to win the masses over.
In the early games of last season Lucas again turned his game up a notch. It was his imperious performance against City, where he bossed and bullied Yaya Toure and co, that announced Lucas as world class. Unfortunately in the next fixture against Chelsea in the League Cup injury struck.
Without Lucas Liverpool's form, the excellent cup runs aside, wavered and the listless performances with a soft underbelly became all too frequent. As Steve Graves cautioned it is wise to be wary of statistics that relate to performances with or without an individual player – there are many other variables at play. However when you look back at Liverpool's form with and without Lucas since the beginning of last season, the numbers are hard to ignore. In that time Liverpool have played 38 league games without Lucas and have managed a very meagre 45 points. This equates to 1.18 points per game, or a dismal 13th position in the league last season. In contrast the 16 league games that Lucas has participated in, Liverpool have accrued 29 points. This equates to 1.81 points per game, or 68.8 points across the season. Last season that would have secured fifth place. This season, 16 games in, Chelsea sit third with 29 points. The contrast is stark and hard to ignore. Liverpool with Lucas is capable of challenging for the Champions League, Liverpool without Lucas is mid-table mediocrity.
Despite returning from injury and still acquiring full match fitness, the difference Lucas can make to this Liverpool team was on show against Southampton and West Ham. Southampton was quite remarkable given it was his first senior game back from injury. Seven of Lucas' eight attempted tackles were successful. The rest of the team combined only completed eight tackles. Consequently the Brazilian made 46.6% of Liverpool's successful tackles. He also completed the most successful passes, 76 from 88. This was 14 more than Daniel Agger who was the game's next best. And he was ranked third with 17 attacking third passes, behind only Glen Johnson with 20 and Raheem Sterling on 18. Against West Ham, despite leaving the game on the 70 minute mark, Lucas was the game's top passer, completing 63 of 69 passes.
However, I believe that the most impressive aspects of Lucas' game are statistically non-quantifiable. His composure under pressure, reading the game and decision-making are second to none. It is this which adds the absent balance to the team. These attributes enable him to provide protection across the width of the back four. In my opinion Lucas is the best horizontal defensive player in the game, simultaneously providing cover for the fullbacks whilst also shielding the central defenders. This cover gives the fullbacks licence to push high up the pitch. It also enables a true "one and two" midfield setup, freeing up the other two midfielders (particularly Gerrard) to push forward and get closer the opposition box. Lucas is the team's metronome, setting the passing tempo. As the deepest midfielder he is pivotal to the ball recycling that is synonymous with Rodgers' possession-oriented philosophy. Yet he is equally adept at lifting the tempo playing quick diagonal balls through the defensive lines. Pass, pass, pass, kill – that is what Lucas can do.
His mental fortitude and nous were on show against West Ham. After an impressive start Liverpool wilted in the first half under sustained West Ham pressure (particularly after Enrique's 27th minute substitution). Lucas was the calm amidst the storm. He remained solid defensively and steady on the ball whilst others around him looked more like headless chickens than professional footballers. Perhaps the only fault in Lucas' performance during this difficult time of the game was that he did not, or could not, drag Liverpool's back four up from the six yard box.
It says a lot about Lucas' transformation that both Kenny Dalglish and Brendan Rodgers could not manufacture adequate cover during his lengthy absences. It may also say something about both managers and the depth of the squad but that aside it is an understatement that his return is very welcome. Let's hope as his fitness returns he can reach his previous heights and beyond.
Impressive though it has been, we don't want to see his Lazarus act again.