STOP the press, here's an exclusive for you: all football journalists have a favourite football team. Some even support one.
There is a ridiculous notion given credence in this age of social media and global villages that those who write about football should do so bereft of emotion; that football writing should be as artificially grown as Wayne Rooney's fringe, clinical words on a page with no lustre behind them.
Most musicians love music; many actors and actresses love the stage. Only those of an unhinged, sadomasochistic disposition would enter a job so poorly paid at entry level with no love for the game.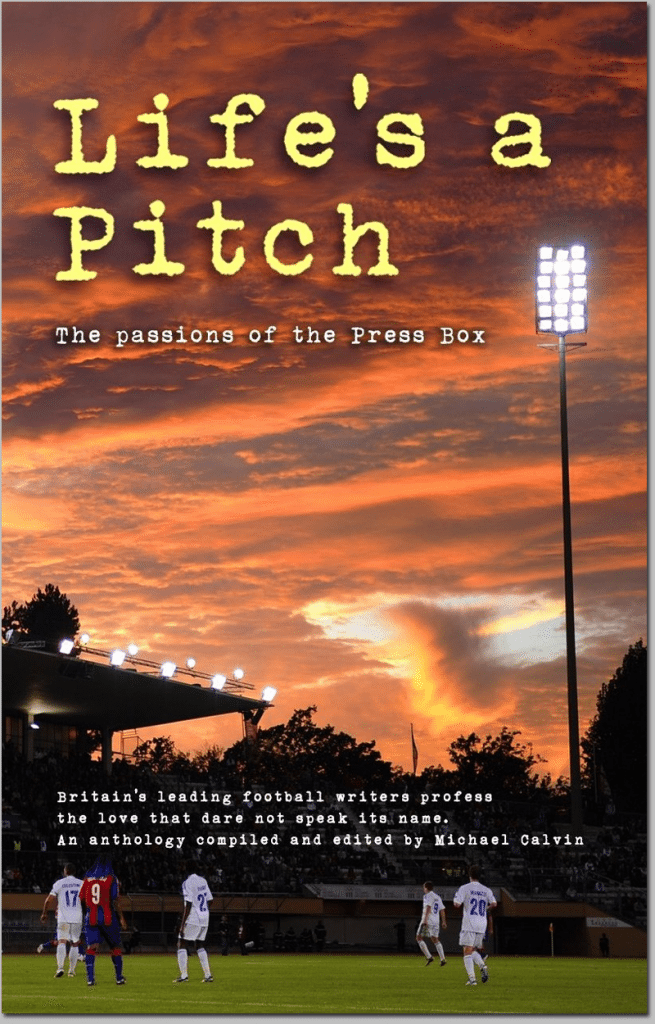 Of course we all support a football team. My experiences on the Kop as a youngster serve as my ink, every moment stored in a mental scrapbook, readily available to flick through and use. That biting October wind; the moment the door is knocked upon and your granddad stands there; the hat, cap, badge or a scarf as you walk down Walton Breck Road. It is a motive to become a writer, and ministration to do an adequate job.
That is why BT's Life's A Pitch Anthology is such an immersing read. The premise is simple: allow those who have hid in the closet, draped in scarves  and surrounded by pennants, to burst from it. As you flick through the individual stories, many jump out as some sort of confession; a liberation; standing up, in a circle of their peers, and finally admitting to their misdemeanours. The opportunity to be partisan and passionate in public is too good to pass by.
There are 18 in all, each one from a different writer, most of who appear on the BT Life's A Pitch website. There is the Daily Mirror's John Cross on Arsenal's Invincibles and what has followed; the Guardian's Dominic Fifield on Crystal Palace in China; the Daily Mirror's Martin Lipton on his father and Tottenham; the world's Iain MacIntosh on Stan Collymore at Southend.
Be warned, this is not a Liverpool-centric book – although there are three very good chapters, each detailing a different aspect of the club. It is the most represented club in the anthology. But it is ultimately an anthology, a finger-buffet of football fondness that captures all forms of the professional game: from Manchester United to Montpellier, there is plenty to choose from. Each story is a length that is easily digestible; few will have to, nor want, to read it whole.
Even for those with no interest in football without purple bins and tinny regurgitations of songbooks frayed by time, the three on Liverpool is enough to capture interest.
The Times' Rory Smith produces his usual erudite, detailed analysis as he discovers what 'the Liverpool way' actually is, concluding its absolutism has held the club back in the 21st century. Smith has a wonderful talent of focusing on a point and, rather than simply hammering it home, bludgeoning it into dust, leaving the reader with no ambiguity to his feelings. But he does so with such grace, like a bloodthirsty ballerina. So it is here, his warmth for the city he covered for years in no way hindering his eulogy on the club's business – both on the pitch and in the stands – over the past decade.
Dan Willis, the editor of the BT Life's A Pitch website, writes a piece that will resonate with most Reds. "The last replica shirt I had owned was as a teenager, with my beloved Kenny Dalglish's No7 stitched into the back," writes Willis with pride. But Fernando Torres changed that for him, making the Spaniard's move to Chelsea in January 2011 that little bit more unfathomable and heartbreaking. Willis uses Torres' Chelsea debut at Stamford Bridge – against Liverpool – as the kernel to his love story, a love that you feel will never truly extinguished. As lighters and scorn poured upon the pitch where Torres stood, Willis' feelings were similar to other Liverpool supporters – despite what Torres did, and what he could go on to do, he could not bring himself to join in. It was a dilemma shared by many, but written as well by so few.
The final prong of the Liverpool trident is young writer Alex Hess, who appears on Football 365 and The Football Ramble amongst others. His love is one with a propinquity to happiness rather than lamentation, though it also centres on a Spanish international brought to Anfield by Rafael Benitez. His ode to Xabi Alonso is well-written and heartfelt, but never entering the murky waters of a lovesick teenager confessing his undying feelings. It is the honesty of Hess that shines through and makes this truly the words of a supporter: he admits Alonso – and Benitez – ensured he "no longer simply supported the club, [but] I was entirely dependent upon it". Like Willis, his focus on a particular moment – Alonso's penalty in Istanbul – is creative and vivid, worthy of a player like Alonso.
But despite the three pieces on Liverpool, dismissing some of the others would be folly.
The book works best when the writers fully embrace the brief of the book, which most do. Indeed, the major criticism of the anthology is when some appear reticent to write as a fan. Some chapters would serve better in a matchday programme or newspaper, which contradicts the notion of the anthology. The interviews with past players and managers are interesting and well-written, granted.
But far more enjoyable is MacIntosh writing of how it felt to stand at Roots Hall amongst a bulging terrace watching Collymore become king, his writing style utterly engrossing, his observations flittering between intelligent and comedic with the perfect balance. Far better than the voice of a player is that of Jonathan Wilson as a Sunderland fan, his departure from the intelligent, astute tactical lexicon surprisingly welcome as he brings the reader into his world of hating the Chelsea of the 1980s, and the emotion felt as he stood at Roker Park, watching his side beat them en route to the 1992 FA Cup final.
MacIntosh and Wilson are two who truly capture the idea of the book. Others compliment them nicely. Adrian Clarke writes on how it feels to no longer be wanted by your football club as a youngster; Lipton paints a sympathetic picture as he talks of the bond between himself and his father, one that many have experienced. Ian Ridley's tribute to Weymouth's Bob Lucas – the small seaside club's heart and soul – is one that also raises a warming smile.
When BT Life's A Pitch Anthology gets it right, it gets it completely right and is worthy of a purchase. Even those stories and interviews which fail to adhere to the book's main aim interest, but they would admittedly not do so for everyone.
But let us face facts. You are reading this on The Anfield Wrap. Chances are you are a Liverpool fan. The three pieces are all different, but are all worth a read. The work of MacIntosh, Wilson and Clarke will serve as a nice aftertaste to your main course. Even Rob Smyth of the Guardian produces a wonderful write-up on Roy Keane.
Not that I expect you to necessarily enjoy it. We're all Liverpool fans after all, aren't we?
Life's a Pitch is available in paperback form from Amazon for £9.89 (including delivery) with the Kindle edition priced at £6.68. You can also get a paperback copy from the book's printers for £7.99 (plus postage) and the electronic version is also available in the iStore.